Meet the Team at Barbecue Bible
Call it the TV host syndrome. You see a guy on the set of a cooking show (like me on Project Fire) and you think that all the content, sizzle, and smoke emanates from him.
In fact, it takes a crew of 20 working hard for 6 months to produce the 13 half-hour shows in our upcoming season.
The same is true for our barbecuebible.com website, Up in Smoke newsletter, and Steven Raichlen social media.
Our dedicated team works overtime to bring you our bi-weekly blogs and newsletter and daily social media posts. Product reviews you can trust because we test each and every product. And recipes you can count on to work because we cook them ourselves before we publish them.
So rather than hog all the credit (much as I love whole hog), I'd like to introduce you to the folks who really make it happen: Team Barbecue.
---
Nancy Loseke
Nancy was a recent culinary grad in 2002 when she was offered an opportunity to be Steven's driver and food stylist. Steven was on a media tour to promote what was then his latest book, the popular title Beer Can Chicken. She has been Steven's assistant for nearly 20 years now, helping him edit and test recipes for the many books in the Barbecue Bible series that have followed (not to mention his novel, The Hermit of Chappaquiddick). In addition, she has been a hands-on assistant at many annual sessions of BBQ University, written hundreds of blogs for barbecuebible.com, and served as the recipe coordinator on multiple seasons of his TV shows (BBQ University, Primal Grill, Project Smoke, and Project Fire). For several years, Nancy was also the part-time recipe developer and cookbook writer for Traeger pellet grills. But she owns multiple grills and smokers. Her love of live-fire cooking led to a stint as a cooking instructor for campers and backpackers who want to eat well in the wild. In 2020, her own cookbook, the low-carb Healthy Wood Pellet Grill and Smoker Cookbook was published by DK Publishing, an imprint of Penguin Random House.
Nancy's favorite recipe is Cousin Dave's Ribs.
Daniel Hale
Daniel Hale is Barbecue Bible's Web Producer. He controls every aspect of the BarbecueBible.com website. Daniel has run and built websites for over 20 years and has worked with clients such as 20th Century Fox, Men's Wearhouse, WWE, and Universal Music to name a few. Daniel loves grilling (of course!), hockey, and annoying his children. Daniel resides in the Raleigh area in North Carolina.
Daniel's favorite recipe is Beer Can Chicken.
Jared Reiter
Jared loves FIRE. From his days at summer camp leading his ropeburning team to victory, to building fires in his fire pit in his backyard or the fireplace for s'mores to grilling over live fire, Jared is one step under a pyromaniac.
Jared, a family friend, has known Steven for many years. He has enjoyed grilling out on the beaches of Martha's Vineyard with Steven and his family. Jared has helped on set of Project Fire as Steven's Fire Wrangler, preparing and managing all the grills and smokers. He also helps out with social media and marketing. Jared is an all around can-do guy and we love him here on the SR team.
Jared is also an author of his own comic book, The Adventures of Cheese, Milk and Pickle.
John William White
As Partnership Lead here at BarbecueBible.com, I take great satisfaction from introducing our advertisers and sponsors to America's most avid and enthusiastic 'live fire' cooking advocates – our audience.
Prior to joining this team, I'd spent 30+ years of experience serving the sales development, marketing, creative and operational needs of major publishing organizations, including The Wall Street Journal, Barron's Magazine, The New York Times magazine group and American Express Publishing among others.
Though not a quote, un-quote foodie, I do enjoy a good meal a few times a day, a craft beer and/or cocktail on occasion and, as I write this, am thinking about firing up the Ooni tonight to try out a recipe for pizza topped with caramelized onion and Gruyere cheese and ham.
Steve Nestor
Fire Wrangler/Recipe tester-creator
I'm a Doctor of Physical Therapy and have been practicing for 25+ years.
My specialty is hosting my family and friends and cooking the whole meals outside using all five of my grills and smokers.
I enjoy testing new and creative ways to incorporate "live-fire" into my cooking. Check out my experiments on the barbecuebible.com
Craig Reed
Director of Operations for Barbecue University.
Craig Reed, Director of Operations for Steven's Planet Barbecue, recently retired from the Broadmoor Hotel, Colorado Springs, Colorado, after serving 25 years as their Director of Food and Beverage. It is there Craig met Steven and Nancy and promoted Barbecue University; this school was held at the Broadmoor Hotel for more than 12 years. (Note from Nancy: Craig almost never missed a Barbecue University lunch!)
Being a native of eastern North Carolina, you can guess Craig's favorite barbecue food–pulled pork with traditional Eastern Carolina-style vinegar sauce. No ketchup!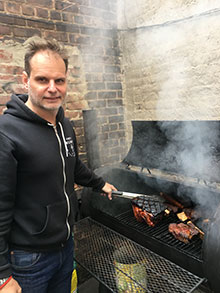 Jake Klein
Scion of a Miami food family, Jake Klein is a longtime chef and food entrepreneur, running restaurants from New York to Singapore. His last restaurant, Jake's Hand Crafted in Brooklyn, specialized in artisanal sausage, including a twice-smoked brisket sausage New York Times restaurant critic Pete Wells called "a phenomenal piece of barbecue." Jake joined Planet Barbecue as director of operations and product development. Look for more of his amazing sausages at PlanetBarbecue.com.