Steven Raichlen's Holiday Gift Guide for 2021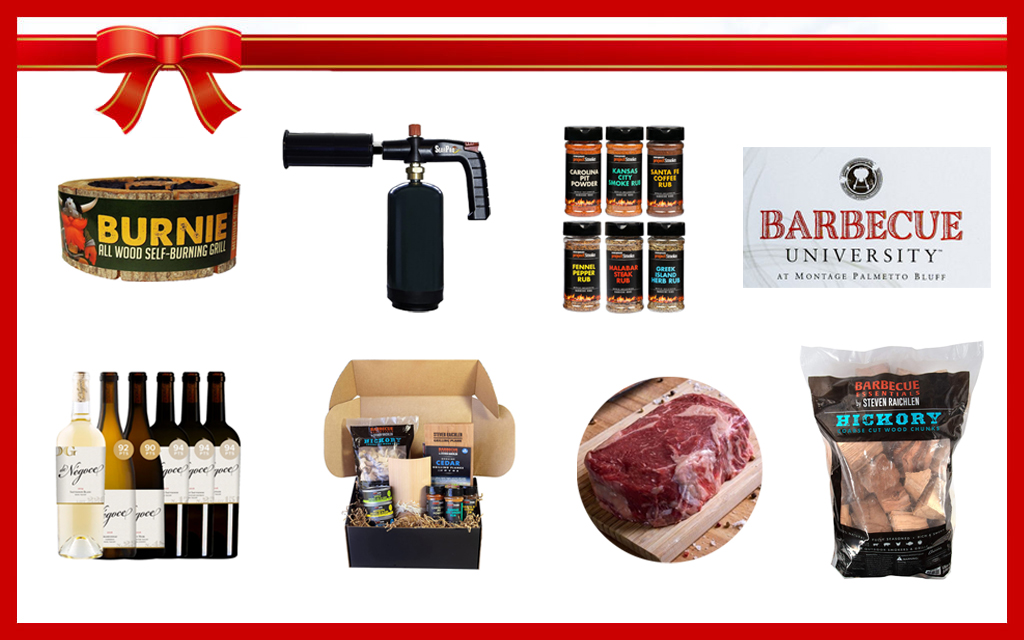 Black Friday already? That means that the holiday gift buying frenzy has started. If you're like me, you regard a trip to the mall with about as much enthusiasm as an appointment at the dentist for a root canal. Well, fear not: we have you covered. With a cool new grill, like the wood-burning Burnie. And a new way to light it. A mega-blow torch called the SearPro. Once your grill is lit, amp up the taste with my Barbecue Flavor Grilling Gift Box. No coals in your stocking this year, but we wouldn't say no to imported fragrant cherrywood smoking chunks. Quality meats? Order them from Holy Grail Steak. And for the ultimate live fire experience, there's my Barbecue University—three days and nights of smoke and fire filled adventure at the luxurious Montage Palmetto Bluff resort in the South Carolina Lowcountry. Best of all, you can order all these gifts on line—without having to fight for a parking space at the mall.
Grilling Gifts for Barbecue Lovers 2021
The Holy Grail Steak's mission is to connect artisanal farms and ranches with consumers who care deeply about the quality and provenance of their food. Holy Grail Steak Co. works exclusively with best-in-class producers who live by the Golden Rule of Cow, a steak only tastes as good as it was raised.
From Japanese A5 Wagyu to their exclusive Santa Carota Carrot Fed Beef, Holy Grail has what meat-eaters truly want this holiday season.
Give them the art of steak this year and save 15% on Mangalitsa Pork & Santa Carota Carrot Fed Beef when you use code BBQBIBLE20 at checkout.  Expires 12/20/2021
SearPro really packs a punch! It's a great gift and useful for searing a steak, lighting your charcoal grill, roasting bell peppers, sous vide, glazing a baked ham, starting your campfire, and anything else you can think of! This compact hand-held torch has one of the widest, most powerful flames of any torch available on the market, GUARANTEED! With temperatures reaching over 1800 degrees Fahrenheit. This product was invented by a First Responder Helicopter Pilot. When asked why he invented this his comments were: (I felt like this truly was the missing link to BBQ, sous vide and charcoal lighting). Best Gift For 2021!
Finally, a Fun, Natural Grill that Requires No Setup, Makes Food Taste Great, and Leaves No Waste Behind! A Burnie is an ingenious single-use, self-burning portable grill made from 100% natural Alder Wood. It contains no chemicals, is earth-friendly, easy to use, and makes food taste delicious by utilizing a centuries-old Nordic technique.
While many people believe the tradition of putting lumps of coal in Christmas stockings was developed as a rebuke or punishment (for "naughty" children), coal was actually a treasure because of its importance, during the 19th century, as a heating fuel. In one Victorian narrative poem, a poor family was overjoyed to receive enough coal to fill their cellar. Is there someone on your gift list who would appreciate a bag—or several—of smoking chunks or chips in iconic flavors like hickory, mesquite, cherry, or apple? Thought so!
Steven Raichlen's Favorite Products for the Ultimate Grilling Experience
Set includes: (3) USA Spices Seasoning Rub, (2) Cedar Grilling Planks to use on the grill or in the over, (1) Hickory Smoking Wood Chips, (3) Smoke-in-a-can to use on the grill for extra smokey flavor, set of cedar paper wraps for the grill.
This holiday season, give electrifying rubs developed by America's foremost authority on grilling and smoking, Barbecue Hall of Famer Steven Raichlen. The rubs include Santa Fe Coffee Rub, Kansas City Smoke Rub, Malabar Steak Rub, Carolina Pit Powder, and Greek Island Herb Rub. Perfect for people who are cooking more at home!
Exceptional Wines At Unbeatable Prices
As the pioneer of the négociant wine trade in the US, de Négoce founder Cameron Hughes has more than 20 years of experience sourcing and selling ultra-premium wines direct-to-consumer. In fact, until Cameron came along, few in the US had ever heard the term negociant (the French word for a 'wine trader').
Cameron's vision was to make exceptional wines available at unbeatable prices. That's why in 2020, he launched de Négoce: a one-of-a-kind online 'wine futures' platform. For the first time ever, wine lovers can save 60-to-80% off luxury-quality wines before they go into the bottle. Modeled after wine futures sold in Bordeaux, de Négoce wines are sold in advance of their release.
Teach a man to fish, goes the old saying, and you feed him for the rest of his life. The same is true for grilling. Which is why Steven Raichlen started Barbecue University and why this school, with it's more than 40 grills and smokers, remains the ultimate destination to ramp up your grill skills. At Barbecue University, you do the grilling under Steven's supervision. Expect the unexpected, from plancha pita to rib "wings" to Buffalo brisket burnt ends. And of course there will be smoked chocolate bread pudding for dessert. You'll stay at the luxurious 5 star, 5 diamond Montage Palmetto Bluff resort, and have afternoons off to enjoy tennis, golf, boating, and fishing on the property's 20,000 plus acres. New this year will be the BBQ U mystery box, in which you receive a mystery ingredient and get to create a recipe on the spot. "A fantasy camp for coal heads" is how Cooking Light Magazine described us. "Never experience anything like Barbecue University" wrote Forbes.com. Space is limited so sign up today.
What's on your wishlist this year? Share with us on Facebook, Twitter, Reddit, or Instagram!