A Perfect Mother's Day Dinner: Ribeye Steak with Au Poivre Sauce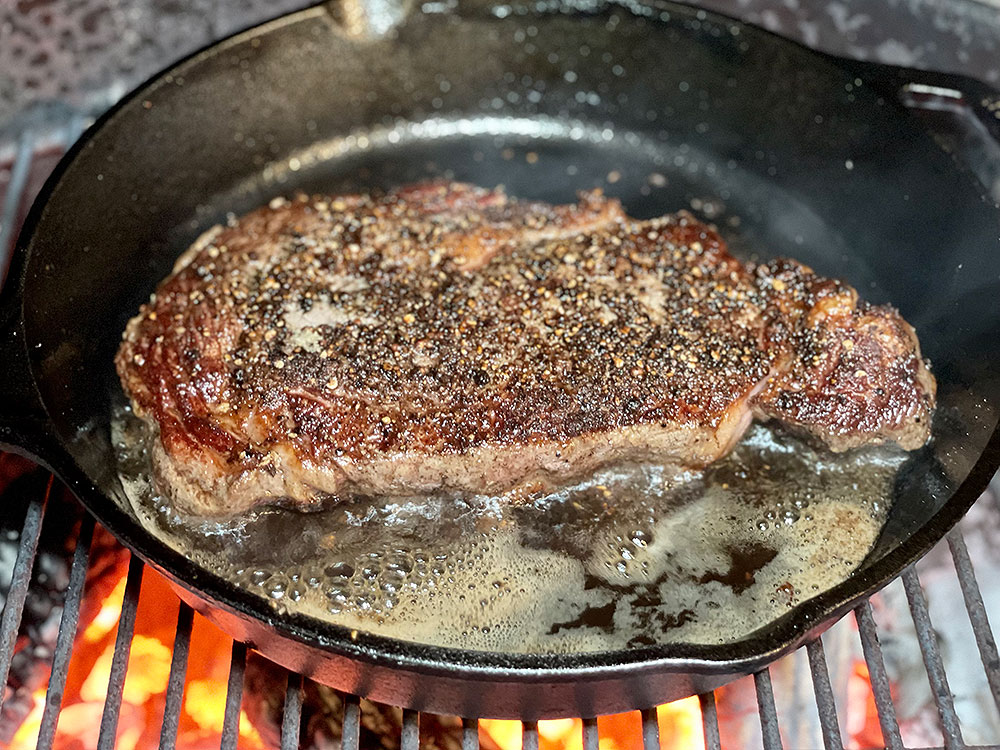 One of the holidays my wife and I host is Mother's Day. I was young when my mother taught me how to cook. She would tell me that it will be good practice "for when you are on your own". She was right. I enjoy cooking for my mother after all the years of watching her cook dinner or a special holiday meal when I was a kid.
Recently, Holy Grail Steak sent me one of their superb Akaushi American Wagyu ribeye steaks. Akaushi means "red cattle" in Japanese. The Akaushi blends the intense beefy flavor of prime Angus with the succulence of Wagyu. These ribeyes are well marbled and produce a fork-tender steak that will melt in your mouth.
Holy Grail Steaks Offer!

Receive 20% off Coupon Code: BBQBIBLE20
A Perfect Ribeye Steak
How do you like to prepare your ribeye steak? I normally grill ribeye steaks over charcoal or wood. I enjoy the smoky aroma and the crusty exterior that you get. Today I'm going to share a cooking method I haven't tried with a ribeye steak: It is steak au poivre, but I'm still going to try to incorporate wood smoke. Steak au poivre is a French recipe where the steak is seasoned with coarsely ground black pepper and served with a sauce that is often flambeed with Cognac. Filet mignon is often the steak of choice with an au poivre sauce, but I think it will be even better with the ribeye steak.
Here is how it all came together: I set up a wood fire in my kettle grill by lighting a bag of wood chunks in a chimney starter. Once the wood was ready, I spread it out to create a two-zone fire. The two-zone fire provided me with a safe zone if the fire got too hot.
To prepare the steak, I lightly painted it with Dijon mustard and crusted it with freshly cracked peppercorns. I placed a 10-inch cast-iron skillet over the hot fire. Once the skillet was hot, I placed two tablespoons of butter in it. Once the butter melted, I added the steak to the pan. The steak was cooked for four minutes, then I flipped the steak and cooked it for an additional four minutes. I removed the steak to rest on a wire rack over a sheet pan.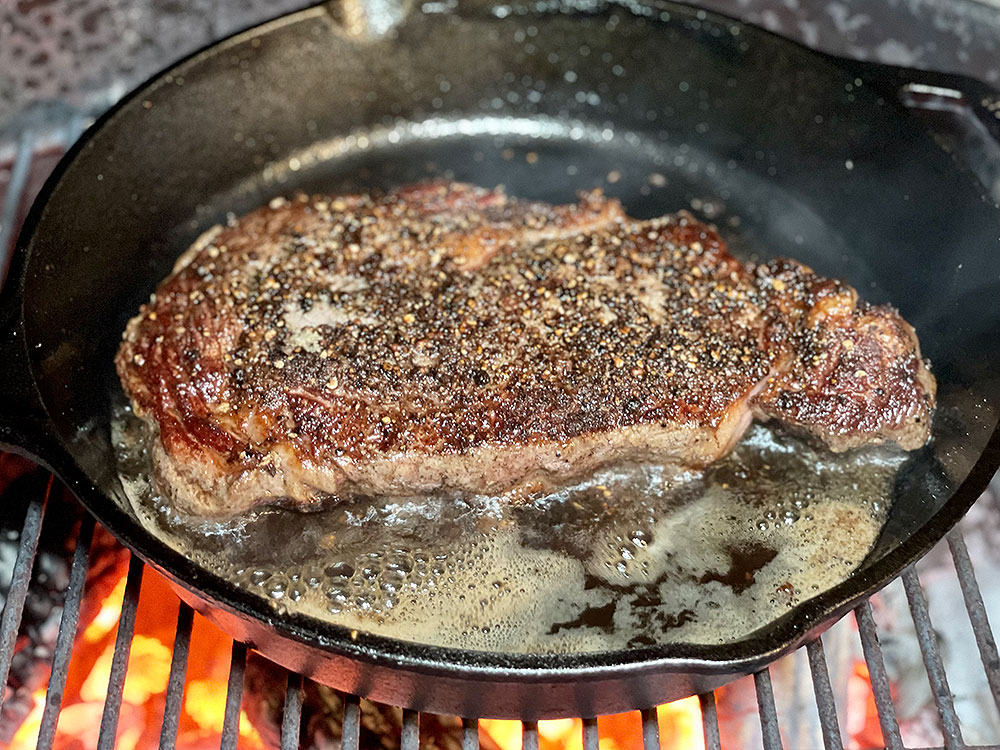 Au Poivre Sauce
Next, I sautéed one diced shallot in the remaining butter and steak juices. I added a twist to the au poivre sauce by adding sliced mushrooms that I grilled over the wood fire. I seasoned the shallot and mushrooms with more freshly cracked black pepper and kosher salt. I moved the pan to the cool zone, then added the Cognac. I ignited the Cognac with a butane match and let the alcohol burn off. To finish the sauce, I added a teaspoon of Dijon mustard and one cup of heavy cream. The sauce came to a boil, then I let the sauce reduce and thicken.
Once the steak had rested, I sliced it and spooned the sauce over the top and served it with wood-grilled asparagus.
The Results
The ribeye steak developed a crispy exterior due to the black peppercorn crust and the high heat of the cast-iron pan. The ribeye was tender and juicy on the inside due to the marbling of the steak. The crusty exterior and succulent inside created a balance of textures in every bite of steak. The ribeye steak was one of the best I've eaten. The whole dish had a smoky aroma from grilling the mushrooms and ribeye steak over a wood fire. The sauce was flavorful and velvety without feeling heavy and it had a subtle spice from the cracked black pepper. Grilled mushrooms are not normally incorporated in an au poivre sauce, but I enjoyed how they infused a smoky aroma and depth of flavor to the sauce.
How will you elevate your steak dinner for Mother's Day? A steak from Holy Grail Steak is a great start.
Head over to the BBQ500 club on Facebook. We have an amazing community!

Also, sign up for our Up in Smoke newsletter so you don't miss any blogs and receive some special offers! PLUS get Raichlen's Burgers! PDF for free!

Follow Steven on Facebook, Twitter, Reddit, Instagram, and TikTok!