Grilling into Summer: Our Favorite Recipes for May
Capricious April is in the rear-view mirror, and it's finally time to embrace warmer weather by cooking lighter meals on your grill or smoker. Craving that perfect char-grilled burger? We are, too. Below is our favorite recipe, along with others that will launch your summer grill fest with style.
Recipes for May
Today, the mojito is the official cocktail of Miami. This recipe adds a twist to the classic recipe: caramelized sugar-crusted key limes over a screaming-hot fire.
Key limes are more aromatic and sour than traditional limes. Grilled key limes add a smoky caramel flavor to the cocktail.
Here's how Steven's home state of Florida reimagines a tailgate classic. Get ready for pork shooters stuffed with briny Gulf shrimp, cheese and Andouille sausage. Great at the pool or after a day of boating.
What makes a great hamburger? First there's the meat. You want to use a flavorful cut, like sirloin (for uptown burgers), or chuck or round (if you're feeling more democratic). And it shouldn't be too lean: 15 to 20 percent fat is ideal
Spatchcocked chicken is marinated in a citrus, wine, and cinnamon marinade for at least 6 hours or as long as 24 hours — the longer, the richer the flavor. Then it is cooked on the grill with a salt brick. Served with a traditional sour rhubarb sauce called Tkemali. (Rhubarb is one of thee first green things to defy the last frost date!)
Tuna steaks served blood-red and rare, just like beef steak. This recipe is Cajun-style with blackening spices and a remoulade sauce. A beautiful rare tuna in the center with an electrifying, spicy crust.
Well, if this is your idea of the perfect rib (and it should be), here's your master recipe. It will teach you the principles of first-class ribsmanship – skinning the ribs, rubbing the meat, using a mop sauce, glazing with a barbecue sauce, and harnessing the mouth-watering powers of wood smoke.
When buying the asparagus, choose thick spears (they're easier to pin and grill). Choose an Asian roasted sesame oil; one good widely available brand is Kadoya. Black sesame seeds are available at Asian markets and many supermarkets—otherwise use more toasted white sesame seeds.
This Spice-Grilled Pineapple with Mezcal and Whipped Cream is an easy grilled fruit dessert. It's simple to make and a real crowd-pleaser.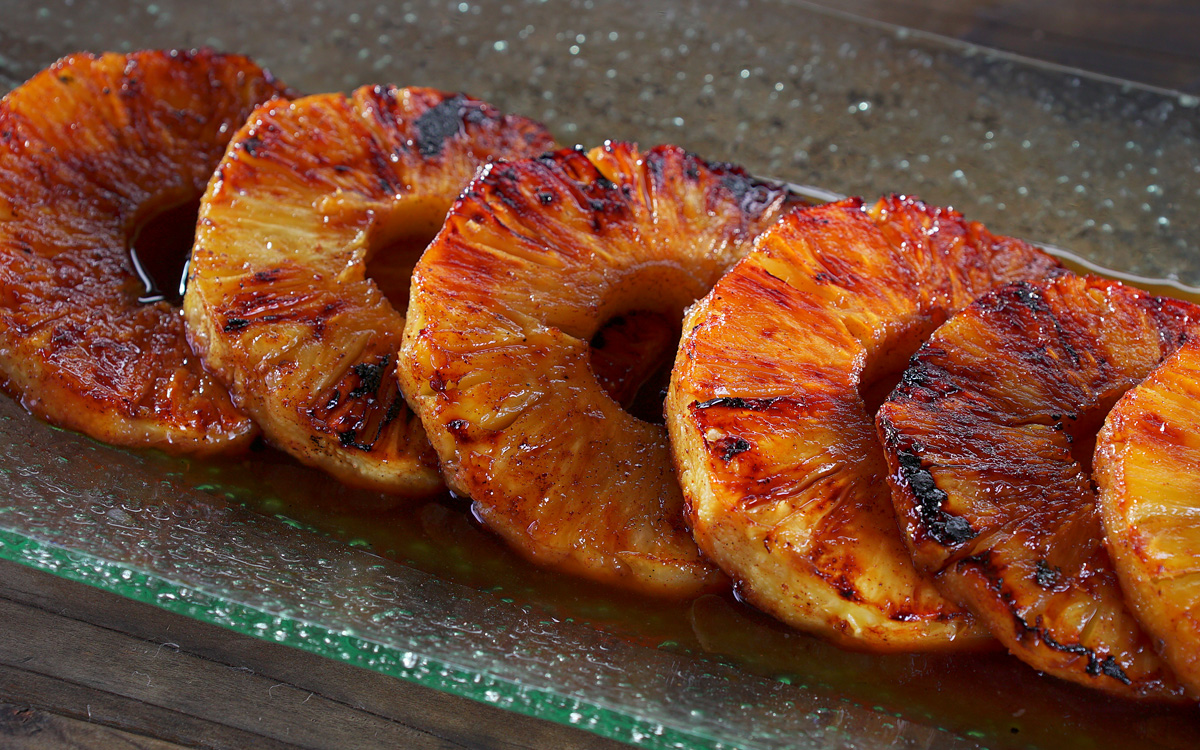 Head over to the BBQ500 club on Facebook. We have an amazing community!

Also, sign up for our Up in Smoke newsletter so you don't miss any blogs and receive some special offers! PLUS get Raichlen's Burgers! PDF for free!

Follow Steven on Facebook, Twitter, Reddit, Instagram, and TikTok!