Our Annual Barbecuers' Gift Guide
UP IN SMOKE
OUR ANNUAL BARBECUERS' GIFT GUIDE
Dear Up in Smoke Subscriber,
Once a year, we brainstorm gift ideas for barbecuers—not the silly novelties you often see in catalogs and online—but products we'd actually want ourselves, that deserve places in our grilling and barbecuing lives.
All of us here at BarbecueBible.com wish you happy holidays and a healthy New Year.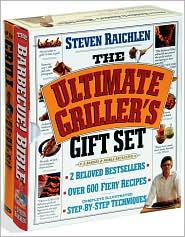 Books, Books, Books: Too cold to fire up your grill? (For many of us, of course, winter grilling brings its own unique set of thrills.) Well, it's never too cold to curl up with a good book. One of our favorites this year was Mark Schatzker's Steak: One Man's Search for the World's Tastiest Piece of Beef (Reed Business Information, 2010). Schatzker's skills as a storyteller make this not only a great reference book, but a gripping read. My assistant, Nancy, recommends Salted: A Manifesto on the World's Most Essential Mineral by Mark Bitterman (Ten Speed Press, 2010). As Pliny observed, "Heaven knows, a civilized life is impossible without salt." Not to mention great barbecue. Closer to home, one of the highlights of my year was seeing my latest book, Planet Barbecue (Workman, 2010), on the New York Times Best-seller List. It features more than 300 recipes from around the world, as well my travel tales from the barbecue trail, and if I say so myself, it makes a great addition to a barbecue library. Ditto for the new boxed gift set with Barbecue Bible and How to Grill, on sale now exclusively at Barnes & Noble.
Takumi Binchotan Charcoal: This is "coal" you'll want in your stocking if you're a serious griller. The world's most exclusive (and expensive) charcoal, binchotan comes from Ubame oak, the official tree of the Wakayama Prefecture in southern Japan. Whole trees are burned for several days in a cave sealed with mud bricks. The resulting charcoal is exceedingly hard, pure, and slow-burning. A single piece can burn for hours, giving off no appreciable aftertaste.. This is the fuel used by Japan's top yakitori masters and Kobe beef kings, and now you can buy it in the U.S. Binchotan isn't cheap—a 2-1/2 pound bag costs about $25—but that quantity will take you through several grill sessions. Available at thekobebeef.com.
Japanese Yakitori Grill: Speaking of binchotan, you'll want an authentic Japanese-style yakitori grill to go with your premium charcoal. Enter then, the clay Japanese tabletop grill sold by Korin (korin.com). The largest model is approximately 20 inches by 9 inches and features heatproof handles and side vents for temperature control. Perfect for foods on bamboo skewers—yakitori, sates, etc. It retails for $210.
Plancha: My fascination with Argentinean-style grilling prompted me to create a cast iron plancha (called la champa in Argentina) for the Best of Barbecue® product line. It gives shrimp, scallops, veggies, and fruits a crusty, smoky sear without drying them out, and is perfect for delicate fish and anything small enough to fall through a conventional grill grate.
Bear Claws: You've smoked a huge pork shoulder to perfection and it's now resting on your kitchen counter in all its glory. Now comes the hard part—pulling all that protein into shreds while the meat's still hot. Many grill masters use their hands or a pair of table forks. But there's a better way: these sharp molded plastic claws make quick work of the job. They can also be used to lift turkeys or hams off the grill. Inexpensive at $7.49 per pair plus shipping. Find them at the mega-barbecue store Hawgeyes in Ankeny, Iowa (hawgeyesbbq.com).
Primal Grill DVD, Season 3: Give a man a fish and he eats for one day, goes the old saying. Teach him to fish and he feasts for a lifetime. The same holds true for barbecue, and Steven's Primal Grill DVD Season 3 is designed not only to show you great recipes, but teach you techniques that will last a lifetime. Includes the most popular episodes of Primal Grill Season 3: "Asia's Crossroads," "Spanish Smoke," "Out of Africa," and "Primal Grills for a Crowd." Also included are five extra recipes (including Wood-Oven Pizza) and behind-the-scenes video. Go to www.primalgrill.org and click on "store."
Grill Blower: One of our favorite ways to cook a thick steak is to season it and throw it directly on the embers (natural lump charcoal only, please). It's imperative that you fan the coals to increase their temperature and to disperse any loose ash. A folded newspaper will work fine, but the "Air Grill" we found at Hawgseye is a more elegant solution. It resembles a blow dryer, but is hand-operated. No batteries or electricity required.
Smokenator 1000: A modest investment of around $60 will convert your 22-1/2 inch Weber kettle charcoal grill into a water smoker. The Smokenator enables you to maintain the "low and slow" temperatures required for great smoked foods like ribs, brisket, etc.
Constructed of 18-gauge stainless steel, the device fits over the coals and includes a water pan, that when filled, will help keep your food moist.

Red Sky Pizza Stone: Another modest investment will transform your kettle grill into a pizza oven. This ingenious D-shaped pizza stone fits perfectly on Weber's 22-1/2 inch grill grate without blocking airflow and while allowing easy access to the charcoal baskets. Made of a composite heat-resistant material, the Red Sky Pizza Stone is designed to wick excess moisture out of the dough for a crisp, perfectly-cooked crust. It is accompanied by recipes, clear instructions, and a chunk of wood for extra flavor.
Pizza Peel: Grilled pizza is addictive—a sure way, we discovered, to grab the attention of the crew on the set of Primal Grill. Even the vegetarians were sneaking pieces of the bacon, onion, and potato pizza we featured in Season 3. (For the recipe, go to www.primalgrill.org.) But a pizza peel like the one made by The Companion Group would have streamlined production. The offset handle even folds for easy storage.
BBQ UNIVERSITY: And finally, the big kahuna—a gift certificate redeemable for the 2011 session of Barbecue University ®: On June 8-11 and June 12-15, 50 lucky people will join Steven at the luxurious Broadmoor resort in Colorado Springs for the most exclusive barbecue experience in the country, Barbecue University®. It's a three-day extravaganza of fire, food, fun, and camaraderie in the Rocky Mountains. The BBQ U gift certificate makes a perfect gift for the holidays, an anniversary, birthday, or father-son (or mother-daughter) bonding session. For more information, contact the Broadmoor's Reservation Manager, Noemi Kiss-Baldwin at 719-577-5708, or e-mail her at NKiss-Baldwin@broadmoor.com.
Yours in righteous grilling,
Steven Raichlen, Grill Master and Editor-in-Chief
Nancy Loseke, Features Editor