Grilled or Smoked: Our Best Thanksgiving Side Dishes
Last Updated: November 17th 2020
In many households, tinkering with the family's traditional Thanksgiving menu is strongly discouraged. And yet, when you stop to think about it, change inevitably occurs. Perhaps a vegan joins the clan, relatives embrace the keto or Paleo approaches to eating, or the older generation quietly yields its annual Turkey Day hosting duties to a younger one. Maybe you'll be spending Thanksgiving with just your immediate family this year, or plan to enjoy a "Friendsgiving" meal with people in your circle. Or—and hopefully, this is the case for you—the holiday bird has moved to the grill or smoker.
But have you noticed, once everyone's plates are filled, their forks first go not to the turkey, but to one of the side dishes? We Americans love our herbed stuffing/dressing, mashed potatoes with gravy, corn pudding, sweet potatoes, and our old-school green bean casserole. Happily, these dishes, too, benefit from the magic of smoke and fire—everything from appetizers to desserts.
Below are a few of the side dishes that will be on the table this year.
Best wishes for a wonderful and healthy Thanksgiving from all of us at Steven Raichlen, Inc.
---
5 Grilled and Smoked Thanksgiving Side Dish Recipes
Cilantro, lime juice, scallions, and jalapeno chiles ensure these colorful red berries bring their "A game." This vibrant relish is also great on smoked turkey sandwiches the day after Thanksgiving. No cooking required
One of the most popular recipes to emerge from one of Steven's shows, Project Smoke, is smoked creamed corn. We remember how the crew scraped the cast iron skillet clean. (That's when we know we have a winner.) And if you are an apartment or condominium dweller and don't own a smoker, no problem: you can smoke the ingredients on an indoor smoker such as Camerons.
Need another reason to be thankful on Thanksgiving? This rich bread pudding from Steven's book, Project Smoke, is it. The pudding starts with brioche, an eggy, buttery bread. But feel free to make a substitution if you must. And if you can't find a mix of exotic mushrooms, use fresh button mushrooms or portobellos. They're available in most supermarkets.
On Thanksgiving, it seems like you can never have enough gravy. People pour it profligately over turkey, mashed potatoes, and dressing. This year, introduce the haunting flavor of smoke to your gravy by smoking chicken or turkey broth alongside the bird. Don't forget to collect the drippings.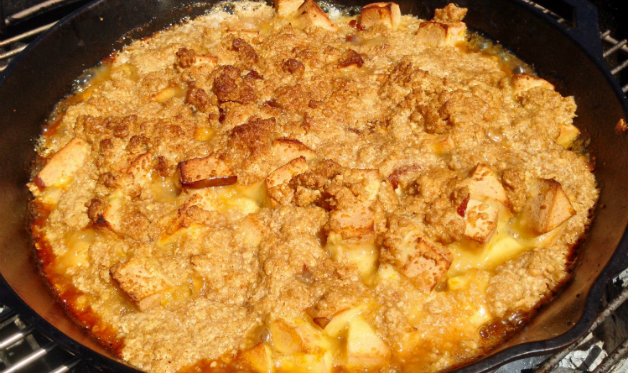 If you can bear to stray from pumpkin pie or feel compelled to offer two desserts to your Thanksgiving guests, I highly recommend Bacon-Apple Crisp. Put it on the grill when you sit down to dinner, and it will be ready when you are. (As it is cooked in a cast iron skillet, it stays warm for quite some time.
More Thanksgiving Recipes on the Grill:
What are your favorite Thanksgiving sides? Share them with us on Facebook, Twitter, Reddit, or Instagram!