2015 Holiday Gift Guide
The weather outside is frightful—87 degrees in Miami last week—but the fire is so delightful … the fire in my grill, of course. As I smoke-roasted the turkey for the Raichlen family Thanksgiving, I gave some thought to what I would want on my holiday gift list.
The beauty of the following list is that it works for both your favorite barbecuer and YOU. Best of all: you can shop from the comfort of home while other people duke it out on this, Black Friday.
iGrill2 Bluetooth Thermometer
Price: $87.98
A must-have for grilling multi-taskers (yes, I'm one of them). When synced via a free app with your compatible iOS or Bluetooth Smart Ready Android device, you can monitor food on the grill or in the smoker from up to 150 feet. The water- and heat-resistant thermometer enables you to set minimum and maximum temperatures between -22 and 572 degrees and features two pro-level meat probes. (Two additional probes can be purchased separately.) Alarms alert you when temperature targets are reached. The thermometer's LED display is conveniently illuminated for nighttime use; it is powered by two AA batteries (included).
The Barbecue! Bible, 10th Anniversary Edition
Price: Varies
"For aspiring gourmets of the grill, there is only one book: The Barbecue! Bible," said a review in The New Yorker. Indeed, we've heard this is the grilling book most likely to be "borrowed" and never returned. With more than 500 recipes, many accompanied by full-colored photographs, there's enough material in this award-winning book to inspire years of globally-influenced grilling and barbecuing. All new FAQs, the most common grilling mistakes, and much, much more. Note: Want to go to the head of the line for Steven's next book, Project Smoke (due out in May)? Click here to order it.
Heritage Foods USA
Price: Varies
Where your food comes from and how it's raised is as important as how it's grilled or smoked. (It's a recurring theme on my new PBS show, Project Smoke.) Unfortunately, most supermarkets sell commodity meats that are butchered and processed off-site. When it was founded in 2002, the purpose of Heritage Foods USA was to give small family farms a market for slow-to-grow, but big-flavored heritage breeds that were fast disappearing from America's rural landscape. Pork that tastes like pork. Chicken that tastes like, well, chicken. Today, over 130 of America's top restaurants source products from Heritage Foods USA. The company, which also sells online to the public, carries pork, beef, chicken, duck, lamb, goat, bacon, sausage, and other cured meats. Gift packages and gift certificates are also available.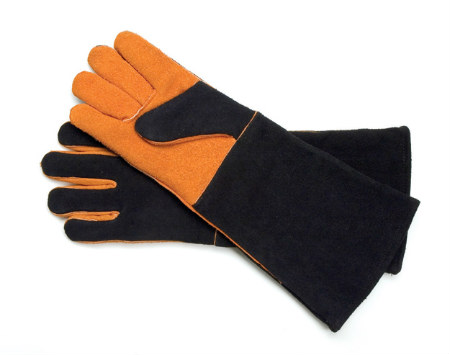 Best of Barbecue Ultimate Suede Grilling Gloves
Price: $28.99
Have fun with these extra long suede grilling gloves by hanging them like stockings from the fireplace mantel and filling them with small gifts a barbecuer would appreciate—rubs, sauces, tongs, a digital thermometer, injector kit, meat claws, etc. (Or maybe the griller on your list deserves coal! Charcoal, that is…) The gloves are 18 inches long, ensuring hands and forearms will be protected when reaching across a hot grill grate or dumping a chimney full of glowing coals into the firebox.
BBQ Guru PartyQ BBQ Temperature Controller for Big Green Egg or Ceramic Cookers
Price: $172
Unless you've got a masochistic streak or insomnia, overnight cooks are not all that fun. The PartyQ is a game-changer. It deftly controls the temperature in your charcoal- or wood-burning kamado-style cooker by controlling the airflow and fanning the fuel. Preset your desired temperature, then the PartyQ takes over, maintaining it within 2 degrees. One probe is clipped to the grate to monitor the grill or smoker's ambient temperature, one probe is inserted in the meat, and the controller/fan is attached to the fuel damper. The Big Green Egg we were using maintained consistent temperatures all night long. Requires 4 AA batteries.
Best of Barbecue Ultimate Rib Rack
Price: $24.07
Nothing says barbecue like ribs. Unfortunately, most charcoal grills and water smokers have limited grate space. Enter the Ultimate Rib Rack, which enables you to cook 4 racks of spareribs or baby backs on a 22-1/2 inch kettle grill. The metal arcs rise high enough to accommodate four full racks of pork or beef ribs. Cooking ribs in a vertical position makes them self-basting, melting out the fat and crisping the bark. Our Best of Barbecue Rib Rack is nonstick and rust-proof metal construction. Hand wash please.
The Fresh-Pressed Olive Oil Club
Price: Three 250 ml bottles per quarter, $87; 500 ml bottles, $124
Americans who have added olive oil to their diets for reasons of health or taste are often insecure when buying it. Perhaps they've wasted money on oils with "off" flavors. Or they've read about the many scandals plaguing olive oils from the Mediterranean. (Recently, it was reported that seven of Italy's largest brands—including two widely sold in the U.S.—are under investigation for fraud for mislabeling inferior oils as "extra virgin.") I rely on T.J. Robinson, a.k.a. "The Olive Oil Hunter." Four times a year, T.J. personally follows the world's staggered olive oil harvests, visiting top artisanal producers. He hand-selects the three best for members of his Club. They're flown to the U.S. to maximize freshness. All are certified to be 100 percent extra virgin by an independent lab. You've likely never had olive oils like these.
Maverick Infrared Laser Surface Thermometer
Price: $46.62
OK, you have thermometers to check the internal temperature of your smoker and the doneness of your meat. But what about the heat of the actual grill grate surface? Or of your fire-heated plancha or the stone floor of your wood burning oven? The Maverick Model LT marries laser technology with point and shoot convenience: simply aim it at the surface and get an instant reading of the heat. No more burnt pizzas or anemic-looking seared steaks.
Best of Barbecue Plancha
Price: $31.60
Speaking of planchas, when it comes to searing shrimp, delicate fish fillets, potatoes, even fruits, it's hard to beat this Spanish-style cast iron griddle designed for use on your grill. Especially when you use the Raichlen smoke-searing technique: 30 seconds before you're done searing, toss a handful of unsoaked wood chips on the coals and cover the grill. The plancha gives you a savory crust; the wood chips add smoke flavor. Made of 1/4 inch thick cast iron for even heat dispersal, with raised handles for easy moving.
PowerSmith PAVC101 10-Amp Ash Vacuum
Price: $73.72
An accumulation of fine ash will smother fires in grills that burn wood or charcoal and can cause unwanted flame-outs in pellet grills and smokers. Problems can be avoided by routinely cleaning out the firebox with a portable canister-style vacuum like this model from PowerSmith. Specifically designed to accommodate warm and cool ash, the washable and replaceable fire-resistent filter system collects the finest dust and ash. Can also be used as a shop or fireplace vacuum.
ThermoWorks Thermapen Mk4 Cooking Thermometer
Price: $99
An essential piece of equipment for any griller is a reliable instant-read thermometer. Utah-based ThermoWorks has been setting the bar high with its line of thermal measuring devices. Though pricier than most thermometers, the all-new Thermapen Mk4 is certainly cheaper than a ruined 7-bone prime rib. Features a backlit position-sensitive digital display, thin probe, and a highly accurate temperature reading (within .7 degrees) in 3 seconds. A motion-sensing sleep and wake mode preserves battery life. Comes in 10 colors, too. Makes a terrific stocking stuffer!
Barbecue University 2016
Price: Starts at $2175 per person based on double occupancy
The ultimate gift for anyone wants to take his/her grilling and smoking skills to the next level. This year's theme is "Where There's Smoke." Taught by yours truly, this intense hands-on 3-day class is hosted by the luxurious Forbes 5-Star Broadmoor Resort in Colorado Springs, Colorado. More than three dozen dishes will be prepared on BBQ U's jaw-dropping collection of grills. Food, fun, and fire make for an unforgettable experience, one some people repeat year after year. Two sessions are scheduled: June 8–11 and June 11–14. For more information, go to barbecuebible.com/barbecue-university. Don't delay. Enrollment is limited to 55 students per session, and classes fill up fast.
Join the Discussion