Smoking Brisket Island Style
Ah, brisket. Our favorite epic meat continues to amaze and delight. And even after crisscrossing Planet Barbecue to document how people cook brisket, I continue to find new ways to transform this tough ornery cut of meat into carnivorous nirvana. The latest comes all the way from Guam, from our longtime grill master friend: Rueben Olivas. As you will see, Rueben takes a divide and conquer approach, and I've never experienced quite like his Chamoro (Guamian) style brisket. Read on, barbecue pilgrim, and get ready for some amazing brisket.
---
On Guam, we have a different style of smoking brisket. We slice it up, marinade it or just dry rub it, hang it or lay if flat over a smokey, open fire and smoke it until the grillmaster has it where he wants it.
Here is one process that I did recently.
First of all, I wanted the finished product a little dry and not too plump. This is what I carry with me when I am out in the field fighting fires. This is my chow. I did not want to marinade it. I only dry rubbed it with my secret Rueben's Rub. Here are the ingredients for my rub….Sea Salt, Kosher Salt, Garlic Powder (granulated), Black Pepper, Celery Salt, MSG (Accent), Parsley Flakes and Onion Powder.
Here are the photos….
Started out with a 10 lb. brisket. I did not trim it at all.
I am going to slice it against the grain. Here you can see which way the grain runs.
Try to slice at about 1/4 inch thick pieces.
This shows the fat marbling of the flat.
Here are the slices. Still a little ways to go.
Once sliced, I add my seasoning. I use freshly ground black pepper. Nothing beats the fresh stuff.
All seasoned and ready to be hung over the fire for smoking.
Here is my famous uglier that thou pit. Meat is already laid out on the hanging grill. This open fire pit concept allows for a mellow smoke flavor.
Here is my fire. Wood is wet (soaked). The wood used is our local Tangantangan wood. Similar in aroma and flavor to red oak. I also use dried, whole coconut for aroma and flavoring. Coconut is the bomb!!
Close up of the brisker all laid out on the suspended grill.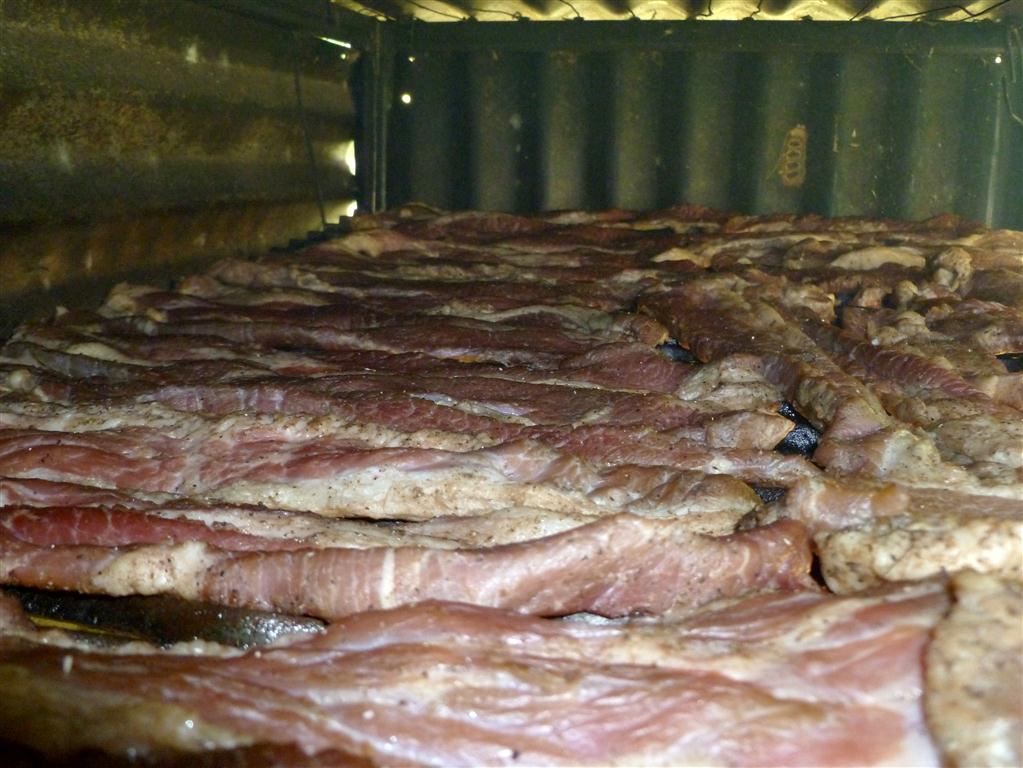 Finished product.
Close up.
Now this is one style. This could take anywhere from 4-8 hours depending on how you want it cooked and how tender you want it. Another style is to marinade the meat and smoke it just long enough for the meat to cook tender and remain plump so that you can grill it at another time.
Here is the marinade that I use for this…
1/4 cup soy sauce
1/8 cup Worcestershire sauce
1/8 cup Brown sugar
20 to 30 thinly sliced pieces of fresh papaya for tenderizing.
Mix this in the bowl containing your brisket.
Then apply your seasoning to taste because the soy sauce and Worcestershire sauces are already salty.
You can also hang these slices of brisket from small hooks as shown below. The grillmaster here is Ray Garrido and he is known for his fantastic, smoked brisket.
His smoked brisket hanging over the fire pit.
And that's how its done here on Guam. Yes, we still smoke the whole brisket the conventional way but, it is not that popular here for BBQs because it takes too long. That is just too much work for the average everyday BBQ here. We could be eating and drinking already…..
But it is all GOOD no matter which way you grill, smoke or BBQ that's for sure!!!
Until next time….
– Rueben Olivas
For more articles about BBQing, cooking, and eating in Guam, visit Rueben's website, BBQGuam.