12 Best Grilling Accessories Dad Wants for Father's Day
Father's Day is just around the corner, and you know what that means: It's time to find a gift for someone who, for many of us, is just plain hard to buy for. Socks and gift cards are definitely out, and in this COVID world, does anyone really need cufflinks or ties? But there's one gift that's always guaranteed to delight and it's as as old as Prometheus: fire. Specifically, performance enhancing tools when cooking over fire. Below are a few of the best grilling accessories, and more! Dad will be pleased.
---
2020 Father's Day Gift Guide for Barbecue Lovers
This handsome , beautifully crafted carving set—a 9.5-inch carving knife and matching fork—will do justice to Dad's home-smoked prime rib, ham, turkey, and more. Made in Japan by one of the most respected cutlery companies in the world, this set will become a family heirloom. (Shun is the knife brand Steven uses on his shows, Project Fire and Project Smoke.) Corrosion and wear resistant, these tools hold a sharp edge and are made of premium "super steel."
A perennial best seller from Steven's line of barbecue products, this rib rack is one of the most economical "upgrades" you can buy for Dad's grill or smoker. It accommodates four racks of ribs (beef or pork) in the space normally occupied by one or two. Ribs cooked vertically practically baste themselves. The sturdy rack's nonstick surface makes it easy to clean. Pair it with the indispensable book, Best Ribs Ever, for an even better package. A must-have for any rib enthusiast.
Hurry! Enroll your father in BBQU, and he'll have bragging rights for a lifetime after attending what's been called "one of the best food lover's events in the nation." It's an action-packed whirlwind of food and fire (not to mention golf, fly-fishing, zip-lining, and other fun pursuits) at the Montage Palmetto in Bluffton, South Carolina, one of the most luxurious resorts in the country. This exclusive class, taught personally by Steven, is very hands-on and covers all the methods of live-fire cooking. (Social distancing will be conscientiously practiced.) Dad—and you, if you join him—will come home with mad skills. Dates for the 2020 program are June 18 – 2 (Father's Day weekend).
Your father can monitor his barbecue session from his iPhone, Android, or tablet from a distance of up to 30 feet, and needn't miss out on important moments with the family. The probe, which encloses heat-resistant electronics, is truly wireless and can also be used in the oven or with sous vide set-ups. Charges in just 2 minutes. Very easy to set up. No complicated pairing is required.
All of the livestock from this company, founded in 2015, is pasture-raised with no hormones on an independent farm run by a family whose goal is to deliver high quality meats at a fair price. The hard work they put in shows in the excellence of the finished product. flavor and luxurious—in other words, it's the real deal. In addition to beef, the company also sells humanely-raised pork and chicken.
Dad will appreciate the genius of combining sturdy long-handled tongs with two bright LED bulbs attached to one arm. Especially handy when the barbecue party continues after dusk. Simply slide the light box off the handle when it's time to wash the tongs. What an illuminating idea!
What most grillers needin their outdoor kitchens—more storage and work space! The Unity XL Entertainment Storage Unit is an all-in-one solution that allows you to host comfortably while storing grilling equipment and accessories securely. It's made out of a strong, weather-resistant resin with an appealing wood-like texture and has a durable upper surface for cooking, serving and other hosting duties, including bartending.
In honor of American barbecue, Steven created a line of electrifying sauces that honors distinct regional differences. They include nuanced Chipotle Molasses, Smoky Mustard (a nod to the Carolinas), Kansas City-inspired Lemon Brown Sugar, Cabernet Rosemary from California's wine country, Cherry Beer, and Spicy Apple. They're great with pork or beef ribs, chicken, pork shoulder, even duck. Can't choose your favorite? That's why they come in a six pack.
A collection of six unique spice rubs Steven developed will bring new and exciting flavors to the table. They include Malabar Steak Rub, Carolina Pit Powder, Kansas City Smoke Rub, Santa Fe Coffee Rub, Fennel Pepper Rub, and Greek Island Herb Rub. Family dinners just got a lot more global, and interesting.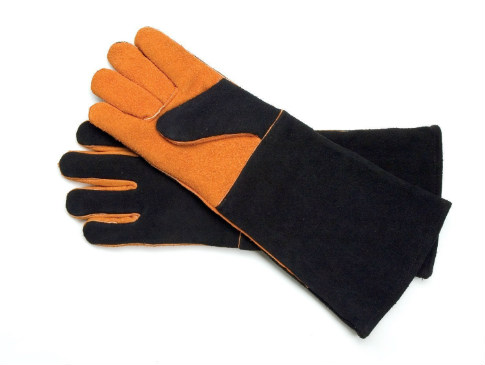 Among the best sellers in Steven's Best of Barbecue line are distinctive black and rust-colored suede grilling gloves, recently named "Best BBQ Gloves" by Business Insider. Long enough to protect Dad's forearms from the heat of the grill, these manly-looking gloves are soft and pliable. Better yet, combine them with Insulated Food Gloves, rubberized gloves that help grillers maneuver beer can chicken off the grill, shred pork, or handle other hot foods without discomfort.
Introduce Dad to the convenience and versatility of pellet grilling with this well-designed portable model by Green Mountain Grills, one of the most respected manufacturers in the industry. Wifi-equipped with a meat probe and a Sense-Mate, which continually monitors and maintains consistent grill temperatures. Runs on 120AC or 12V, making it perfect for backyards, fishing camp, or car camping. The high dome accommodates whole chickens or a rib rack.
Released by Workman Publishing in May, 2016, Project Smoke by Steven Raichlen quickly became a best-seller. It features full-color photos and over 100 irresistible recipes. Bundle it with innovative Best of Barbecue Smoking Pucks. These stainless steel disks (a set contains two) hold either pellets or smoking wood chips. Directional vents enable you to direct smoke onto the food, ramping up the flavor.
What are you gifting Dad for Father's Day? Share them with us on Facebook, Twitter, Reddit, or Instagram!