Beer Can Chicken Gets Dressed Up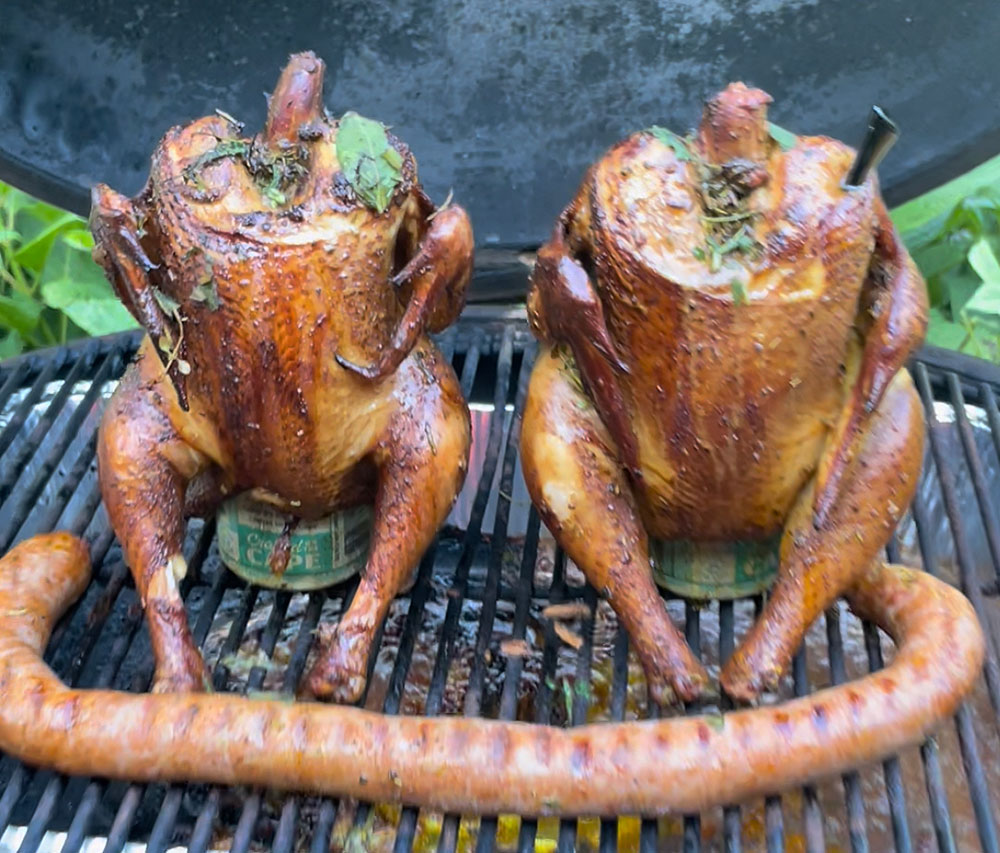 When asked to pick a recipe for my latest grilling adventure, I knew exactly what I wanted to do–Beer Can Chicken–a favorite Raichlen classic! I used the traditional recipe which is quite simple and easy, yet produces a very juicy and flavorful bird. There are many variations on this recipe; Steven even has a whole book dedicated to the art of Beer Can Chicken. 
To get started, I threw on my trusty GrillKilt and geared up with all my tools, side towels, and beer bottle opener. The GrillKilt is like a well-designed tool belt for grillers. (It's made in the US.) Ten pockets of varying sizes, D-rings, and carabiners accommodate hand towels (included), tongs, bottle openers, basting brushes, salt and pepper, earbuds, a beer, your smartphone, and much more. It's 360 degrees of usefulness.
GrillKilt Offer!

"Use code "BBQBIBLE" for 15% off all GRILLKILT products."
Then, I set up my smoker, lit the coals, soaked a combination of Steven's Mesquite and Hickory Wood Chips in some beer and waited for the coals to get going. 
Cooking the Beer Can Chicken
To prep the chicken, I coated it with some of Steven's Carolina Pit Powder Rub and the Malabar Steak Rub. I know it's a steak rub, but I like to mix things up from time to time–the flavor here was perfect. 
When the smoker was ready, I threw the beer-soaked wood chips on the coals, cracked open two more cans, and after sampling some of the beer, I shoved some garlic cloves and fresh herbs into the can, placed the chickens on top, and situated them together on the grill grid. I set my STAKE by Maverick Thermometers to the desired 165°F,  threw on a chorizo from a local farm for the heck of it, closed the lid and an hour and fifteen minutes later, we were golden!
As always, the GrillKilt kept me organized and made me feel like a grilling pro. (No pesky trips into the house to retrieve forgotten gear!) 
The smoky color and flavor of the skin mixed with the juicy tenderness created by the moisture of the steaming beer creates a great combination of smells, tastes and textures in every bite.
Just remember, if a beer can chicken, so can you!
What's YOUR favorite end of summer dish? Let us know on Facebook, Twitter, Reddit, or Instagram!