All New Steven Raichlen Dinner Plans for February
The 500 Club Introduces the All New EEE Steven Raichlen Dinner Plans of the Month!
From our beloved country of Spain, we bring you a whole new style of Steven Raichlen dinner plans, The Exciting, Exotic, EXPRESS (EEE) SR Dinner Plans of the Month!
With the Steven Raichlen 500 Club Members Only Ridiculously Delicious Dinner Plans of the Month your fellow 500 Club members have shown how you can combine multiple SR recipes for an other worldly dinner the equal of any top chef in the world!
At the same time, we recognize that not everyone has the time available for that worthwhile pursuit, so we are introducing our Express Plans with just 2 quick and easy to prepare SR recipes and 1 Bonus Recipe, to kick your everyday dining experience up big time!
And so, direct from Spain, Alynne and I offer our February EEE SR Dinner Plan for your dining pleasure!
Dinner Plans for February
1. Pork with Moorish Seasonings Pinchos Morunos pg. 180
"The Spanish name for the dish means Moorish kebabs, and the seasonings – hot pepper flakes, cumin and coriander – are characteristic of North Africa. But no self-respecting Muslim would prepare the kebabs with what is probably Spain's most popular meat: pork. So, here's a dish born of two cultures and continents."
2. Grilled Spanish Vegetable Salad Escalivada Pg. 96
"Escalivada is a Catalan grilled vegetable salad. Traditionally, the vegetables are grilled whole and sliced into thin strips for serving, but you get a richer smoke flavor by preslicing the onions and eggplant. Some grill masters display the vegetables separately on a plate, but you can also toss them together – making a great topping for grilled bread."
3. Madrid-Style Sangria – the Bonus Recipe Pg. 60
"Sangria is one of the most popular beverages for a barbecue, but over the years there's been a tendency to turn it into a sort of wine-drenched fruit salad. Here's a sangria that's prepared in the style of the tapas bars of Madrid – minimal fruit, not too sweet, and very potent."
All recipes can be found in The Barbecue Bible!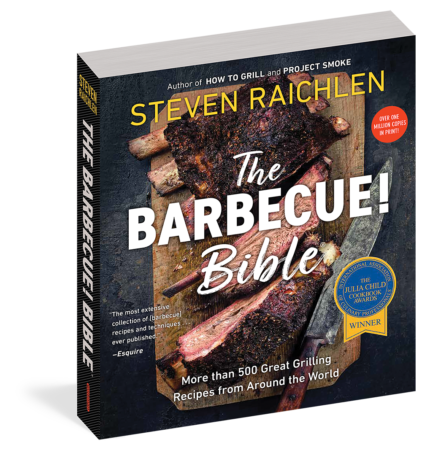 Head over to the BBQ500 club on Facebook. We have an amazing community!

Also, sign up for our Up in Smoke newsletter so you don't miss any blogs and receive some special offers! PLUS get Raichlen's Burgers! PDF for free!

Follow Steven on Facebook, Twitter, Reddit, Instagram, and TikTok!