12 Great Gifts for Father's Day 2019
One of the biggest gift-giving challenges of the year is coming up on June 16. Yes, Father's Day is here again. And the pressure's on to give the Old Man a gift he'd really like to get. (Please, no socks or ties.) For the dads who love to grill and barbecue, we've assembled a dozen of our favorite suggestions culled from Steven's extensive product line and others. To you and yours, Happy Father's Day!
Steven's latest book, The Brisket Chronicles, is a must-have for dads who want to up their grilling and smoking game. From whole packer briskets to brisket flats, Steven shares his 50 best recipes for brisket as well as step-by-step techniques for prepping, seasoning, and barbecuing this popular meat. Includes full-color photographs throughout; complete tips for choosing the right cuts; handling, prepping, and storing a brisket; and recipes for accompaniments, too, including slaws, salads, sauces, and more.
This elegant, superbly crafted knife glides through large hunks of protein (brisket, turkey, and ham) like butter without tearing the meat or fatiguing the designated meat carver—usually Dad himself! Perhaps you've seen it on the set of Project Smoke or Project Fire. It's one of Steven's favorite blades. Made in Japan of high-carbon vanadium stainless steel (the durable handle is polished pakkawood), this knife is destined to become a family heirloom. It comes in a very cool wooden sheath called a saya.
Buy Dad a six-pack for Father's Day! No, not that kind of six-pack, but a collection of six unique spice rubs Steven developed to bring new and exciting flavors to the table. They include Malabar Steak Rub, Carolina Pit Powder, Kansas City Smoke Rub, Santa Fe Coffee Rub, Fennel Pepper Rub, and Greek Island Herb Rub. Family dinners just got a lot more global, and interesting.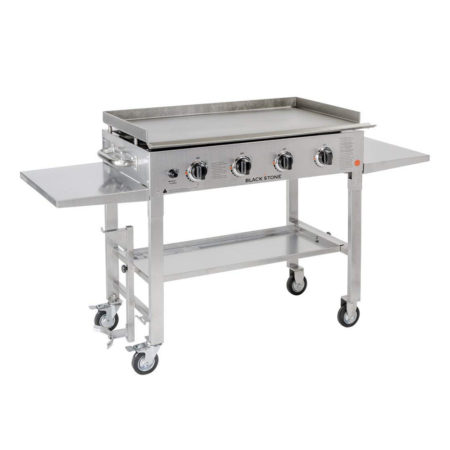 If Dad enjoys cooking breakfast or brunch for a crowd, he'll love this addition to his outdoor kitchen. Features push-button ignition, stainless steel construction, and four independent burners/cooking zones. Runs on propane. The removeable griddle and fold-up legs make it easy to transport to a tailgating event, campsite, or cabin.
Enroll your father in BBQU, and he'll not only have a year to anticipate the experience, but have bragging rights for a lifetime after attending what's been called "one of the best food lover's events in the nation." It's an action-packed whirlwind of food and fire (not to mention golf, fly-fishing, zip-lining, and other fun pursuits) at one of the most luxurious resorts in the country. This exclusive class, taught personally by Steven, is very hands-on and covers all the methods of live-fire cooking. Dad (and you, if you join him) will come home with mad skills. Dates for the 2020 program will be announced soon.
The Maverick long-range wireless dual-probe thermometer set includes a receiver, a transmitter, two hybrid probes and two grill clips, and a BBQ Grill Mat. This system allows you to monitor two things at once: one food item and one grill/smoker, or two food items, or two grills/smokers. There are six preset temperatures for beef, veal, lamb, pork, chicken, and turkey, plus nine bonus preset temperatures for game meats.
Introduce Dad to the convenience and versatility of pellet grilling with this well-designed tabletop model by Green Mountain Grills, one of the most respected manufacturers in the industry. Wifi-equipped with a meat probe and a Sense-Mate, which continually monitors and maintains consistent grill temperatures. Runs on 120AC or 12V, making it perfect for backyards, fishing camp, or car camping. The high dome accommodates whole chickens or a rib rack.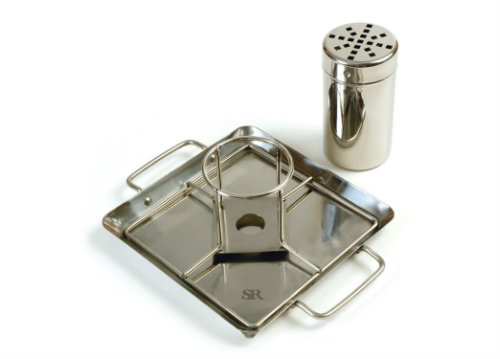 Steven Raichlen wrote the book on beer can chicken, literally. This ingenious device makes the process easier and virtually foolproof. Square construction gives you greater stability. Bird won't tip and beer won't spill. This beer can chicken holder is all stainless steel, so it won't react with food or rust. It adapts to both beer cans and our unique stainless steel canister, which you can fill with wine, fruit juice, or other flavorful liquid. Metal drip pan collects meat juices for sauces and prevents dripping fat from erupting into flare-ups.
Among the the best sellers in my Best of Barbecue line are distinctive black and rust-colored suede grilling gloves, recently named "Best BBQ Gloves" by Business Insider. Long enough to protect Dad's forearms from the heat of the grill, these manly-looking gloves are soft and pliable. Better yet, combine them with Insulated Food Gloves, rubberized gloves that help grillers maneuver beer can chicken off the grill, shred pork, or handle other hot foods without discomfort.
This Bristle-Free BBQ Brush By GRILLART allows you to effortlessly clean anywhere on your grill grates. Its hard-wired stainless steel mesh cuts through the toughest residue, its sharpest scraper easily scrub out any stubborn residue without scratching your grill. This grill brush provides a cleaner, healthier grill surface than other brushes and eliminates the risk of bristles ending up in your food.
In honor of American barbecue, Steven created a line of electrifying sauces that honors distinct regional differences. They include nuanced Chipotle Molasses, Smoky Mustard (a nod to the Carolinas), Kansas City-inspired Lemon Brown Sugar, Cabernet Rosemary from California's wine country, Cherry Beer, and Spicy Apple. They're great with pork or beef ribs, chicken, pork shoulder, even duck. Can't choose your favorite? That's why they come in a six pack.
This dual purpose Tuscan Grill (14″ x 14″) has 196 square inches of cooking surface. Lay it on your conventional chrome-plated or enamel grate to produce tack-sharp, well defined grill marks on steaks, chops, chicken breasts, vegetables, etc. Screw on the legs and use it for grilling over a campfire or in your fireplace. Either way, the heavy, heat conducting cast-iron gives you killer grill marks.
What are your plans for Father's Day? Tell us about it in the comments or on Facebook, Twitter, or Reddit.