10 Dishes Every Beginner Barbecuer Should Master
If you're new to grilling and/or barbecuing, it can be difficult to know how to get started. Perhaps you've bought a book, such as Steven's iconic How to Grill, or consulted a friend or family member who seems to know what they're doing. Maybe you've haunted chat rooms or other social media groups, hoping to pick up a few pointers, only to become confused by terms like "reverse-sear" and the "3-2-1 method."
But the easiest way to acquire this old-as-time skill is to just do it. Like anything worth mastering, it takes some practice. You'll need to build up experience managing time and temperature, two variables that can really mess up a grill session.
To help you develop some traction during this, National Barbecue Month, we've selected ten of our favorite dishes that will acquaint you with the basics—direct versus indirect grilling, for example—but encourage you to expand your comfort zone. And if you have any questions, any at all, feel free to contact us for a personal response in the comments below or on Facebook, Twitter, Reddit, or Instagram. We're always happy to help.
---
10 Recipes Every Beginner Barbecuer Should Master

Burgers are often the first thing people crave when the first warm days of spring or early summer arrive. Nothing fancy here. Just old-fashioned goodness—a perfectly cooked burger oozing flavor and juice, dressed modestly with traditional accompaniments.
Can't get to Buffalo or your favorite wing joint? These Buffa-Que Wings soak for several hours in a spicy marinade before being smoke roasted to crisp-skinned perfection.
This recipe is a blueprint for rib perfection, even if it's your first experience barbecuing these meaty bones. If you're cooking for more than three or four people, invest in a Best of Barbecue Rib Rack. It holds four racks of ribs upright in the space that normally accommodates one.
Warning: Boiled shrimp will lose its allure once you've added smoked shrimp to your repertoire.
We get it: Pricy Porterhouses and T-bones can make or break your reputation as a live fire cook. We have two bits of advice: Invest in an accurate instant-read thermometer (insert the probe through the side); and never desert your post. This steak gets a flavorful coffee-based rub before hitting the grill. But your favorite rub—like Montreal steak rub or even coarse salt and pepper—can be used, too.
This pulled pork with the alliteratively named Pig Picker Pucker Sauce takes its cues from Lexington, North Carolina. Pulled pork is hard to mess up as long as you're patient and pull it while it's still very hot to the touch. Meat claws and lined food-safe gloves make the job much easier.
Moist, succulent, and flavorful. And did we mention crisp skin? For more on Beer Can Chicken, read on.
Indigenous people of the American Northwest were among the first to roast salmon over cedar, a cooking method that deserves its phoenix-like rise from history's ashes. This method also avoids the problem of the fish sticking to the grill grate.
Husked, grilled sweet corn is a revelation. You'll never boil it again.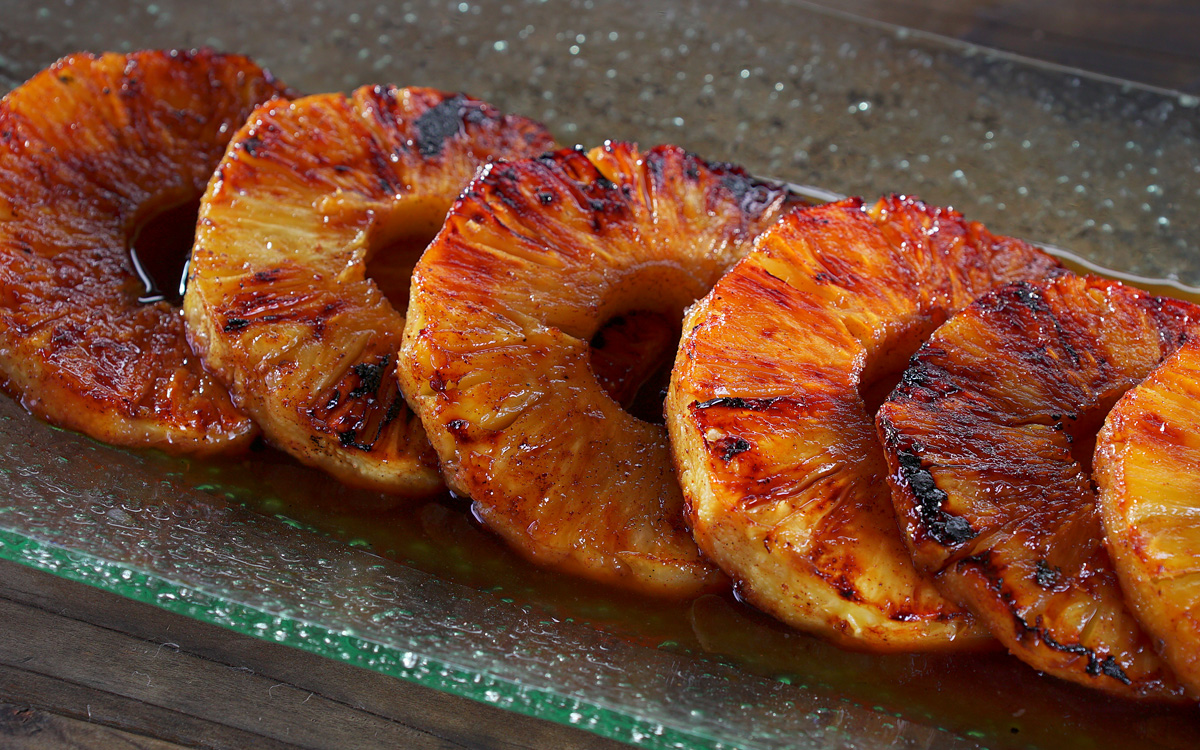 This incredibly easy dessert makes a fine finish to a grilled and/or barbecued meal. Fresh slices of pineapple are dredged in spiced sugar, carmelized on the grill, and served with whipped cream laced with mezcal, a smoky cousin of tequila. (Feel free to substitute tequila or rum.)
Do you have any beginner barbecue questions? Share them with us on Facebook, Twitter, Reddit, or Instagram!