Our Top 5 Pork Recipes
For many Americans—Especially if you come from the South or Midwest—barbecue means pork. Memphis-style ribs. Carolina pulled pork shoulder. St. Louis-style pork steaks. It's no surprise that the pig is the unofficial symbol of American barbecue. It's also not surprising that pulled pork, a uniquely American contribution to the world of 'cue, occupies three of the top five positions in Barbecuebible.com's porcine popularity poll. The remaining two feature—what else?–bacon. Pork is also one of the most forgiving meats, perfect for barbecuers of any experience level. Need we say more?
Bacon is about smoke and salt. Barbecue is about smoke and spice. They join forces in this barbecued pork belly—inspired by a new-school barbecue restaurant in Kansas City, Missouri, called Q39, run by an old-school chef and pit master named Rob Magee. What is most remarkable about this sizzling, spice-crusted barbecued belly is how it retains the sweet, meaty taste of fresh pork.
Does your pulled pork need a make-over? A brine featuring a fortifying dose of whiskey makes a great soak for the pork shoulder—also called pork butt—before it hits your grill or smoker. Pile on toasted sesame buns for a game day get-together or a casual family supper. Serve with your favorite sauce and slaw.
One of our most viewed and shared recipes, this pork loin shows the incredible versatility of one of the meat counter's biggest bargains. There's virtually no waste as there is with other cuts. It's all protein! Rubbed, glazed, and enrobed in bacon, it plays pinball on your taste buds.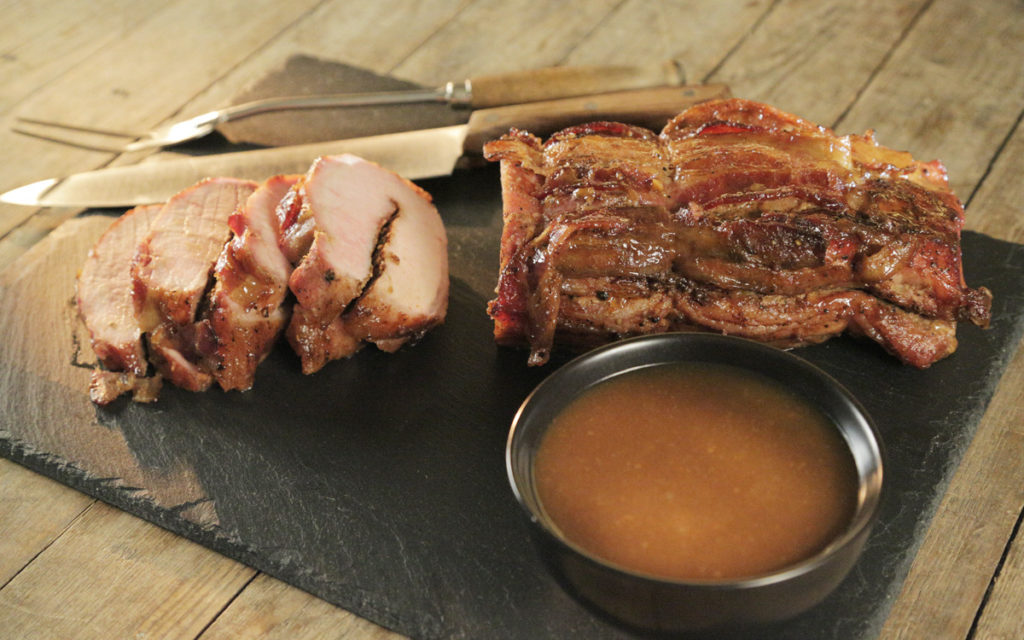 No more second-guessing yourself. This simple formula for pulled pork (a technique first used on ribs) produces a great, tender version of this popular dish every time. Three hours of wood smoke, two hours wrapped in foil or butcher paper, and one hour unwrapped to tighten the bark. Pulls easily with fingers or forks, but we think these claws are indispensable.
Pork shoulder cooked smoky as a fireplace, succulent as a biscuit dipped in bacon fat, and tender enough to pull apart with your fingers — such is North Carolina barbecue. As the name suggests, the traditional way to serve the pork is to pull it into shreds by hand. That's where a thin, spicy vinegar sauce comes in, because a Kansas City sauce would be too thick to be absorbed by the slender shreds of meat.
What are your favorite pork recipes? Share with us on Facebook, Twitter, Reddit, or Instagram!