Barbecued Pork Belly
Steven Raichlen
Bacon is about smoke and salt. Barbecue is about smoke and spice. They join forces in this barbecued pork belly—inspired by a new-school barbecue restaurant in Kansas City, Missouri, called Q39, run by an old-school chef and pit master named Rob Magee. What is most remarkable about this sizzling, spice-crusted barbecued belly is how it retains the sweet, meaty taste of fresh pork. You'd never mistake it for bacon.
Print
Barbecued Pork Belly
Recipe Notes
Yield: Serves 6
Method: Hot smoking
Equipment: Big Green Egg; Fuel: a mix of hickory and cherry
Ingredients
A 3- to 3-1/2-pound section of pork belly
Salt and freshly ground black pepper for seasoning
For the rub:
2 tablespoons kosher salt
2 tablespoons sugar
2 tablespoons sweet paprika
1 tablespoon granulated garlic
1 tablespoon chili powder
1 tablespoon ground cumin
1/2 tablespoon ground black pepper
1/2 tablespoon mustard powder
1/2 teaspoon ground white pepper (or more black pepper)
1/2 teaspoon cayenne pepper
Recipe Steps
Step 1: Remove the skin (also called rind) from the pork belly (if still on). Score both sides with a sharp knife, cutting a 1-inch crosshatch pattern with cuts 1/4 inch deep.
Step 2: Make the rub: Place the salt, sugar, paprika, garlic, chili powder, cumin, black pepper, mustard powder, white pepper, and cayenne in a bowl. Mix well with your fingers.
Step 3: Sprinkle the rub over the top, bottom, and sides of the pork belly, rubbing it into the meat with your fingers.
Step 4: Set up your smoker following the manufacturer's instructions, and preheat to 225 degrees. Add the wood as specified by the manufacturer.
Step 5: Smoke the pork belly fat side up until bronzed with smoke and the internal temperature is 165 degrees. This will take about 3 to 4 hours.
Step 6: You can serve the pork belly hot out of the smoker, but you'll get a better texture and flavor if you chill and reheat it. If using the second option, transfer the pork belly to a wire rack over a baking sheet and let cool to room temperature, then cover and refrigerate until cold. The recipe can be made up to 3 days ahead.
Step 7: Cut the chilled pork belly crosswise (against the grain) into 1/2-inch thick slices. Lightly season each slice on both sides with salt and pepper.
Step 8: Meanwhile, set up your grill for direct grilling and preheat to medium-high. Ideally, you'll be grilling over wood or will add some wood chunks to your fire.
Step 9: Arrange the pork belly strips on the grate on the diagonal and grill until sizzling and browned on both sides, about 2 minutes per side. (Give each slice a quarter turn after 1 minute to lay on a crosshatch of grill marks.) Don't over-crowd your grill. The melting fat may cause flare-ups—so you want to leave yourself plenty of maneuvering room to dodge the flames.
Find This Recipe
And More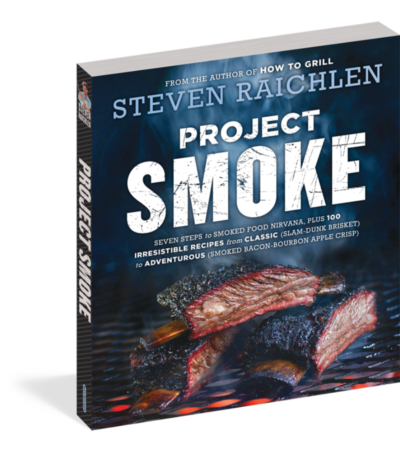 New York Times Bestseller Project Smoke is the How to Grill of smoking, both a complete step-by-step guide to mastering …
Buy Now ‣