8 Recipes to Grill in January
Happy New Year from Steven and all of us at Barbecuebible.com!
If you're like most of us, you're trying to back away from the rich (and pricy!) foods that marked lavish celebrations of the holiday season. The below recipes veer in a lighter, more economical direction. And yet, several, like shrimp with deconstructed pesto sauce, are fancy enough for entertaining. Enjoy!
8 Recipes to Grill in January
One of the principal characters in Steven's first novel, The Hermit of Chappaquiddick," Claire uses cranberries and nuts harvested on the island to bake her delectable nut bread for the Hermit. Maybe you have a package of cranberries in the freezer left over from your holiday cooking. If you own a pellet smoker, you can bake the bread on it.
Low calorie tuna tacos fit the parameters of clean, healthy eating. (You can even skip the tortillas if you're following a low-carb regimen.) The tuna only takes minutes to sear, a plus if you and your grill reside in one of the northern states.
This dish pays homage to one of Steven Raichlen's barbecue heroes, Chris Schlesinger. Chris had the idea to do a deconstructed marinade. Shrimp (or other protein) is grilled simply, then tossed in the deconstructed pesto marinade made of fresh basil, garlic, pine nuts, lemon, olive oil, and cheese. If you're used to conventional pesto, this deconstructed version will blow you away with its bright, explosive flavors.
The turkey burger arose in an effort to enjoy the lusciousness of a hamburger with the clean conscience that comes with eating low-cholesterol and low-fat meat. These turkey burgers light up your mouth with chile powder, jalapeño pepper, and cilantro. In keeping with the Tex-Mex theme, serve the burgers on flour tortillas along with avocado and slivered jicama.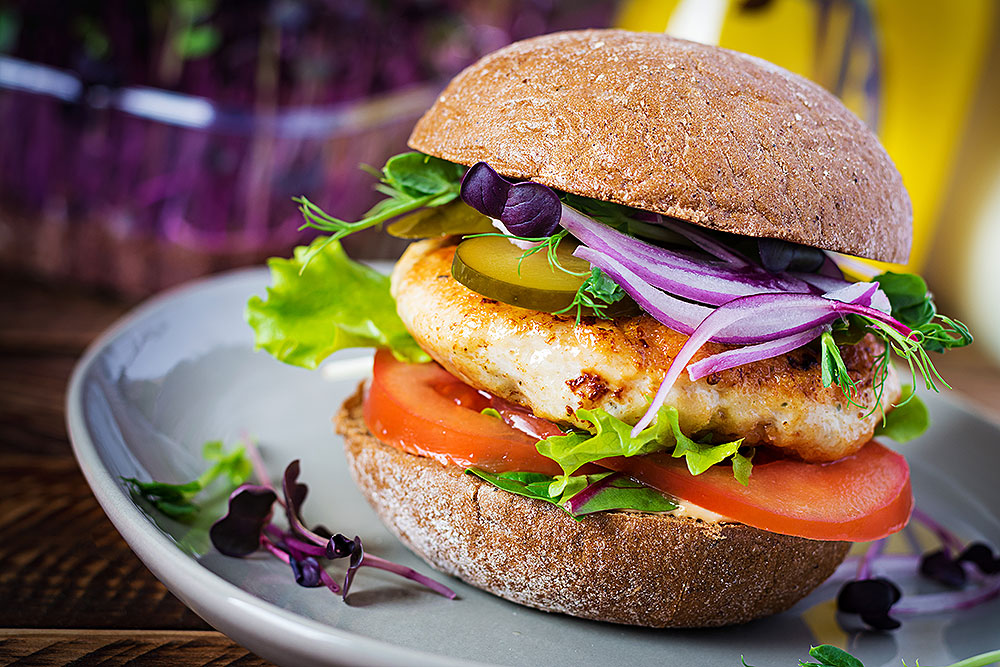 One of our most popular poultry recipes is great for a cozy supper in front of the fireplace, or elegant enough for a small dinner party. Allow 12 to 24 hours for brining the birds.
Pamplona is the name Argentineans and Uruguayans give to a cylindrical roast stuffed with bell peppers, ham, and cheese. This version starts with what may be the best luxury cut for the money: pork tenderloin. We stuff it with fire-roasted bell peppers, smoked ham, and creamy Boursin cheese. Then we smoke-roast it with hickory chunks to add an irresistible smoke flavor. Did we mention bacon? Lots of bacon? The latter looks great, adds flavor, and helps keep the lean pork moist during smoking.
Raichlen's Rule states that if something tastes great baked, fried, or sautéed, it probably tastes better grilled. Which brings us to a dish Steven never imagined he'd cook on the grill: eggplant parmigiana. Another rule of his states that if grilling doesn't measurably improve a dish you might bake, fry, or sauté, you should stick with the traditional method. (Just because you can cook virtually everything on the grill, it doesn't mean you should.) Well, grilling benefits eggplant parmigiana in at least four ways. First, you eliminate a lot of the oil and oil-soaked breading. Second, you can introduce an interesting smoke flavor. Third, there's the charred cedar plank, which adds another layer of flavor and cool factor. Finally, this grilled version is a lot quicker, easier, and less messy to make than traditional eggplant parm, and it tastes cleaner, too.
Infinitely customizable, this is a simple, easy-to-make dessert you'll want to add to your repertoire featuring bananas and luscious dulce de leche.
Head over to the BBQ500 club on Facebook. We have an amazing community!
Also, sign up for our Up in Smoke newsletter so you don't miss any blogs and receive some special offers! PLUS get Raichlen's Burgers! PDF for free!
Follow Steven on Facebook, Twitter, Reddit, Instagram, and TikTok!