Tex-Mex Turkey Burgers
Steven Raichlen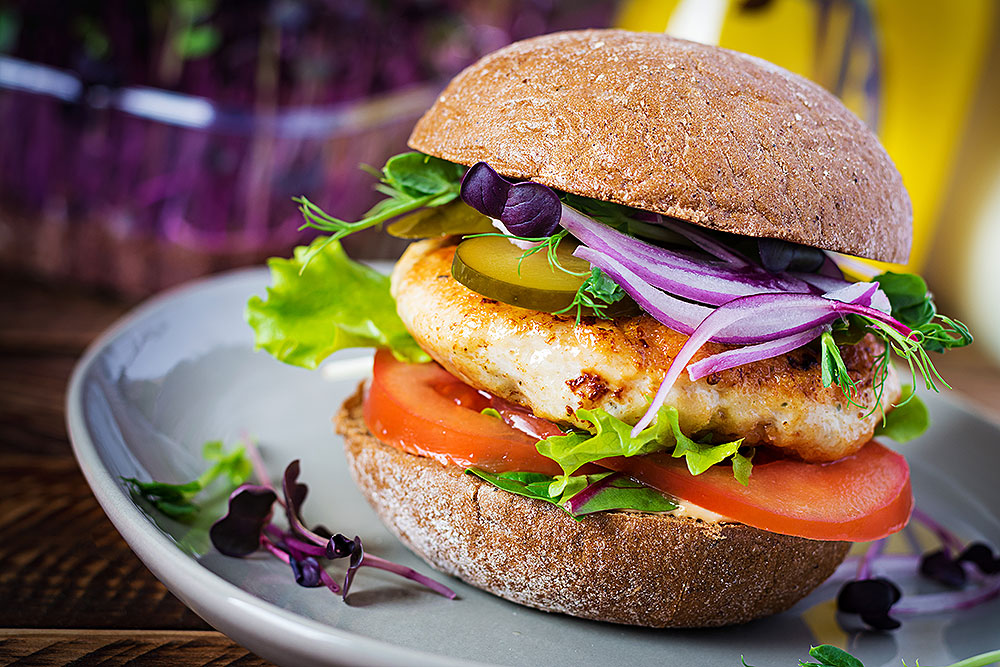 The turkey burger arose in an effort to enjoy the lusciousness of a hamburger with the clean conscience that comes with eating low-cholesterol and lowfat meat. These turkey burgers light up your mouth with chile powder, jalapeño pepper, and cilantro. In keeping with the Tex-Mex theme, serve the burgers on flour tortillas along with avocado and slivered jicama.
Makes 4 burgers
Print
Tex-Mex Turkey Burgers
Recipe Notes
Total Time: About 20 minutes
Equipment: Your basic kitchen gear including a large (10- to 12-inch) skillet and tongs
Ingredients
1-1/2 to 2 pounds lean ground turkey, well-chilled
1/4 cup chopped fresh cilantro
1 to 2 jalapeño peppers, seeded and minced (for hotter burgers, leave the seeds in)
1 scallion, both white and green parts, trimmed and minced
1 tablespoon pure chile powder, preferably ancho chile powder
1/2 teaspoon ground cumin
Coarse salt (kosher or sea)
1 tablespoon olive oil
4 flour tortillas (8 inches in diameter)
1 cup Pico de Gallo, Salsa Chipotle, or your favorite salsa (optional)
8 ounces jicama (optional), peeled and cut into matchstick slivers
1 avocado (optional), peeled, seeded, and diced
½ cup Rajas (optional)
Sour cream (optional)
Recipe Steps
1: Place the turkey, cilantro, jalapeño(s), scallion, chile powder, and cumin in a mixing bowl and, using a wooden spoon, stir to mix.
2: Divide the turkey into 4 equal portions. Shape each portion into a patty about 1 inch thick (lightly wet your hands with cold water before handling the meat). Work with a light touch, handling the meat as little as possible. Make a slight depression in the center of the patties; they should be slightly concave. You can form the burgers up to 6 hours ahead. Arrange the burgers on a plate lined with plastic wrap and cover them with more plastic wrap. Refrigerate the burgers until you are ready to cook them.
3: Just before cooking, generously season the burgers on both sides with salt, turning them gently.
4: Heat the olive oil in a large skillet over medium-high heat. Add the burgers, spacing them 2 inches apart. Cook the burgers until the bottoms are browned, 3 to 5 minutes. Using a spatula, gently turn the burgers over and continue cooking them until done to taste, about 5 minutes more for medium. To test for doneness, insert an instant-read thermometer through the side of a burger. When the burger is cooked to medium the thermometer will register 165°F.
5: Transfer the burgers to a warm plate and let rest for 1 to 2 minutes.
6: Meanwhile, wipe out the skillet and use it to warm the tortillas over medium heat untilapliable, about 10 seconds per side. Use tongs to turn them. (If you cooked the burgers under the broiler or on the grill, warm the tortillas in either one for about 10 seconds per side.)
7: To serve, place a burger on one side of each tortilla. Spoon some salsa over each burger, if using, and top the burgers with jicama, avocado, and/or Rajas and sour cream, if desired. Fold the bare halves of the tortillas over the burgers and serve.
Recipe Tips
To jazz up the burgers further (not that they need it), pile on some rajas (roasted poblano pepper strips) and/or sour cream (full or low fat).
Find This Recipe
And More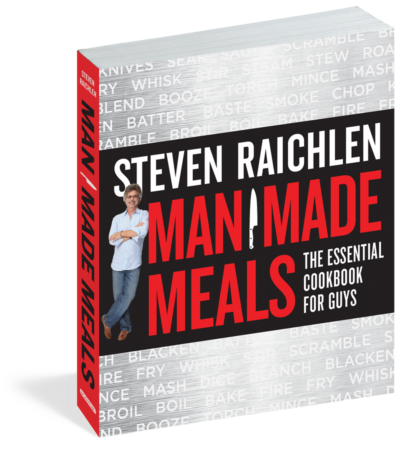 Man Made Meals is about the tools and techniques (guess what, grillers, you still get to play with knives and fire.) …
Buy Now ‣