Make the Season's Last Tailgate Parties the Best Yet
The 13-week college football season is winding down, meaning you have just a couple of opportunities left to throw a blow-out party in the parking lot, aka, tailgate. (Parties thrown at home on game day count, too.) We bet you've been training hard since that first kick-off back in August, striving to serve the best damn food on the asphalt. You can't let your guard down now. Time to step up your game and go in for the win. We're here to help by sharing 10 of our best tailgate-worthy recipes.
The Best Tailgating Recipes for the Grill

Let everyone else serve Bloody Marys or breakfast beers. You, on the other hand, can offer party goers a polite glass of bacon-infused bourbon. Serve, of course, with a bacon swizzle stick. The bourbon is a great addition to barbecue sauce, by the way.
Pay homage to the pigskin! Plate a tray of these hot-off-the-grill appetizers just as guests are arriving—a clever configuration of sausage rounds encircled with strips of bacon and filled with a mixture of cream cheese, cheddar, scallions, and diced shrimp. (You can assemble them ahead of time.) They were a huge hit with the crew of Project Fire this season.
You can't host a tailgate party without wings. Here's another winner from Season 2 of Project Fire: spicy Miami Wings, a nod to Steven's hometown of Miami. Chicken wings are marinated overnight, then indirect grilled at fairly high heat to crisp the skin. Make more than you think you'll need as these are addictive.
Steven recently named this recipe, which first appeared in How to Grill, one of his 10 favorites. (Now, that's an endorsement!) Jumbo shrimp are grouped on sugar cane skewers, then brushed as they grill with a Caribbean-inspired glaze.
Research conducted by Tailgator.com indicated that over 50 percent of tailgaters arrive at the party venue about 4 hours ahead of game time. You can watch the sun rise over the stadium while sating your appetite with these savory burgers featuring breakfast sausage, bacon, eggs, and cheese. (Tip: Shape the burgers at home, wrap them in bacon, and chill. Pack the eggs, cheese, and buns or biscuits separately. Get them started when you arrive at your designated parking place.)
Pork tenderloin is great for tailgating—it cooks quickly, lends itself to many preparations, and is relatively inexpensive. (It is often vacuum-sealed in packages of two. Be sure to remove any silverskin or excess fat before marinating or grilling.) This version, featuring the kick of canned chipotles in adobo sauce, soaks up flavor during an overnight marinade and is ready to kick a** when Game Day dawns. (Put a reminder in your phone or on your dashboard so you don't forget it in the refrigerator when you're packing for the party.)
Apples and pork? These ribs scream "Fall!" And instead of a 4 to 5 hour smoke—not practical for tailgating—they cook at higher heat for less than 2 hours. Steven's invaluable rib rack will enable you to barbecue up to 4 racks of ribs at once, important when grill space is at a premium. Cut the slabs into individual ribs for serving, and be sure to provide plenty of napkins. (P.S. These are great with the bacon-infused bourbon above. Just sayin'.)
Food that can be eaten one-handed is a must for tailgate parties. These drummies qualify, and they're economical, too. The glaze—just butter, sriracha sauce, and maple syrup—is simple enough to mix up on site. But what flavor!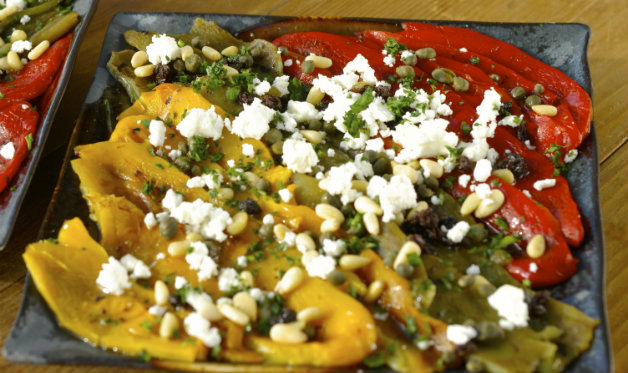 Though Tailgator.com reports that 95 percent of the food served at tailgates is cooked on site, you can't be faulted for toting one or two finished dishes to the party. This colorful salad can be prepared the day before and assembled on site. It's a nice antidote to the meat-centric menus common to tailgating.
Another fall-appropriate dish is this smoke-kissed apple crisp. Cooked in a cast iron skillet, you can cook it before heading to the stadium, then keep warm in a towel-lined insulated cooler and serve it after the game while you and your guests wait for traffic to clear. (Make sure stadium rules allow it.)
What are your favorite tailgating recipes? Let us know on Facebook, Twitter, Instagram, or the Barbecue Board!