Grilled Pepper Salad with Currants, Capers, and Feta
Steven Raichlen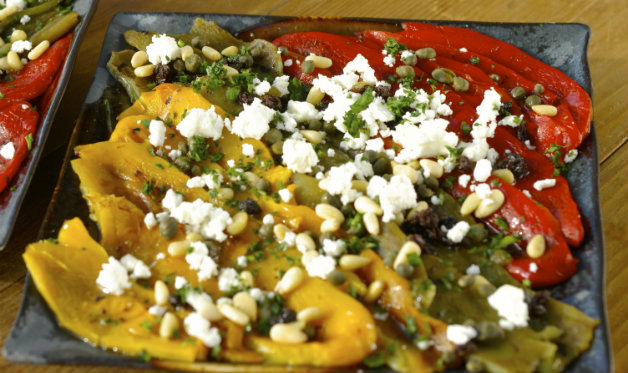 Roasted peppers loom so large on America's culinary landscape now, it's hard to believe there was a time when we ignored their very existence. I didn't get my first taste until a trip through the southern half of Italy. (I was trying to retrace the path of the Crusades during a postgraduate research grant to study medieval cooking.) Today, everyone roasts peppers, but until you've done it on the grill — and in particular, until you've roasted the peppers caveman style, directly on the embers — you haven't fully experienced how much burning (and I mean burning) a food can broaden and deepen its flavor.
This bell pepper salad with capers and pine nuts is a sweet-sour salad of flame-charred bell peppers with currants for sweetness, capers for tang, and pine nuts for crunch. In Italian, it's called "Peperoni ai Ferri con Capperi e Pinoli."
Print
Grilled Pepper Salad with Currants, Capers, and Feta
Recipe Notes
Ingredients
1 large red bell pepper
1 large yellow bell pepper
1 large orange bell pepper
1 large green bell pepper
1/4 cup plus 2 tablespoons extra virgin olive oil
2 garlic cloves, minced
2 tablespoons pine nuts
2 tablespoons dried currants
1 tablespoon drained small capers
2 tablespoons sherry vinegar
1/4 cup chopped parsley
1/2 cup crumbled feta
Coarse salt (kosher) and freshly ground black pepper
Recipe Steps
Step 1: Set up the grill for direct grilling and preheat to high. When ready to cook, place the peppers directly in the embers and grill until the skins are charred on all sides, 4 to 6 minutes per side (16 to 24 minutes in all), turning with tongs. (Or you can do this directly on the grill grate.) Transfer the hot peppers to a large plate and let stand until cool enough to handle. Peel the peppers and discard the charred skins, seeds, and stems. Quarter the peppers lengthwise and arrange them attractively on a platter.
Step 2: In a small skillet, heat 2 tablespoons of the olive oil. Add the garlic and pine nuts and cook over moderate heat until golden, about 4 minutes. Stir in the currants and capers. Remove from the heat and stir in the remaining 1/4 cup of olive oil. Let cool to room temperature. Whisk in the vinegar and stir in the parsley and feta; season with salt and pepper. Pour the dressing over the peppers and serve.
Find This Recipe
And More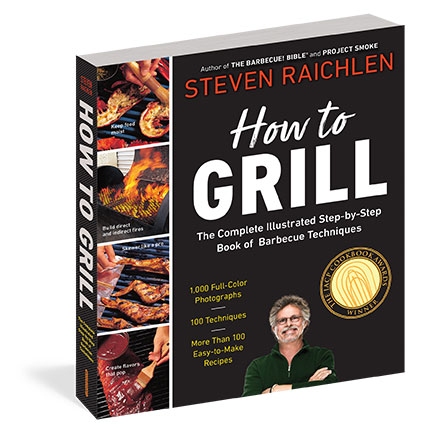 Without a doubt the most interesting, comprehensive, and well-thought-out book on grilling ever and it's destined to be in the …
Buy Now ‣