10 Essential Tools for Your Best Thanksgiving Yet
The most popular cooking holiday of the year is fast approaching. Maybe you've already extended invitations to family and friends, settled on a menu, and reserved the bird. Now it's time to take inventory of your batterie de cuisine to ensure you have everything you need to make the day a resounding success.
We perused the virtual shelves of our online store, and came up with these must-haves for your Thanksgiving meal. We assume, of course, that you're planning on cooking at least part of the feast on the grill. It not only makes the gathering more festive, but relieves some of the pressure on the kitchen and gives you an excuse to step away and periodically take a restorative breath of fresh air.
---
10 Essential Tools for Your Best Thanksgiving Yet
Use this oversize needle to inject brines, basting mixtures, marinades, or melted butter deep into the Thanksgiving turkey or other large hunks of meat. Injecting keeps even the driest meats moist during grilling and smoking. Tip: Strain your injector sauce through a fine mesh strainer or coffee filter before adding it to the injector so large pieces of peppercorns or other spices don't clog the injector needle. Find a recipe here.
Steven's apple wood smoking chips will ensure your turkey is bathed in fragrant smoke that will complement its mild flavor and never overwhelm. It's great with beef, pork, lamb, and cheeses.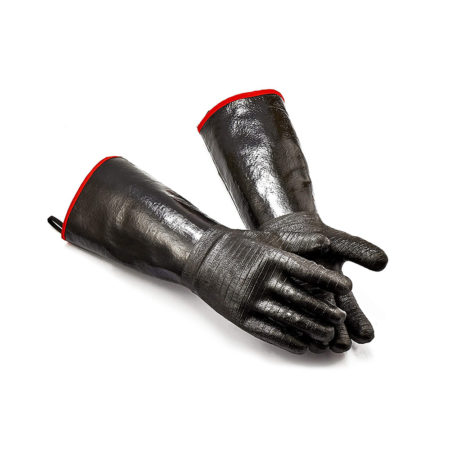 These food-safe gloves, textured for a non-slip grip, are just the thing for maneuvering the turkey from the grill or smoker to a cutting board or platter. Heat-resistant to 932°F, they'll protect your hands while you carve the bird, too.
If ever there was a day you needed help monitoring the grill Thanksgiving is the day. This handy thermometer is like an extra pair of eyes. It's a step-by-step grilling assistant that sends notifications directly to your smart phone. All it takes is a glance at your phone to know that everything is on track & grilling to perfection.
These small-but-mighty smoke pucks pack even more punch than traditional smokers. The pucks' directed vents force the smoke out exactly where you want it: onto your food. This set of two pucks also allows you to surround your Thanksgiving bird or vegetables with flavor, and their small size lets them get in close. Fill with wood chips or pellets. A top pick from amazon.com!
This roomy basket is just the thing for grilling brussels sprouts (with bacon!), pearl onions, green beans, or even shrimp for a pre-prandial nibble.
The OXO Good Grips Angled Baster with Cleaning Brush is a great tool for basting big birds. The angled tip is ideal for reaching into pans and ovens without burning your hands. The round silicone bulb is comfortable to hold and squeeze at any angle and the bold measurement markings are easy to read. The Angled Baster's integrated stand prevents rolling while minimizing drips.
The shorter days and longer nights of the holiday season call for clever devices like these Lumatongs, invented years ago by Steven and now one of the best sellers inn his line of barbecue products. A full 20 inches long, Lumatongs have two LED bulbs attached to the handle. A bright beam of light illuminates the food on the grill wherever you point the tongs.
Here it is—a carving set worth of your beautifully burnished bird. Whether you carve the turkey at the table or tackle the job in the kitchen, this handsome set (the business end of the fork is 8 inches long to ensure you have a steady grip on the food) will give you beautiful slices every time.
Several years ago, Yeti muscled its way into the premium cooler market with its line of sturdy, tough-as-nails coolers in a variety of sizes and materials. Perhaps you're not hosting this year's Thanksgiving feast, but have been asked to contribute a dish to the meal. You can be sure, hot or cold, your food will arrive in perfect condition. And when the party's over, you'll hopefully be gifted with leftovers you can tote home.
Get Ready for Thanksgiving:
Have any questions about cooking your Thanksgiving meal? Let us know on Facebook, Twitter, Instagram, or the Barbecue Board!