10 Recipes to Grill or Smoke in March
March is a two-faced tease. On her better days, she dangles signs of spring in front of your eyes—returning robins, swelling forsythia buds, more daylight hours. The next time you look outside, several inches of snow have accumulated on your grill with more in the forecast. She does, however, host St. Patrick's Day with its promise of corned beef sandwiches, or better yet—Reubens. Why not corn your own corned beef or pastrami this year? You have just enough time. You might also be looking for new ways to prepare Lenten fish dishes. See three options below.
---
10 Recipes to Grill or Smoke in March
You'll never boil corned beef again once you sink your teeth into this delectable smoked version. It's great with smoke-roasted potatoes and carrots, or you can turn it into the Reuben of your dreams. Allow 8 days for brining.
Swordfish is often on the menu at the Raichlen house. However, feel free to make this dish using other "steak" fish—tuna, halibut, or even salmon.
Yes, you read that right. Chocolate chip cookies. With brisket. It makes sense, when you think about it—the sweetness of the cookie contrasted with the saltiness (and novelty) of the brisket. Steven got the recipe from a popular food truck in—where else?—Austin, Texas, where they know a thing or two about brisket.
Pizza cooked directly on the grill grate is a revelation, and the closest you can come at home to pizza baked in a blistering hot pizza oven. Once you've mastered the technique (it's not hard) you'll want to create your own specialty pies.
For an amazing but super-easy dinner, spit-roast a plump chicken over a drip pan of root vegetables. The bird roasts right over the vegetables, coating and seasoning them with its dripping fat and juices. Many gas grills come with rotisseries, but manufacturer's such as Weber make aftermarket rotisseries for some models. Weber also sells rotisseries to fit its popular 22.5 inch kettle grill.
Can't make time for Baha this year? Channel the sand and the surf with fish tacos. This iteration, made from meaty tuna steaks with a zesty cilantro lime sauce and homemade pico de gallo will end up in your permanent rotation.
In the days before refrigeration, spring lamb was often the first fresh meat available to people after the deprivations of winter. These lamb chops, named "finger burner" because they're best when eaten hot off the grill without utensils, are seasoned simply but assertively with fresh rosemary, garlic, lemon juice, and hot pepper flakes.
These days, asparagus is available year round, most of it from Latin America. But in the spring, asparagus grown in California is often in the markets. If you live in warmer climes, you might even find it at your local farmer's market. It takes on Asian flavors in this easy preparation thanks to sesame oil, soy sauce, and sesame seeds.
No one can deny that New Orleans has a unique culinary personality, a mish-mash of French, West African, American Indian, Spanish, and Haitian influences. Despite its name, the Crescent City's version of barbecued shrimp is not cooked over live fire. Steven not only gave it a vivifying dose of wood smoke, but created a sauce that contains generous doses of butter, garlic, bourbon and cream. A grill basket will come in handy for smoking the shrimp and dozens of other things. Let the good times roll.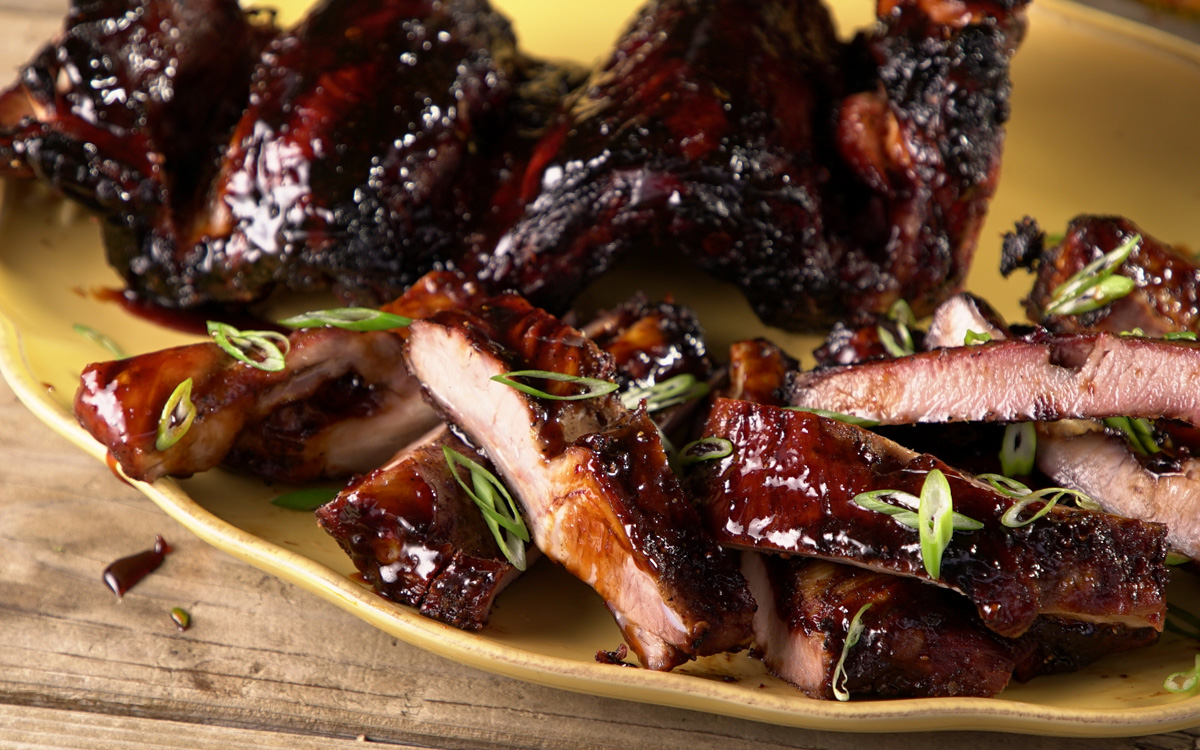 One of our favorite ways to grill spare ribs is using a rotisserie. Make three starter holes at intervals between the bones, and thread the spit through them. Start with these sweet-salty spicy ribs that take their inspiration from Hawaii, where the phrase "huli-huli" means "turn, turn."
What are you grilling or smoking this month? Share them with us on Facebook, Twitter, Reddit, or Instagram!