Rotisserie-Smoked Chicken with Drip Pan Root Vegetables
Steven Raichlen
Want a super easy dinner? Place potatoes, sweet potatoes, or other root vegetables (quartered lengthwise) with a couple of quartered shallots or a handful of garlic cloves (skins on) in a single layer in a 9-by-13-inch aluminum foil drip pan. Toss with 1 tablespoon olive oil and salt and pepper to taste. Place the pan under the chicken as it spit-roasts. The vegetables will roast in the dripping chicken fat. Stir from time to time so the veggies brown evenly. Amazing.
More Chicken Recipes:
Print
Rotisserie-Smoked Chicken with Drip Pan Root Vegetables
Recipe Notes
Yield: Makes 1 chicken, enough to serve 2 to 4
Equipment: Butcher's string; an instant-read thermometer; apple or cherry wood chips (enough for 1 1/2 hours of smoking)
Ingredients
1 whole chicken (3 1/2 to 4 pounds)
3 tablespoons barbecue rub, or to taste
1 tablespoon extra virgin olive oil
Root vegetables (optional; see above)
Recipe Steps
Step 1: Set up your grill for spit-roasting following the manufacturer's instructions, and preheat to medium-high (375°F). Yes, I know this is higher than the traditional low-and-slow smoking temperature, but the higher temperature crisps the skin.
Step 2: Remove any giblets and large lumps of fat from inside the chicken. Place 1 tablespoon of the rub in the neck and main cavities. Tie the legs together with butcher's string or pin them together with a bamboo skewer. Fold the wing tips back and under the body of the chicken. Sprinkle the remaining rub over the outside of the chicken. Drizzle the bird with olive oil, rubbing it over the skin on all sides. Run the rotisserie spit through the chicken from side to side so the bird will spin head over tail evenly. (Why head over tail? You'll get a juicier bird with crisper skin. I can't explain the physics, but most of the world's grill cultures spit-roast chickens this way, and it works.) Tighten the nuts on the rotisserie forks.
Step 3: Affix the spit with the chicken on the rotisserie. Place an aluminum foil drip pan under the bird. Toss the wood chips on the coals or otherwise add the wood as specified by the manufacturer. Turn on the motor.
Step 4: Smoke-roast the chicken until the skin is dark brown and crisp and the meat in the thigh reaches 165°F on an instant-read thermometer. (Insert it into the deepest part of the thigh but not touching the bone.) This will take 1 1/4 to 1 1/2 hours.
Step 5: Transfer the chicken to a cutting board and let it rest for 5 to 10 minutes, then carve and dig in.
Recipe Tips
When smoking on a gas grill, you'll want a mesh or tube smoker, a smoker box, or a cast-iron skillet filled with wood chips and lit charcoal.

Find This Recipe
And More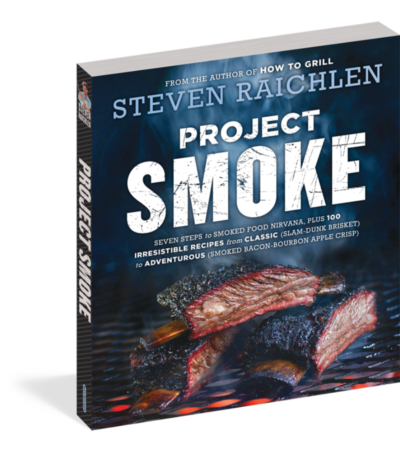 New York Times Bestseller Project Smoke is the How to Grill of smoking, both a complete step-by-step guide to mastering …
Buy Now ‣