Wood-Grilled Asparagus
Steven Raichlen
Print
Wood-Grilled Asparagus
Recipe Notes
Yield: Serves 2 to 3 as a side dish; multiply as desired
Method: Direct grilling over a wood fire
Equipment: Grill: Kalamazoo Gaucho; Fuel: Oak
Ingredients
1 pound asparagus (the stalks shouldn't be too thin)
2 tablespoons Asian (dark) sesame oil
1 tablespoon soy sauce
1 clove garlic, minced
Coarse salt (kosher or sea) and black pepper
2 tablespoons sesame seeds
Recipe Steps
Step 1: Set up the grill for direct grilling and preheat to high.
Step 2: Snap off the woody bases of the asparagus and discard. Skewer 4 or 5 asparagus spears together (raft-like), using toothpicks or bamboo skewers.
Step 3: In a small bowl, combine the sesame oil, soy sauce, and garlic and stir with a fork to mix. Brush this mixture on the asparagus rafts on both sides. Season the asparagus with a little salt and lots of pepper.
Step 4: When ready to cook, place the asparagus rafts on the hot grill grate and grill until nicely browned on both sides, 2 to 4 minutes per side. Sprinkle the asparagus rafts with the sesame seeds as they grill. You can serve the asparagus as rafts or unskewer them before serving.
Find This Recipe
And More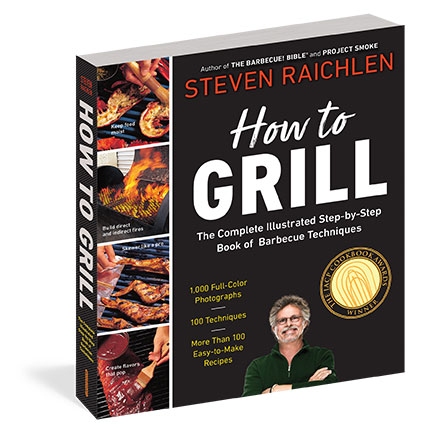 Without a doubt the most interesting, comprehensive, and well-thought-out book on grilling ever and it's destined to be in the …
Buy Now ‣