Get the Party Started with These Smoked Cocktail Recipes for New Year's Eve
Are you ready to ring in the new year with a bang? If you're looking for a unique and memorable way to celebrate, why not try out some smoked cocktails at your New Year's Eve party?
Not only do smoked cocktails add a distinct and sophisticated flavor to your drinks, but they also add a visually stunning element to your party. Imagine sipping on a Smoked Manhattan or a fiery Dragon's Breath Cocktail as you countdown to midnight.
Keep reading for 5 cocktail recipes that will add a little (or a lot) of smoke and fire to your New Year's Eve celebration. Who needs fireworks?
Smoked Cocktail Recipes
I'm always amazed at smoke's ability to give you an entirely new perspective on a dish or drink you've enjoyed for decades. Case in point, the Manhattan. Use a handheld smoker to add smoke to this classic cocktail. The result is intensely smoky, sophisticated, and utterly different.
Here's a cocktail that smokes—literally—thanks to an inverted brandy snifter filled with mesquite smoke. It comes from a Moldovan bartender named Aleks Karavay who I met in Scottsdale, Arizona. The Cointreau and St-Germain provide sweet-sour notes of fruitiness. "Slay your inner beast," Karavay says. Amen.
If you've never tasted smoked, made-from-scratch eggnog, you're in for a revelation. We're talking real eggnog, made with eggs, heavy cream, and spirits.
The Raichlen twist on the traditional Bloody Mary burns it up with fresh horseradish and sriracha. You'll smell smoke—literally—thanks to a flavorful blast of hickory from a handheld smoker. I know it sounds like heresy, but to reinforce the smoke flavor, use mezcal (a smoky cactus spirit from Mexico) in place of the usual vodka.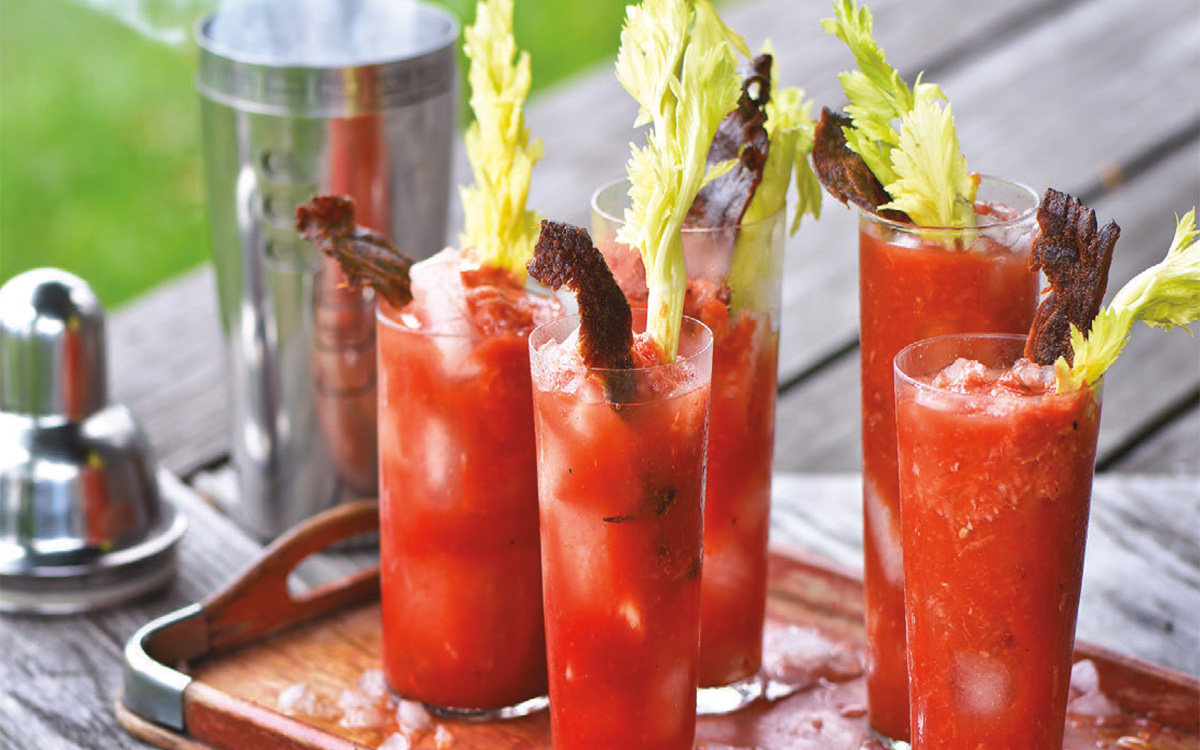 An ingenious way to make America's most beloved spirit even more amiable. The infusion technique comes from chef Megan Neubeck of Terzo Piano at the Art Institute of Chicago. (The smoke flavor comes from the bacon fat.) Manhattans and Old Fashioneds just got insanely better. Better still, serve them with a bacon strip garnish.
There's plenty more where that came from. Check out our Drinks and Cocktails section of the website!
Not sure where to start? Take a look at this blog post and learn some tips and tricks.
Head over to the BBQ500 club on Facebook. We have an amazing community!
Also, sign up for our Up in Smoke newsletter so you don't miss any blogs and receive some special offers! PLUS get Raichlen's Burgers! PDF for free!
Follow Steven on Facebook, Twitter, Reddit, Instagram, and TikTok!