Smoky Mary
Steven Raichlen
The Raichlen twist on the traditional Bloody Mary burns it up with fresh horseradish and sriracha. You'll smell smoke—literally—thanks to a flavorful blast of hickory from a handheld smoker. I know it sounds like heresy, but to reinforce the smoke flavor, use mezcal (a smoky cactus spirit from Mexico) in place of the usual vodka.
Print
Smoky Mary
Recipe Notes
Ingredients
3/4 cup tomato juice
2 ounces (1/4 cup) mezcal or vodka
2 teaspoons fresh lemon juice
1 teaspoon freshly grated or prepared horseradish
1 teaspoon sriracha or other hot sauce
1 teaspoon Worcestershire sauce
1 celery stalk (preferably from the heart with leaves still attached)
Recipe Steps
Step 1: Place the tomato juice, mezcal or vodka, lemon juice, horseradish, sriracha, and Worcestershire sauce in the bottom of a bar shaker and stir well to mix.
Step 2: Cover the top of the shaker with plastic wrap, leaving one edge open for the rubber tube from the Smoking Gun. Insert the tube and fire the Smoking Gun to fill the shaker with smoke. Quickly remove the hose and seal the top of the shaker with plastic. Let stand for 3 minutes, then uncover and stir in the smoke with a bar spoon. Repeat once more or until the desired degree of smokiness is achieved.
Step 3: Place 4 or 5 ice cubes in a highball glass. Add the Smoky Mary and stir to mix. Insert the celery stick. (Like Mom says, eat your vegetables.)
Find This Recipe
And More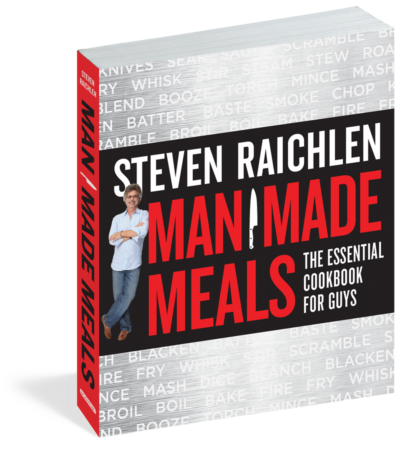 Man Made Meals is about the tools and techniques (guess what, grillers, you still get to play with knives and fire.) …
Buy Now ‣