Dragon's Breath Cocktail
Steven Raichlen
Here's a cocktail that smokes—literally—thanks to an inverted brandy snifter filled with mesquite smoke. It comes from a Moldovan bartender named Aleks Karavay who I met in Scottsdale, Arizona. The Cointreau and St-Germain provide sweet-sour notes of fruitiness. "Slay your inner beast," Karavay says. Amen.
Print
Dragon's Breath Cocktail
Recipe Notes
Yield: Serves 1; can be multiplied as desired
Equipment: Handheld smoker
Ingredients
4 to 6 ice cubes (1 cup; for even more flavor, use smoked ice cubes)
2 ounces (4 tablespoons) bourbon (use your favorite)
1 teaspoon St-Germain
1 teaspoon Cointreau (or other orange-flavored liqueur)
1 teaspoon simple syrup or smoked simple syrup
Recipe Steps
Step 1: Load the smoker with sawdust and fire it up following the manufacturer's instructions.
Step 2: Hold a brandy snifter upside down. Insert the smoker tube into the glass and fill it with smoke until you can't see through the glass. Tightly cover the glass with a coaster to hold in the smoke and turn it upright.
Step 3: Place the ice cubes in a shaker. Add the bourbon, St-Germain, Cointreau, and simple syrup and stir rapidly for about 20 seconds.
Step 4: Uncover the snifter and immediately strain the cocktail into it. Serve at once, with the smoke still spilling from the glass.
Recipe Tips
St-Germain is an elderflower liqueur.

Find This Recipe
And More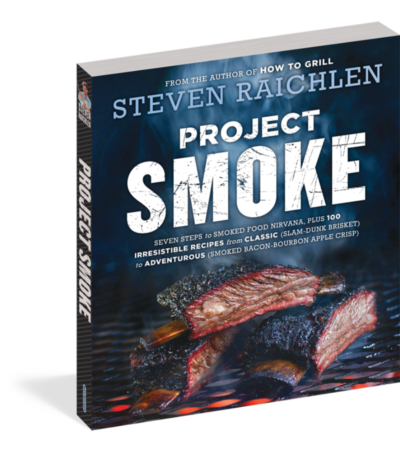 New York Times Bestseller Project Smoke is the How to Grill of smoking, both a complete step-by-step guide to mastering …
Buy Now ‣