Sizzling August Grilling: Beat the Heat with these 8 Delicious Grilling Recipes
Officially, the "Dog Days of Summer," end on August 11. But don't expect this year's record-breaking heat and humidity to beat a retreat. Keep the kitchen cool by moving the meal outdoors. Just for fun, we checked out food holidays for the month, and found several we can run with—notably, National Bacon Lovers' Day, National Hot and Spicy Food Day, and "National Eat a Peach Day." (For other holiday-inspired grilling ideas, follow us on social media (see links below).
8 Delicious Grilling Recipes for August
Tailgating season is just around the corner. What better time to practice your game day menus? You'll want to add this dip—which features the flavors of America's favorite chicken wing—to your repertoire. Serve it with sturdy tortilla chips, grilled bread, or carrot and celery sticks.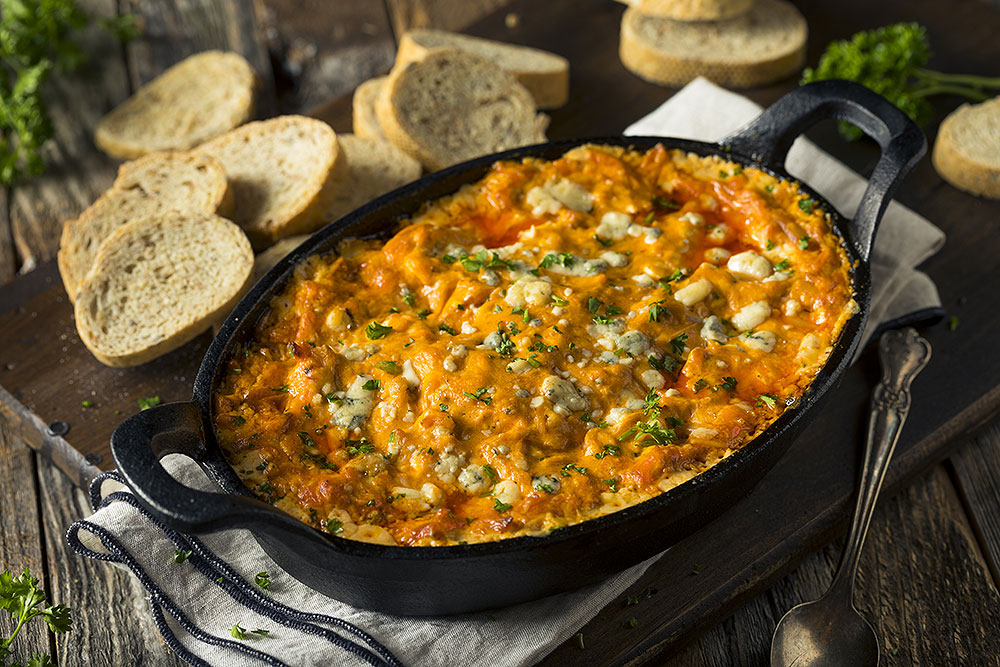 While not traditional, indirect grilling brats crisps their casings, keeps the brats moist, and eliminates the risk of burning and flare-ups, while the wood smoke adds a haunting dimension of flavor. When cooked, keep the bratwurst warm in a beer and onion bath before serving on crusty rolls.To us, there is no better way to cook bratwurst or any sausage.
Rotisserie grilling or spit-roasting ribs combines the smoky sear of grilling with the heat of roasting. Add 3 more benefits: basting, no flare-ups, and the fragrance of wood smoke. Spare ribs are given the huli-huli (turn-turn) treatment. A pineapple and chile glaze takes them over the top.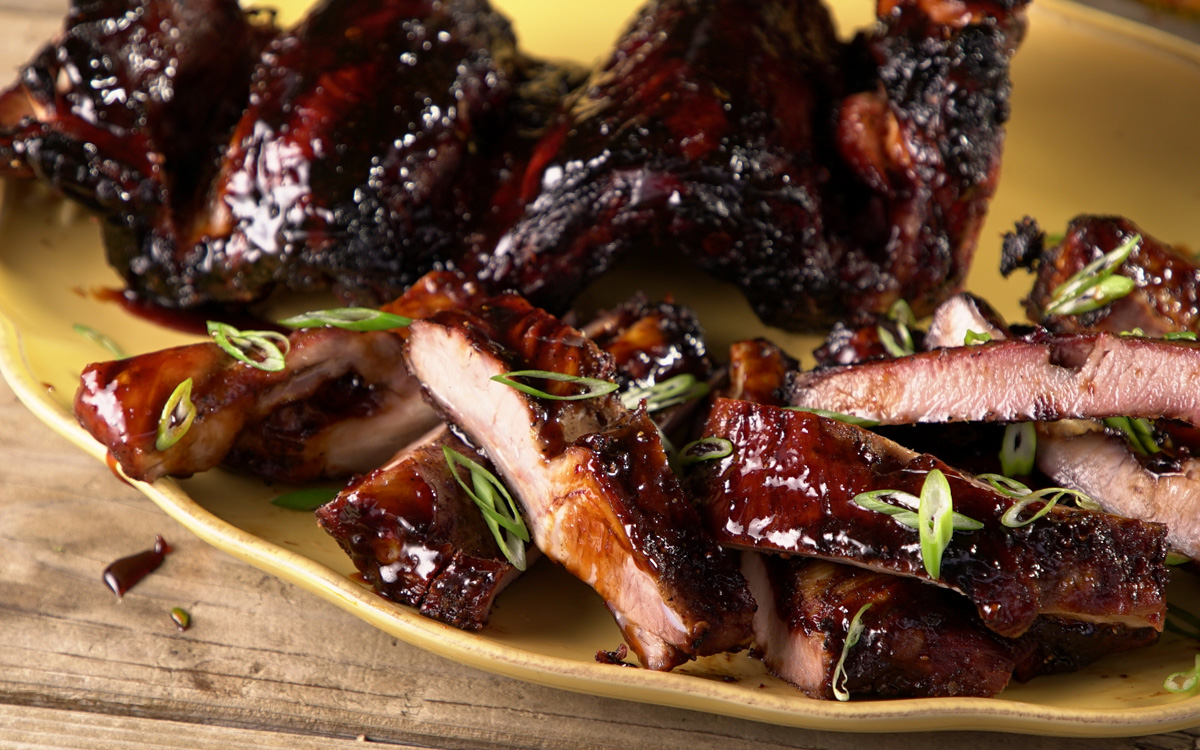 The Cubano may be the best pork sandwich south of the Carolinas. Take it from Steven: He knows—he's from Miami. The Cubano owes its distinction to a quadruple blast of flavor in the form of garlicky roast pork, smoked ham, pungent Gruyère cheese, and tangy pickles. Curiously, the best Cubano he says he's tasted came not from the tropics but from a lively café in wintery Montreal called olive + gourmando. The secret? Two ingenious twists on the Cuban classic: They use cornichons (super-sour tiny French pickles) in place of dill pickles and add some smoky chipotle mayonnaise.
The "dog days" of August beg for simple meals that don't heat up the kitchen, such as the Cubano and bratwurst sandwiches above. Smoked potato salad, studded with salty pops from capers, olives, and cornichon, makes a great accompaniment.
In honor of "National Hot and Spicy Food Day" (August 19), we offer one of the best cauliflower dishes we've ever eaten. Bland? Hardly. Incendiary? Maybe. The dish takes its inspiration from the fiery Nashville Hot Chicken that makes this Tennessee city a destination for the country's heat-seekers.
Here's a dessert based on the assumption that everything tastes better with bacon—even dessert. It pays homage to Steven's friends in Quebec (where Steven taped his Maître du Grill TV show), offering a triple blast of maple flavor in the form of maple-glazed bacon, maple ice cream, and maple whipped cream. Did we mention that August 20th is National Bacon Lovers' Day?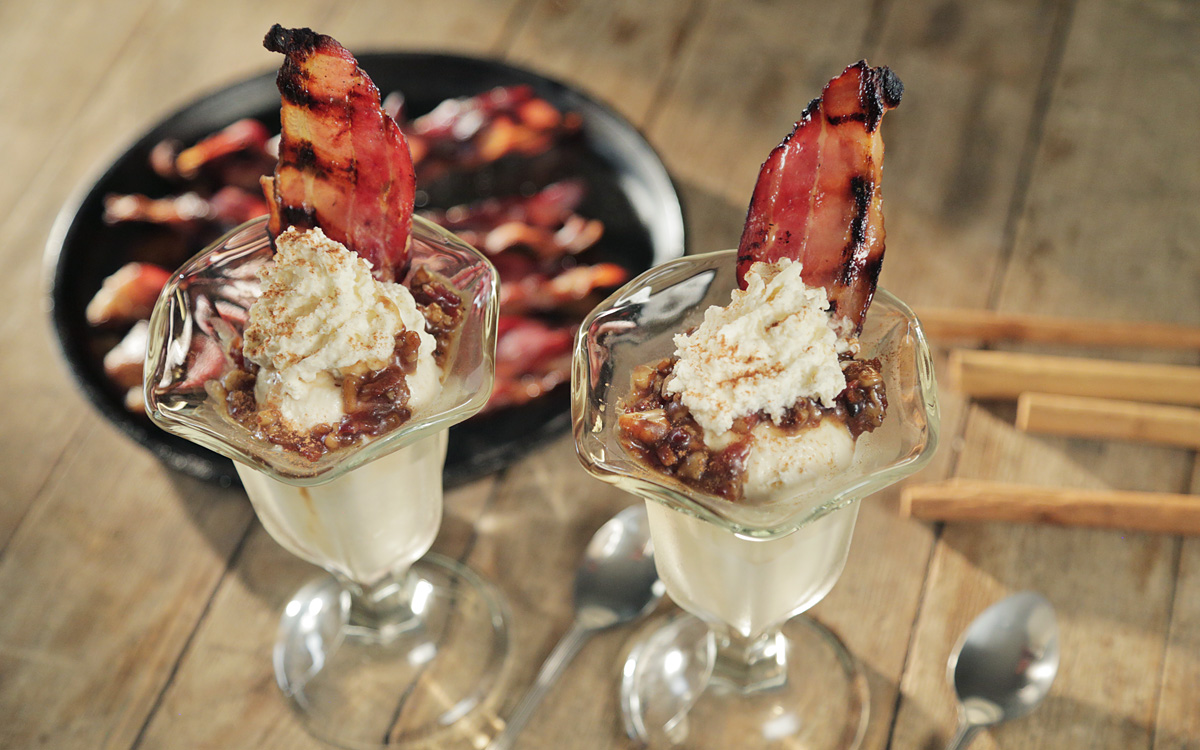 One of our good friends, Russ Faulk—chief designer for Kalamazoo Gourmet, manufacturer of high-end grills that have been featured on Steven's shows—shared one of his father's signature dishes with us. Put it on the grill after grilling the main course, and serve warm with ice cream or whipped cream. Sublime.
Sign up for our Up in Smoke newsletter so you don't miss any blogs and receive some special offers! PLUS get Raichlen's Burgers! PDF for free!

Follow Steven on Facebook, Twitter, Reddit, Instagram, and TikTok!