Smoked Potato Salad
Steven Raichlen
No barbecue is complete without potato salad. Here's my take on what may be the most soulful potato salad you've ever tasted.
Print
Smoked Potato Salad
Recipe Notes
Yield: Serves 4 to 6
Method: Hot-smoking
Equipment: Alder or any hardwood (enough for 1½ hours of smoking)
Ingredients
2 pounds boiling potatoes (preferably organic), scrubbed with a stiff brush
2 tablespoons extra virgin olive oil
Coarse salt (sea or kosher) and freshly ground black pepper
½ cup mayonnaise (preferably Hellmann's or Best Foods) or smoked mayonnaise
3 tablespoons Dijon mustard
1 tablespoon red wine vinegar, or more to taste
2 hard-cooked eggs, peeled and coarsely chopped
2 tablespoons chopped fresh dill
2 scallions, trimmed, white parts minced, green parts thinly sliced crosswise
8 pitted green olives or pimiento-stuffed olives, thinly sliced or coarsely chopped
8 cornichons (tiny tart French pickles) or 1 dill pickle, coarsely chopped (about 3 tablespoons)
1 tablespoon drained capers, or to taste
Spanish smoked paprika (pimentón), for sprinkling
Recipe Steps
Step 1: Cut any larger potatoes in half or quarters; leave small ones whole. The idea is for all the pieces to be bite size, about 1 inch across. Arrange the potatoes in a single layer in an aluminum foil pan. Stir in the olive oil and season with salt and pepper.
Step 2: Set up your smoker following the manufacturer's instructions and preheat to 275°F. Add wood as specified by the manufacturer.
Step 3: Place the potatoes in the smoker and smoke until tender (a bamboo skewer will pierce the spuds easily), 1 to 1½ hours, or as needed. Stir a couple of times so the potatoes brown evenly. Remove the potatoes and let cool slightly (they should be warm).
Step 4: While the potatoes smoke, make the dressing: Combine the mayonnaise, mustard, and vinegar in a large bowl and whisk to mix. Whisk in the chopped eggs, dill, scallions, olives, pickles, and capers. Cover and refrigerate until the potatoes are ready.
Step 5: Stir the warm potatoes into the dressing. Correct the seasoning, adding salt, pepper, and vinegar to taste; the salad should be highly seasoned. You can serve the potato salad warm or chilled (cover and refrigerate, or quick-chill the salad over a bowl of ice). Transfer to a serving bowl and dust with smoked paprika before serving.
Find This Recipe
And More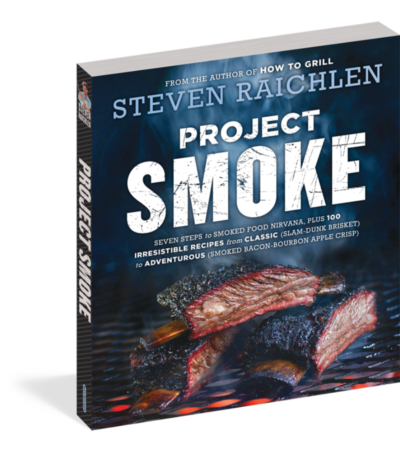 New York Times Bestseller Project Smoke is the How to Grill of smoking, both a complete step-by-step guide to mastering …
Buy Now ‣