Smoked-Roasted Buffalo Chicken Dip
Steven Raichlen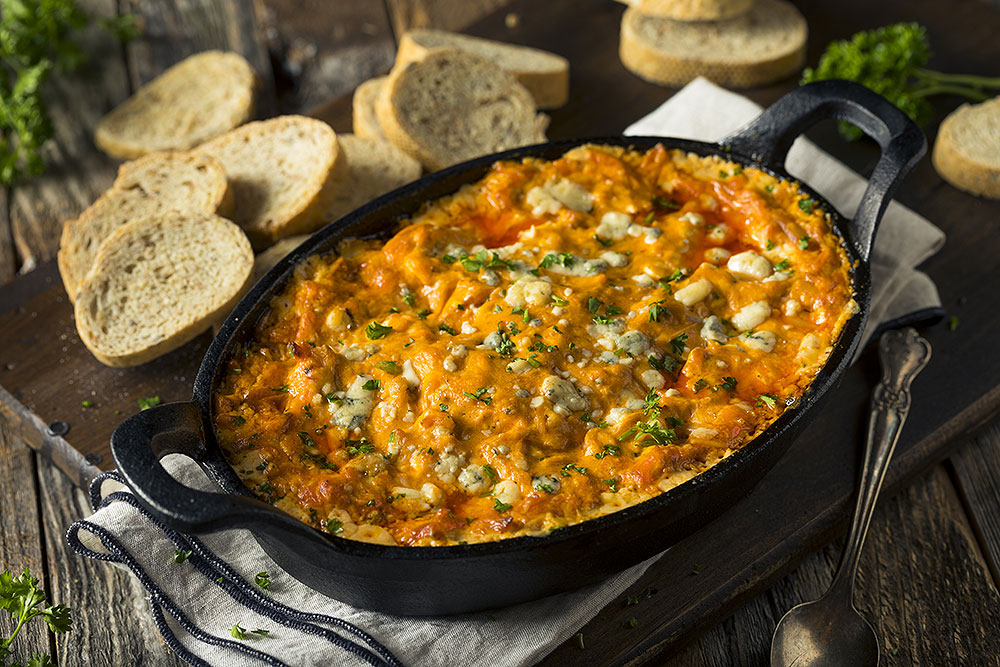 Print
Smoked-Roasted Buffalo Chicken Dip
Recipe Notes
Advance Prep: 1 to 4 hours to brine the chicken
Yield: 4 to 6 as an appetizer
Method: Smoke-roasting
Ingredients
For the chicken
1 quart (4 cups) cold water
1/4 cup kosher salt
1 pound chicken tenders or boneless skinless chicken breasts or thighs
1/4 cup melted butter, salted or unsalted
For the dip
1 large poblano pepper
8 ounces cream cheese, at room temperature
1 cup mayonnaise
1 1/4 cups grated Colby-Jack or pepper Jack cheese, divided use
1/3 cup Louisiana-style hot sauce, such as Frank's RedHot or Crysta
2 green onions, trimmed, white and green parts thinly sliced
1/2 cup crumbled blue cheese
1/4 cup sour cream, thinned with 2 teaspoons milk or cream (optional)
For serving
Celery sticks, crackers, tortilla chips, or grilled bread
You'll also need:
2 chunks of smoking hardwood, or 1 cup wood chips, the latter soaked for 30 minutes, then drained; a 10-inch cast-iron skillet
Recipe Steps
1: Make the brine: Combine the water and kosher salt in a nonreactive pan or bowl. Stir until the salt crystals dissolve. Submerge the chicken and refrigerate for 1 to 4 hours. Remove the chicken from the brine and dry thoroughly with paper towels. Toss to coat in the melted butter. (Discard the brine.)
2: Set up your grill for direct grilling and heat to medium-high; brush or scrape the grill grate clean and oil it well.
3: Arrange the chicken and poblano pepper on the grill grate. Add the wood chunks or chips to the coals (charcoal grill), or put the chunks over the burners (gas grill) or add the chips to the grill's smoker box.
4: Turn the pepper frequently with tongs to char the skin; remove the pepper from the grill and let it cool. Grill the chicken, turning as needed, until cooked to an internal temperature of 165
degrees, 3 to 6 minutes per side, depending on the thickness of the chicken. (Breasts generally take longer than chicken tenders, which are smaller.) Remove from the grill and let cool slightly. Scrape the burnt skin off the poblano and remove the stem, ribs, and seeds. Dice the poblano. Dice or shred the chicken.
5: In a mixing bowl, combine the cream cheese, mayonnaise, hot sauce, and 1 cup of Colby-Jack cheese. Stir until combined. Gently stir in the diced poblano, chicken, and green onion. Transfer the dip to a 10-inch cast iron skillet. Top with the remaining 1/4 cup of Colby-Jack cheese and the blue cheese. Make the sour cream drizzle, if using, by combining the sour cream and milk. Whisk until smooth. Set aside.
6: Rake the coals into two equal piles on opposite sides of the grill; replenish the fuel as needed to maintain an indirect temperature of 350 to 375 degrees. Place the skillet with the dip on the grill grate and cook until the mixture is hot and bubbling, about 30 minutes. Let cool slightly, then drizzle the thinned sour cream, if desired, in an attractive pattern over the top of the dip. Serve with your choice of dippers.