Masters of Smoke—Hometown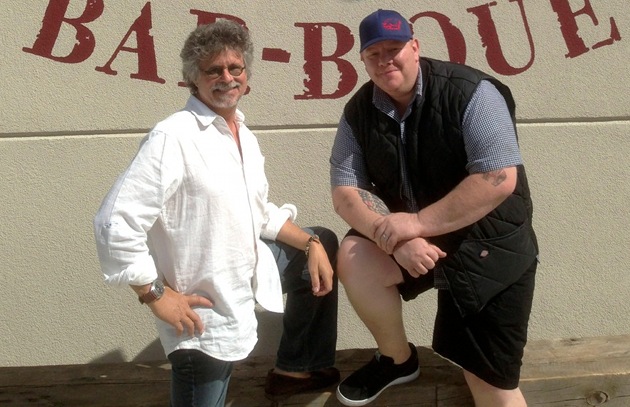 Steven with Billy Durney in Red Hook, Brooklyn, where he serves brisket that would make a Texan envious and beef ribs that tip the scales at 1-1/4 pounds each!
Billy Durney remembers the exact moment he embraced barbecue as the true religion. "I walked into Louie Mueller's in Taylor, Texas. One bite of brisket and I knew this is who I want to be and this is what to do with my life."
So the security expert (and former bodyguard for Oscar-nominated actresses and Grammy-award-winning musicians) found a century-old former woodworker's warehouse in Red Hook—vacant for decades—and turned it into Hometown Bar-B-Que, featuring a cavernous dining room fitted with timbers and paneling from an antique barn. He installed an Ole Hickory carousel smoker in the back corner and parked an oversize Lang barrel smoker by the front door. He perfected his brisket recipe and hired local bands for entertainment.
Then Hurricane Sandy struck, flooding his dining room with six feet of water. "Red Hook had tremendous community spirit," he says. It was his neighbors, not FEMA, who dug him out.
Hometown formally opened on September 12, 2013, and four nights later, they were selling out of meat.
Like most of the new wave pit masters, Durney takes an ecumenical approach, cooking his ribs St. Louis-style and his pork shoulders in the manner of North Carolina. He powers the house hot sauce with Thai Sriracha. He serves barbecued lamb belly Vietnamese banh mi-style—with house-pickled vegetables on a crusty baguette. It's the sort of dish you should savor kneeling, with your head bowed in reverential respect.
But when it comes to brisket, Durney's a strict purist. "We start with Niman Ranch natural briskets, and use only two seasonings: salt and pepper. We smoke our briskets over white oak for 12 to 15 hours." Unlike most pit masters, Durney inverts the meat after 3 hours of cooking to make sure all sides are exposed equally to the smoke. He does not check doneness with a meat thermometer; rather he pokes each slab with a gloved hand and watches how it jiggles. Imagine Jello comprised of animal protein and beef fat and you get the idea of Durney's ideal brisket.
Of course, great brisket is made not just with seasonings and wood smoke, but the dozens of personal touches developed over time and experience. Durney cooks his slabs on rectangles of perforated cardboard—a way to protect the lean meat of the flap from burning on the hot bars of the wire rack. (You may remember a similar technique using a foil pan in How to Grill.) He works at a higher temperature than most smoke masters: 275 degrees. And forget about brisket hot off the smoker; Durney won't serve his until it's been wrapped in butcher paper and rested in an autosham (insulated hot box) for 5 hours. (At home you'd use an insulated cooler.)
What results is brisket so tender, it cuts with the side of a fork and so juicy, it doesn't so much melt in your mouth as squirt.
Durney smokes both Boston butts and picnic hams—Berkshire breed, of course—this is Brooklyn. Both are seasoned with a sweet and salty rub electrified with chipotle chili powder and smoked paprika. The meat owes its coppery sheen to the sweet smoke of cherry wood. Baby back ribs get a similar treatment. His monster beef plate ribs tip the scales at 1-1/4 pounds each—and that's after cooking.
The menu is wide-ranging enough to include some of the best jerk chicken I've sampled north of Boston Beach, Jamaica—again, smoke-burnished with cherry wood smoke. In deference to his younger customers, he removes the fiery seeds from the habaneros before adding them to the jerk seasoning. "Hey, we're a family restaurant; I don't want to frighten the children," Durney says.
Find out about more restaurants around the country: