Celebrate Chinese New Year with Five-Spice Powder Ribs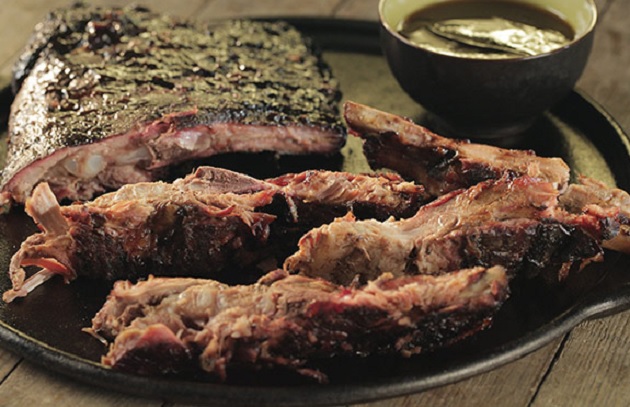 Have you celebrated the Chinese New Year yet this winter? Why not use what time is left of the 15-day annual celebration, and start a new tradition for your family. As I've written in the past, Chinese culture generally shies away from grilling as a cooking method. But the dishes that are grilled will bring you new flavors that will delight your taste buds and have you marking your calendar for this season every year.
Traditionally, we may think of duck or chicken when discussing Chinese food. But to switch up your routine, try my Chinese style ribs with five powder spices—trust me, this recipe from Project Smoke will blow your mind.
To make these sweet-salty-umami Chinatown Ribs, you'll need to know about a few Asian ingredients, most available at larger supermarkets or online. Five-spice powder is a traditional Chinese blend with a smoky anise flavor, made from fennel, cinnamon, star anise, Szechuan peppercorns, and cloves. Rice wine is an alcoholic beverage made from fermented rice; if you can't find Chinese shaoxing, substitute sake or sherry. Hoisin sauce is a thick sweet-salty condiment made with soybeans. Asian (dark) sesame oil is an aromatic oil pressed from roasted sesame seeds.
The closest I got to ribs growing up was weekly Chinese carryout, and I never thought to question whether those "barbecued" spareribs ever saw the inside of a pit. (Oven and fryer, yes, but not a smoker.) Well, if you think the flavors of Chinese ribs are good, wait until you try them enhanced with old-fashioned American wood smoke.
These ribs get a quadruple blast of flavor: first from an anise-scented 5-4-3-2-1 Rub (the derivation of the name will be obvious); then from a rice wine-cider spray to keep them moist; then from fragrant cherry wood smoke. The last step is lacquering and grilling with a sweet-spicy Beijing Barbecue Sauce.
CLICK HERE FOR THE CHINATOWN RIBS RECIPE.
More recipes you may enjoy:
Peking Duck Buns with Pineapple Salsa
Char Siu Chicken Thighs with Beijing Barbecue Sauce
Smoked Duck with Chinese Flavorings