Chinatown Ribs
Steven Raichlen
If you think the sweet-salty-umami flavors of Chinese ribs are good, wait until you try them enhanced with old-fashioned American wood smoke. These ribs get a quadruple blast of flavor: first from an anise-scented 5-4-3-2-1 Rub (the derivation of the name will be obvious); then from a rice wine-cider spray to keep them moist; then from fragrant cherry wood smoke. The last step is lacquering and grilling with a sweet-spicy Beijing Barbecue Sauce.
Print
Chinatown Ribs
Recipe Notes
Yield: Makes 2 racks, enough to serve 4
Method: Hot-smoking
Equipment: A rib rack (optional); spray bottle; cherry or apple wood (enough for 5 hours of smoking)
Ingredients
2 racks spareribs (3 to 4 pounds each)
½ cup Chinese rice wine (shaoxing), sake, or dry or cream sherry
½ cup apple cider
Recipe Steps
Step 1: Arrange the ribs on a rimmed baking sheet. Remove the thin papery membrane from the back of each rack of ribs.
Step 2: Sprinkle the rub on both sides of the ribs, rubbing it into the meat with your fingertips. You'll need 3 to 4 tablespoons of rub for each rack of ribs.
Step 3: Set up your smoker following the manufacturer's instructions and preheat to 225° to 250°F. Add the wood as specified by the manufacturer.
Step 4: Place the ribs directly on the rack in the smoker, bone side down. If space is limited, use a rib rack to smoke them vertically. Smoke the ribs for 1 hour.
Step 5: Place the rice wine and apple cider in a spray bottle and shake to mix. Start spraying the ribs with this mixture on both sides after 1 hour of smoking. Repeat every hour.
Step 6: Brush the ribs on both sides with the sauce after 4 hours of smoking. Brush again in 30 minutes. The ribs are cooked when the meat has shrunk back from the ends of the bones by about ½ inch and you can pull the individual ribs apart with your fingers. Total cooking time will be 4½ to 5 hours.
Step 7: You can serve the ribs hot out of the smoker with any remaining barbecue sauce on the side, cut into individual bones. But for even more flavor, set up a grill for direct grilling and preheat to high. Brush and oil the grill grate. Brush the ribs on both sides with more barbecue sauce and direct grill until sizzling and browned, 1 to 2 minutes per side. Serve at once with any extra sauce on the side.
Recipe Tips
I call for spareribs here, but you can certainly use baby backs or St. Louis-cut ribs. Figure on 4 hours or so for smoking baby backs or St. Louis-cut ribs.

Find This Recipe
And More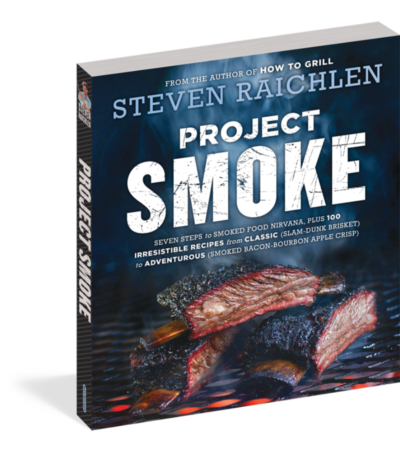 New York Times Bestseller Project Smoke is the How to Grill of smoking, both a complete step-by-step guide to mastering …
Buy Now ‣