Char Siu Chicken Thighs with Beijing Barbecue Sauce
Steven Raichlen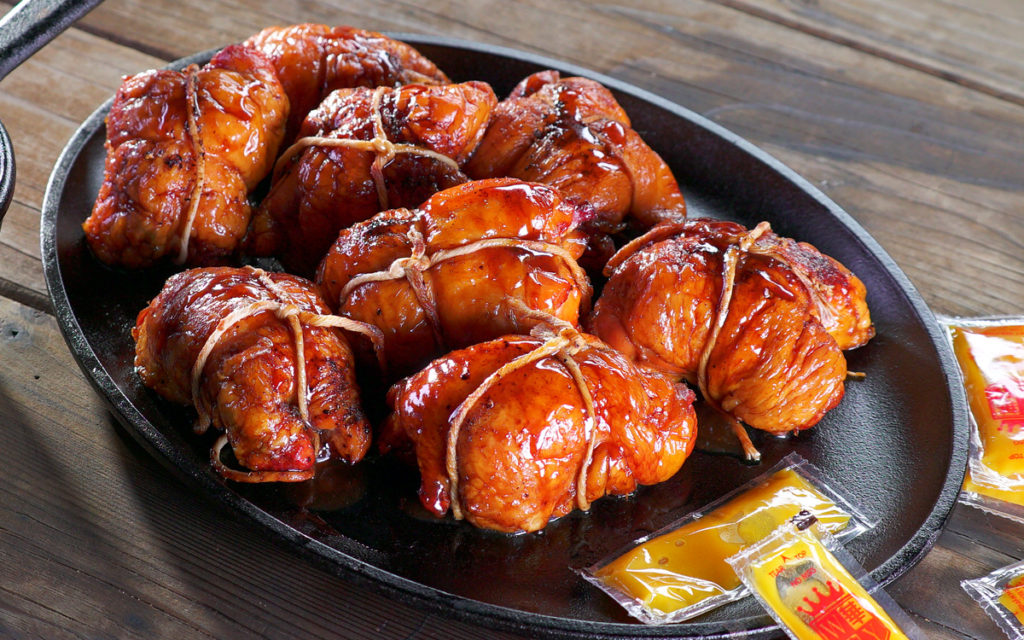 Char siu refers to Chinese barbecue pork—that's the inspiration behind these Asian-flavored chicken thighs stuffed with Chinese sausage, smoked ham, and shiitake mushrooms.
More Asian-Inspired Barbecue Recipes:
Print
Char Siu Chicken Thighs with Beijing Barbecue Sauce
Recipe Notes
Yield: Serves: 4 to 6
Equipment: Butcher's string; 2 cups cherry wood chips or chunks
Ingredients
8 large skin-on boneless chicken thighs (6 ounces each, boneless; 8 ounces each, bone-in)
Sea salt and freshly ground black pepper
1/4 cup Chinese sweet-hot mustard, plus 1/2 cup for serving
4 ounces pepper Jack cheese, coarsely grated or cut into matchstick slivers
4 ounces Chinese sausage, cut into matchstick slivers
4 ounces sliced Chinese ham or other smoked ham, cut into matchstick slivers
8 shiitake mushrooms, stems removed, caps thinly sliced
3 scallions, trimmed, white and green parts thinly sliced on a diagonal (divided use)
1 batch Char Siu Barbecue Sauce for serving (see recipe)
Recipe Steps
Step 1: Place the chicken thighs on a cutting board and open them through the cut made to remove the bone. Season the insides of the chicken with salt and pepper. Spread the meat with the mustard. Fill each thigh with an equal amount of cheese, Chinese sausage, ham, sliced shiitakes, and scallions. Close the thighs to envelop the stuffing and secure with 2 intersecting pieces of butcher's string. Refrigerate until grilling.
Step 2: When you are ready to cook, set up your grill for indirect grilling and preheat to medium. Brush and oil the grill grate.
Step 3: Arrange the chicken thighs skin side on the grill grate. Add wood to the coals or the smoker box of your gas grill. Indirect grill the chicken thighs with the grill lid closed until the outsides are browned and sizzling and the cheese is melted, about 50 minutes. The internal temperature should be 165 to 170 degrees F on an instant-read thermometer.
Step 4: Brush the thighs with the Char Siu Barbecue Sauce.
Step 5: Serve at once, snipping and discarding the strings. Sprinkle the thighs with the remaining scallions, and serve the remaining barbecue sauce on the side.
Recipe Tips
Our thanks to the sponsors of Project Smoke Season 3:


Steven Raichlen's Project Smoke is a production of Maryland Public Television, Barbacoa, Inc., and Resolution Pictures. © 2017 Barbacoa, Inc.