The World of Barbecue: 7 Trends According to Project Fire
When I plan the menus for a TV show like Project Fire, I'm working on several different narratives.   First (and foremost), I want to demonstrate cutting-edge recipes designed to help you take your grilling to the next level.
Next, I try to pick menus that reflect the unique and beautiful places where we shoot the show—Gulf Coast Grilling and Miami Spice were featured this season to pay homage to our waterfront location in Steinhatchee, Florida, on the Gulf Coast of Mexico. Or Cal-Ital and Wine Country Grilling when we shot the show at the Alisal Guest Ranch in Solvang, California.
Above all, I'm always trying to show you the latest trends in the grill world—the new movements and philosophies of forward-thinking grill masters that will shape barbecue in the coming years.
If you don't watch the show already, look for Project Fire 2 on your local public television station.
Which brings us to today's blog:
The New Grilling Trends Behind Project Fire Season 2
Trend #1: Grilling crosses borders
Two of our shows this year explore cross cultural grilling: "Tex Meets Mex" and "Chino Latino."   In the former we bring American barbecue techniques to such traditional Mexican dishes as cochinita pibil (Yucatan pork smoke-roasted in banana leaves), snapper en pipian (in pumpkin seed sauce) cooked on a salt slab.   And a surprising quesadilla you grill not for lunch, but for dessert.
Our Chino-Latino show builds on the marriage of Caribbean and Chinese cooking that took place in the mid-1800s, when Chinese laborers came to work the sugar cane plantations in Cuba and Trinidad. Look for tangerine teriyaki chicken, spice grilled plantains, baby back ribs with sweet guava barbecue sauce, and a Project Fire first: Korean style tacos filled with brisket you can cook in literally less than a minute. Really.
Trend #2: Grilling goes green
You don't need a degree in restaurant hopping to know that plant-based grilling will be the next big thing.   It already is. Move over, Impossible Burgers.  Make way for grilled cheese with grilled portobellos; squash, black bean, and queso fresco grilled pizzas; and a "new" egg salad featuring a cool tool (the egg spoon) and what for many of us is a new food: grilled hearts of palm.   I promise you, you don't need to be a vegetarian to enjoy this one.
Trend #3: Grilling goes tropical.
As some of you know, I spend half the year in Miami, so the electrifying flavors of the tropics have an oversize influence in my grilling.   Our Miami Spice show features grilled lime mojitos, rum-glazed grilled Florida lobster, island spice beef ribs, and a spectacular turkey adobo with garlicky mojo de ajo. (It's what the Raichlens serve for Thanksgiving.) The tropical adventure continues in our Gulf Coast Grill show, with smoky barbecued oysters, redfish on the half shell, and a Gulf Coast Florida shrimp boil.   It's hot, hot, hot—even when it's not.
Trend #4: Wood-fired grilling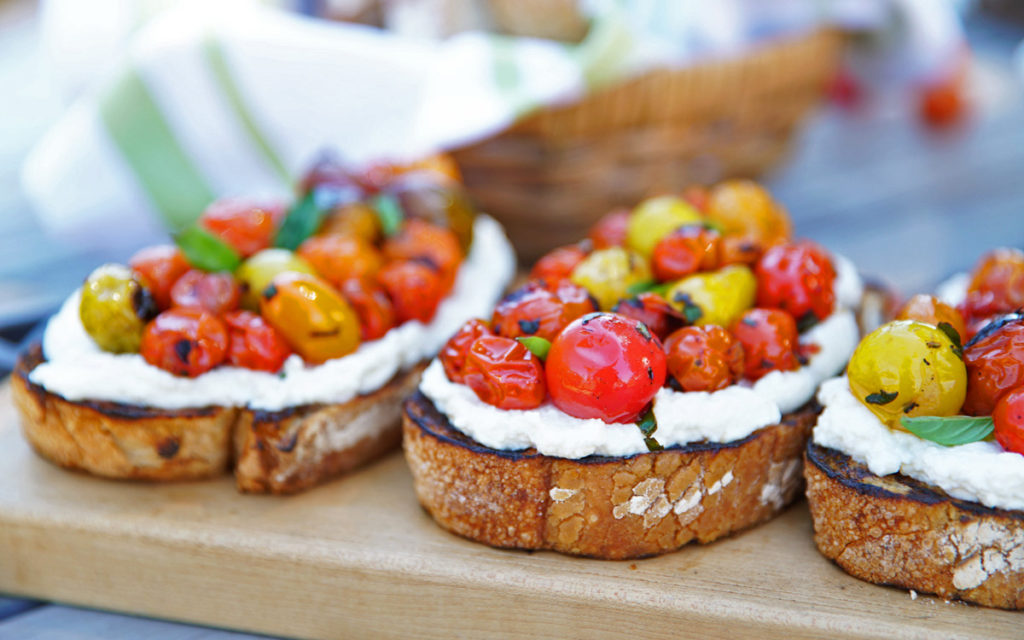 Charcoal provides intense heat and you can't beat propane for convenience.   But only one fuel delivers a smoke flavor on its own: wood. Our Grilling on Wood show focuses on traditional and innovative wood fire grilling techniques. Get ready for flame-blistered tomato and ricotta bruschetta, wood-grilled steaks, and one of the most crazy-great ways I know to cook a steak: sear and slide rib steaks.
Trend #5: Ultra regional barbecue
You've surely heard of Carolina pulled pork, Kansas City ribs, and Texas brisket. But how about micro-regional barbecue, like Cornell chicken and Baltimore pit beef? The first gets the spatchcock treatment: the second goes upscale with wood-fired rotisseried prime rib.  And to top them off, brown sugar-glazed planked salmon like they prepare it in Alaska.  And speaking of secrets, check out our show on Secret Steaks, like secreto, spinalis, and brisket steaks (yeah, they're a thing)—grilled with tangy shallot sage butter.
Trend #6: Extreme grilling
In the last year, an ancient way of cooking chicken rocked our thoroughly modern blogosphere: spinning on a string in front of the fireplace. In this show we look at string chicken, not to mention flatbreads grilled directly on the embers (talk about awesome) and amaretti stuffed, salt slab grilled pears.
Trend #7: Brisket 24/7
You saw this one coming. Having written the book on brisket (literally),  I devoted this show to some smoked and grilled brisket dishes you may never have heard of—like a Vietnam-inspired crispy brisket and pineapple salad, real deal Holyfield brisket breakfast tacos, and an East West packer brisket so humongous, you'll need both hands just to carry it.
What would you like to see for next year's show? Share your thoughts on Facebook, Twitter, Instagram, or the Barbecue Board, and we'll try to incorporate them into the menu!  Who knows, maybe we'll even have you on the show.
So thanks for watching. See you next time!
Our thanks to the sponsors of Project Fire Season 2:

Steven Raichlen's Project Fire is a production of Maryland Public Television, Barbacoa, Inc., and Resolution Pictures. © 2019 Barbacoa, Inc. Photos by Chris Bierlein.