Whole Grilled Snapper in Pipian Sauce
Steven Raichlen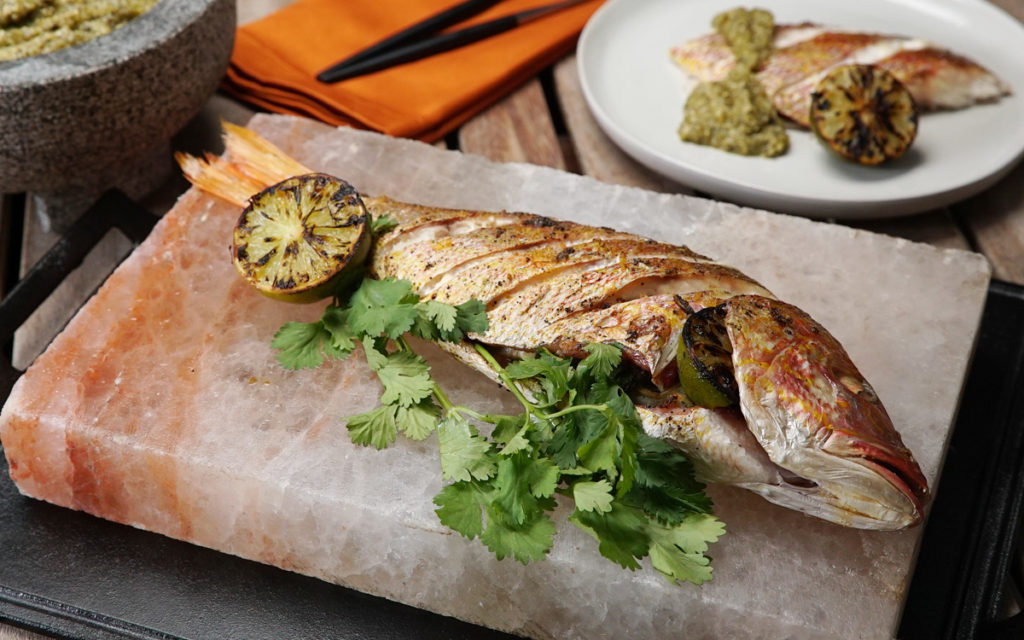 A whole snapper grilled on a salt slab, served with a Mexican grilled vegetable and pumpkin seed sauce called pipian.
Other Recipes from Episode 207: Tex Meets Mex
Print
Whole Grilled Snapper in Pipian Sauce
Recipe Notes
Yield: Serves 2
Method: Indirect grilling
Equipment: Toothpicks; 1 1/2 cups of wood chips, soaked in water to cover for 30 minutes, then drained (optional); fish grilling basket (optional)
Ingredients
For the Fish
2 whole snapper, cleaned, preferably with heads-on, each about 2 pounds
Coarse salt (kosher or sea) and freshly ground black pepper
1 sweet onion, peeled and thinly sliced crosswise into rings
2 garlic cloves, peeled and thinly sliced
6 sprigs fresh cilantro
1 poblano chile (green or red), halved lengthwise, seeded, and thinly sliced crosswise
Extra virgin olive oil
Grilled lime halves, for squeezing
Recipe Steps
1: Prepare the fish: Generously season the cavities of the fish with salt and pepper, then stuff with the onion, garlic, cilantro, and chile. Pin the cavities shut with toothpicks.
2: Brush the outside of the fish with olive oil, then make three diagonal, parallel slashes on the top side of each to facilitate even cooking.
3: Set up your grill for indirect grilling, preferably using wood as fuel. (If you cannot build a wood fire, use wood chips.) Heat to medium-high.
4: Arrange the stuffed fish on the grill grate, slashed sides up. Divide the soaked wood chips, if using, between the two piles of coals. Put the lid on the grill.
5: Indirect grill the fish until it is tender and the internal temperature is at least 145 degrees, 30 to 40 minutes, or as needed. Carefully transfer the fish to a platter using a wide spatula. Spoon the Pipian Sauce over or under the fish. Sprinkle with the pumpkin seeds reserved from the sauce recipe. Serve with grilled limes halves for squeezing.
Recipe Tips
Our thanks to the sponsors of Project Fire Season 2:

Steven Raichlen's Project Fire is a production of Maryland Public Television, Barbacoa, Inc., and Resolution Pictures. © 2019 Barbacoa, Inc. Photos by Chris Bierlein.