Jim Hunt's Blackened Redfish "On the Halfshell"
Steven Raichlen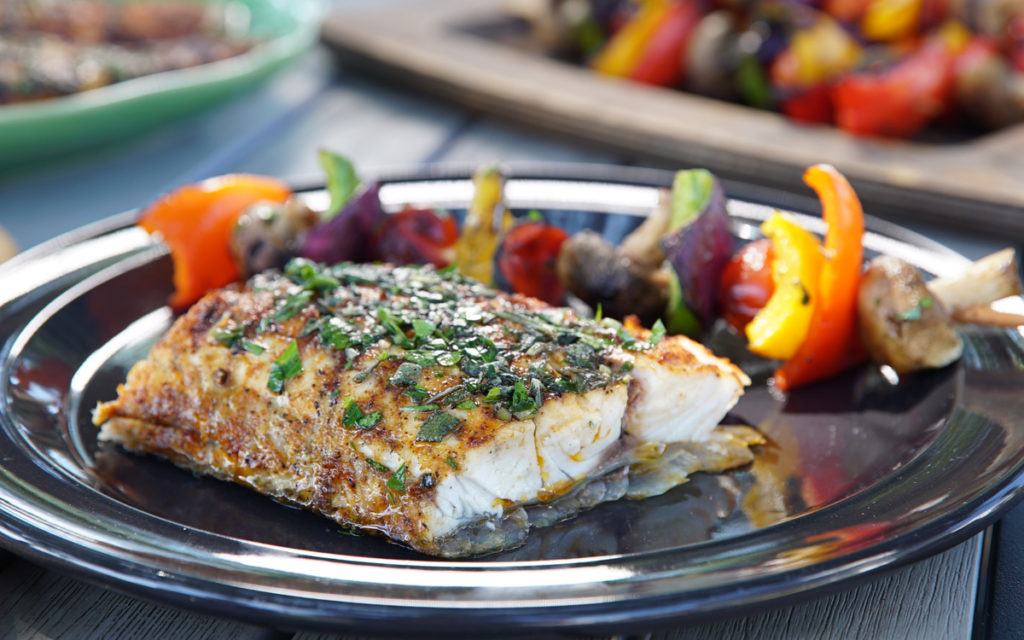 More Recipes from Episode 203: Gulf Coast Grill
Print
Jim Hunt's Blackened Redfish "On the Halfshell"
Recipe Notes
Yield: Serves 2
Method: Direct grilling
Equipment: Needle-nosed pliers
Ingredients
2 large redfish fillets, scales left on
Extra virgin olive oil
For the Blackening Mixture
1 tablespoon salt
1 tablespoon garlic powder
1 tablespoon onion powder
1 tablespoon paprika
2 teaspoons freshly ground black pepper
1 teaspoon cayenne pepper
For the Herb Butter
6 tablespoons butter
1 tablespoon minced flat-leaf parsley
1 tablespoon minced fresh sage
1 tablespoon minced fresh rosemary
Coarse salt
1 Freshly ground black pepper
Recipe Steps
1: Make the blackening mixture, if using. Combine the salt, garlic and onion powders, paprika, black pepper, and cayenne pepper in a bowl and mix with your fingers. Alternatively, use your favorite commercial blackening rub.
2: Run your fingers over the fish fillets, feeling for bones. Pull out any you find with needle-nose pliers. Lightly oil the fish fillets with olive oil, then season generously with the blackening mixture.
3: Set up your grill for direct grilling and heat to high. Brush or scrape the grill grate clean and oil well.
4: Make the herb butter: Melt the butter in a small saucepan.
5: Arrange the fish fillets, flesh side down, on the grill grate and grill until nicely browned, about 3 minutes. (Jim grills with the lid down.) Using a spatula and tongs, carefully turn the fish over and continue to cook for 3 minutes until the fish is cooked through. To check for doneness, press the fish with the tip of your finger. It should flake easily.
6: Transfer the fish to a platter or plates, scale side down, and drizzle with some of the herb butter before serving.
Recipe Tips
Our thanks to the sponsors of Project Fire Season 2:

Steven Raichlen's Project Fire is a production of Maryland Public Television, Barbacoa, Inc., and Resolution Pictures. © 2019 Barbacoa, Inc. Photos by Chris Bierlein.