Wood-Grilled Blistered Tomato and Ricotta Bruschetta
Steven Raichlen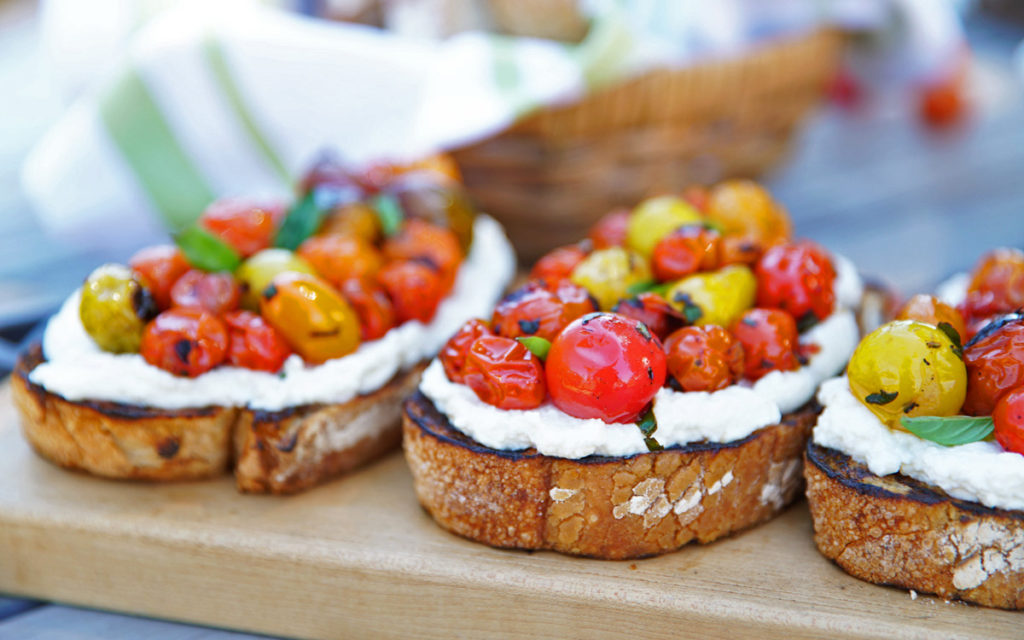 More Recipes from Episode 201: Grilling with Wood
Print
Wood-Grilled Blistered Tomato and Ricotta Bruschetta
Recipe Notes
Yield: Makes 4 slices and can be multiplied as desired
Equipment: A vegetable grilling basket or grill wok
Ingredients
1 pound cherry tomatoes, preferably a mix of red and yellow
Chopped fresh chives and other herbs for sprinkling
Best quality extra virgin olive oil
Coarse sea salt and freshly ground black pepper
Vegetable oil for oiling the grill grate
4 slices of rustic country-style bread (each slice should be 6 to 8 inches long, 4 inches wide, and 3/4 inch thick)
12 ounces fresh ricotta or burrata cheese
Recipe Steps
1: Place the cherry tomatoes and herbs in a bowl and drizzle with a tablespoon of extra virgin olive oil. Season with salt and pepper, then tip into a vegetable grilling basket.
2: Set up your grill for direct grilling and heat to medium-high. Be sure to have a fire-free safety zone in case the bread starts to burn. Brush or scrape the grill grate clean and oil it well with vegetable oil.
3: Grill the tomatoes, shaking the basket from time to time, until the skins begin to blacken and split, about 5 minutes. Set aside.
4: Arrange the bread on the grate and grill until toasted, 1 to 2 minutes per side. If you're feeling fancy, give each slice a quarter turn on both sides half way through to lay on a crosshatch of grill marks.
5: Remove the bread from the grill, and then, protecting your hand with a cloth napkin, spread with the cheese. Top with a few blistered cherry tomatoes. Drizzle with more extra virgin olive oil, if desired, and sprinkle generously with sea salt. Repeat with the remaining slices of grilled bread.
Recipe Tips
Our thanks to the sponsors of Project Fire Season 2:

Steven Raichlen's Project Fire is a production of Maryland Public Television, Barbacoa, Inc., and Resolution Pictures. © 2019 Barbacoa, Inc. Photos by Chris Bierlein.