10 Best Ribs Recipes for the Grill and Smoker from Across America
Everyone knows that Independence Day (July 4) is the anniversary of the formal declaration of independence of the U.S.A. from Britain. It is a date that has been celebrated since 1777. Thanks to the scribes of history, we know that George Washington attended a barbecue that day (though he spelled it "barbicue" in his memoirs.)
But did you know that July 4th is also National Barbecue Ribs Day? Yes! Two compelling reasons to celebrate. And we want you to do it with vigor.
This might be a "sparklers in the backyard" kind of day as many community-wide celebrations and fireworks displays have been cancelled, but that doesn't mean you can't host an explosively-flavored party at your house with close family and friends. (I've been Steven's assistant for more than 15 years. So any recipe I call out is strongly endorsed.)
Below are ten of our (okay, my) favorite regional rib recipes from Steven's books. There. The truth's out. Have a glorious holiday! And buy yourself a rib rack this week. You'll never regret the purchase. And if you make Cousin Dave's Chocolate Chipotle Ribs (see below), people will talk about your mad skills for years.
---
10 Best Ribs Recipes for the Grill and Smoker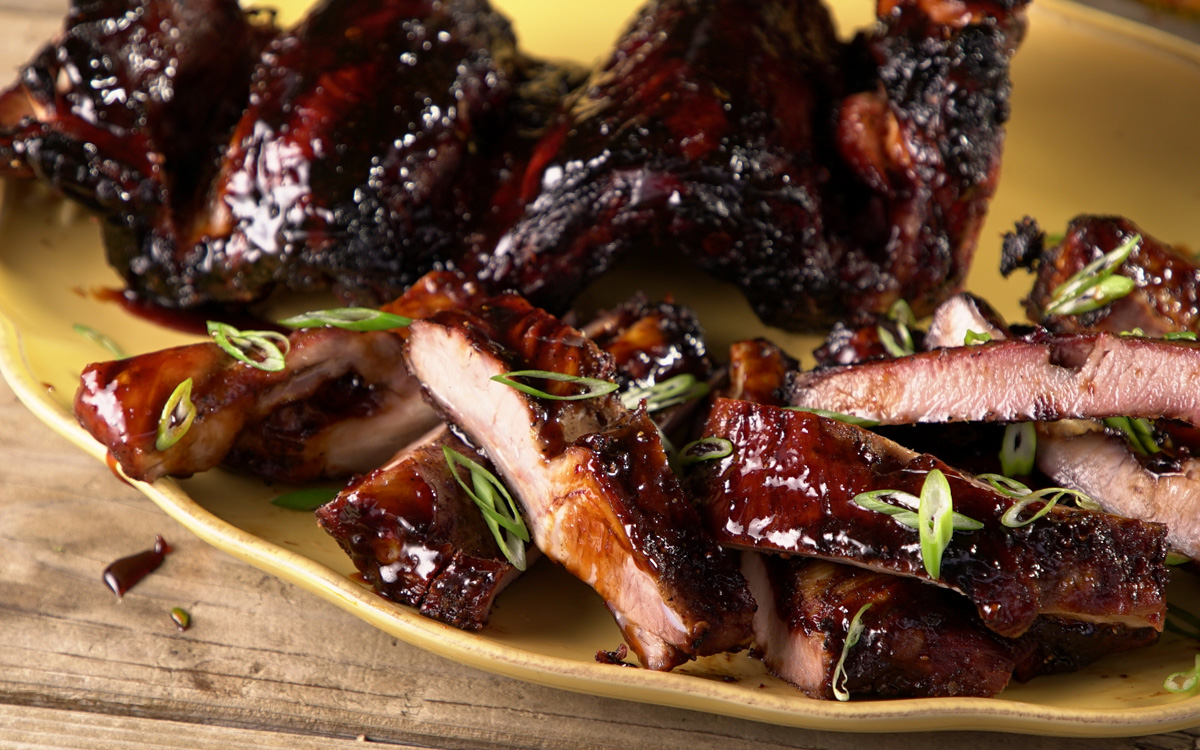 Our 50th state inspired these ribs, called huli-huli. Huli means "turn" in the language of the islands, and refers to the fact that these delectable bones are spit-roasted. (Lacking a rotisserie, they can also be grilled indirectly.) The glaze, made sweet with pineapple juice, brown sugar, and honey, salty with soy sauce, and spicy with chili sauce and fresh ginger, is painted on the ribs the last 20 minutes of cooking. Tip: Make starter holes in the rack of ribs with a metal skewer or paring knife so you can more easily thread the ribs on the spit.
St. Louis-style ribs are spare ribs that have been trimmed to a neat rectangle, the tips, skirt, and smallest bones removed for the best presentation. (If you decide to do this yourself, the trimmings can be used to flavor baked beans or other dishes.) Vanilla is the secret ingredient in the glaze.
Michigan is one of the leading producers of cherries in the U.S., harvesting over 200 million pounds of this popular fruit each year. These baby backs (featured on Steven's TV show, Project Smoke), get a twin blast of cherry flavor from aromatic cherry wood (or you can use oak) and pork-compatible sweet-tart cherry syrup.
I began working as Steven's assistant in April, 2005. Within weeks, I was testing recipes in earnest for his book, Ribs, Ribs, Ribs—reprinted years later as Best Ribs Ever. There are some wonderful recipes in that book—truly unexpected combinations—but this one was and continues to be one of my all-time favorites. Reminiscent of Oaxacan moles, this thick, explosively-flavored sauce will have you licking your blender jar or food processor bowl. For me, the heat level is perfect. Cut down on the chipotles in adobo sauce if you prefer tamer bones.
Glossy pork ribs are a staple in San Francisco's densely populated, food-centric Chinatown. These Asian-inflected ribs are dusted with five-spice powder (find in the spice aisle or international aisle of your supermarket), spritzed with rice wine, and lacquered with an easy barbecue sauce based on hoisin.
America's favorite pork ribs—tender, well-marbled baby backs—rely here on a punchy dry rub for flavor; it's applied 4 to 8 hours before the cook to give the rub time to work its magic. Almost never sauced, Memphis-style ribs became well known to the rest of the country when the city began hosting the World Championship Barbecue Cooking Contest (better known as Memphis in May), the largest barbecue competition in the world.
It happens to the best of us: Distracted by rubs, sprays, mops, and barbecue sauces, we sometimes forget how great meat tastes when seasoned simply with salt, pepper, and wood smoke. These bones, trimmed off the prime rib and known in butcher parlance as back ribs, will reacquaint you with the unadulterated taste of beef. Because they're cooked relatively quickly (preferably over a wood or wood-enhanced fire), you can have dinner on the table in about 2 hours.
Caribbean influences abound in Miami's food scene, which explain why guava paste made its way into this recipe featuring island flavors like rum, nutmeg, cinnamon, and allspice. Guava paste, also called membrillo, can be found in Spanish or Hispanic markets or online.
When properly barbecued, beef short ribs are meltingly tender with a rich, unctuous mouthfeel. But coat them in the pastrami spices so well known on Manhattan's Lower East Side, and they're transcendental. (Though we call for short ribs here, this treatment works beautifully with plate ribs, too—also known as dinosaur bones.) The meat will need 12 hours to absorb the flavor of the spices, so plan ahead.
Some of New England's iconic ingredients—apple cider and maple syrup, among them—make an appearance in these sweet and satisfying baby backs. (Echo the flavors by accompanying the ribs with Boston-style baked beans or bean-hole beans.) You can grill the ribs indirectly—they'll take a couple of hours at 325 degrees—or smoke them low and slow, preferably over maple wood.
What are you grilling for Fourth of July? Share them with us on Facebook, Twitter, Reddit, or Instagram!