Cherry-Glazed Baby Back Ribs
Steven Raichlen
If there's one rib that everyone should know how to smoke, it's baby backs. On Project Smoke, ribs get the cherry treatment, with cherry wood smoke and a cherry glaze. In this recipe, baby back ribs are basted with a cherry syrup, which adds a nice, sweet, fruity finish.
More Ribs Recipes:
Print
Cherry-Glazed Baby Back Ribs
Recipe Notes
Yield: Makes 2 racks, serving 3 to 4
Method: Smoking
Equipment: 3 cups oak chips or chunks, soaked in water for 30 minutes, then drained; rib rack (optional)
Ingredients
2 racks baby back ribs (each 2 to 2-1/2 pounds), membrane removed
For the rub:
3 tablespoons brown sugar
2 tablespoons sweet paprika
1 tablespoon pimenton (Spanish smoked paprika)
1 tablespoon kosher salt
1 tablespoon freshly ground black pepper
1 teaspoon ground cumin
1 teaspoon ground coriander
1 teaspoon ground fennel
1/2 teaspoon cayenne pepper
1 cup cherry syrup (see Note below)
Recipe Steps
Step 1: Set up your smoker according to the manufacturer's instructions and preheat to 225 degrees.
Step 2: Arrange the ribs on a rimmed baking sheet.
Step 3: Make the rub: Combine the brown sugar, paprika, pimenton, salt, pepper, cumin, coriander, fennel seed, and cayenne in a small bowl and stir to mix, breaking up any lumps in the brown sugar with your fingers.
Step 4: Sprinkle the rub on the ribs on both sides, rubbing the mixture into the meat.
Step 5: Arrange the ribs in the smoker. (If not using a rib rack, place them bone-side down on the grate.) Add half the wood chips to the firebox. Smoke the ribs until almost tender, 3 hours, adding the remaining wood chips after 1 hour. Replenish the coals as needed.
Step 6: Brush the racks of ribs on both sides with cherry syrup. Continue smoking the ribs until they are very tender (you should be able to pull the individual ribs apart easily with your fingers), 1 hour more, about 4 hours in all. Baste the ribs twice during the last hour—the cherry syrup should cook to a sticky glaze.
Step 7: Brush each rack with cherry syrup one final time before serving. Serve the slabs whole, or cut in half or into individual bones.
Recipe Tips
Note: Ideally, you'd use ribs from a heritage breed like Berkshire or Duroc.For cherry syrup, you want an imported brand, like Torani from Italy. Look for it at your local coffee house, gourmet shop, or on line at amazon.com.
Our thanks to the sponsors of Project Smoke Season 3:


Steven Raichlen's Project Smoke is a production of Maryland Public Television, Barbacoa, Inc., and Resolution Pictures. © 2017 Barbacoa, Inc.
Find This Recipe
And More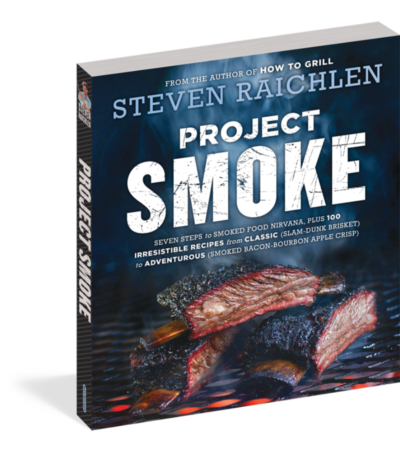 New York Times Bestseller Project Smoke is the How to Grill of smoking, both a complete step-by-step guide to mastering …
Buy Now ‣