10 Awesome Recipes to Grill or Smoke in August
The dog days of summer are here, and we bet you're hitting your stride as a backyard grill jockey. Mother Nature is at the top of her game, too, filling gardens and markets with seductively ripe tomatoes, cucumbers, peaches, corn, zucchini, and much more. August is the time to strut your stuff by cooking an entire meal, from appetizer to dessert, over live fire. It's easier than you might think. Many of the dishes below, like the Bellinis, Grilled Gazpacho, and Grilled Pepper Salad can be made ahead. You can even put together a fruit cobbler or crisp in a cast iron skillet and indirect grill it while your guests enjoy the main course and side dishes.
Recipes to Grill or Smoke in August
Toast the waning days of summer with one of our favorite seasonal cocktails. Invented by Giuseppe Cipriani at the iconic Harry's Bar in Venice, Italy, in the 1940s, the beverage combines ripe nectarine (or peach) nectar with fizzy prosecco. Light and refreshing, this version is made more complex by the use of sugar-dipped fruit, which is caramelized over fruitwood smoke. Make it nonalcoholic by substituting sparkling fruit juice or club soda for the prosecco.
One of Spain's most popular dishes is so simple, it barely needs a recipe. Thick slices of country-style bread are grilled over live fire before raw garlic and sun-ripened tomatoes are grated on their toasted rough crumb, then drizzled with your best extra virgin olive oil. Can be served any time of day or night.
The jewel-like colors of bell peppers—red, orange, yellow, and green—beckon seductively from gardens, farmers' markets, and supermarkets this time of year. Roast several the next time you fire up your grill (we like to nestle them directly in the coals, caveman-style) and you'll have the makings of a stunning summer salad. Ricotta salata can be used in place of feta and chopped green olives can stand in for capers.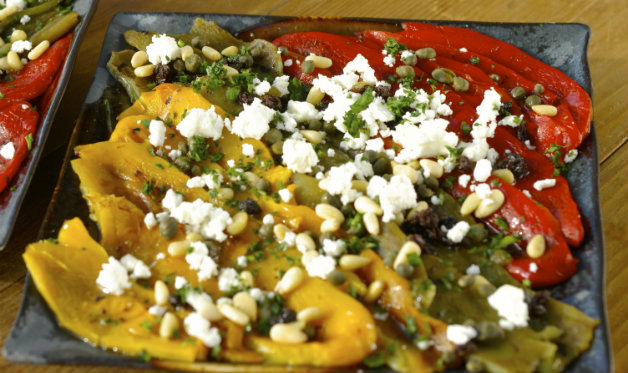 Here's a great repository for late summer's bounty—everything from tomatoes, cucumbers, to bell peppers and herbs that are about to bolt. We love the complexity grilled vegetables give to this warm-weather soup, which is always served well-chilled. For a cool presentation, serve it in shot glasses.
Had your fill of ribs this summer? Nah, we didn't think so. Using pantry ingredients, you can treat family and friends to some of the most flavorful bones you've ever smoked. Pair with baked beans and potato salad, or cut into individual ribs and serve as an appetizer. (Check out our recently-posted recipe for "Rib Wings.")
The flavors of the Mediterranean are front and center in this dish, which Steven first discovered in France. But the sauce, called raïto, was imported from ancient Greece by Phoenician soldiers. It's a great weeknight meal, but fancy enough to serve guests. Swordfish or another firm-fleshed "steak fish" would work as well. (Tip: The sauce is a good use for leftover red wine.)
Known as elote, the popularity of Mexican street corn has exploded since Steven published a recipe for it in in BBQ USA in 2003. Fresh sweet corn is chargrilled, slathered with mayonnaise, then dusted with cheese and chili powder with a squeeze of lime. If you or people at your table are uncomfortable eating corn directly from the cob, simply cut the corn off with long strokes of a chef's knife and top with the remaining ingredients. (You can even make a salad out of it.)
Zucchini gets the star treatment in this preparation, originally shared with us by Russ Faulk, chief designer at Kalamazoo Gourmet. Featured in Episode 306 of Steven's TV show, Project Fire, thinly sliced zucchini is threaded, accordian-style, on skewers, then grilled over high heat. Finished with a piquant lemon herb butter, this recipe will change your mind about this ubiquitous vegetable.
This colorful Southern condiment plays the sweetness of ripe summer peaches and the nuttiness of pecans against the bite of jalapeños and the tang of rice vinegar. It's sensational when paired with ham or other forms of pork, chicken, turkey, and smoked cheese or charcuterie platters. Makes a great gift, too!
What are some of your favorite summer recipes? Share them with us on Facebook, Twitter, Reddit, or Instagram!