Peach-Pecan Chutney
Steven Raichlen
This Southern chutney plays the sweetness of ripe summer peaches against the bite of jalapeños and rice vinegar. For even more flavor, use smoked pecans.
Print
Peach-Pecan Chutney
Recipe Notes
Yield: Makes 3 cups, enough to serve 6 to 8
Ingredients
4 pounds ripe peaches
1 cinnamon stick (3 inches)
4 allspice berries
4 whole cloves
10 black peppercorns
1/2 small red onion, peeled and finely chopped (1/2 cup)
1/2 red bell pepper, stemmed, seeded, and cut into 1/2-inch dice
1/2 yellow bell pepper, stemmed, seeded, and cut into 1/2-inch dice
2 to 4 jalapeño peppers, seeded and diced (for a spicier chutney leave the seeds in)
2 slices candied ginger, finely chopped
1/2 cup dried cranberries
1/2 cup toasted pecan pieces
1/4 cup rice vinegar or cider vinegar, or more to taste
1/4 cup packed dark brown sugar, or more to taste
3 tablespoons chopped fresh cilantro or mint leaves
Recipe Steps
1: Bring a deep pot of water to a boil over high heat. Plunge the peaches into the water for 30 seconds. Transfer them to a colander, rinse under cold water, and slip off the skins. Cut the peaches into 1-inch pieces, discarding the pits.
2: Tie the cinnamon, allspice, cloves, and peppercorns in a piece of cheesecloth.
3: Place the peaches, spices, and remaining ingredients in a heavy nonreactive saucepan and bring to a simmer over medium heat. Reduce the heat and simmer, partially covered, until the peaches are soft, 10 minutes. Correct the seasoning, adding sugar or vinegar; the chutney should be a little sweet and a little sour. Discard the spice bag and transfer the chutney to sterile jars. Cover, cool to room temperature, and refrigerate. The chutney will keep for several months.
Recipe Tips
Peach chutney goes great with such Southern fare as grilled chicken, turkey, and pork.
Find This Recipe
And More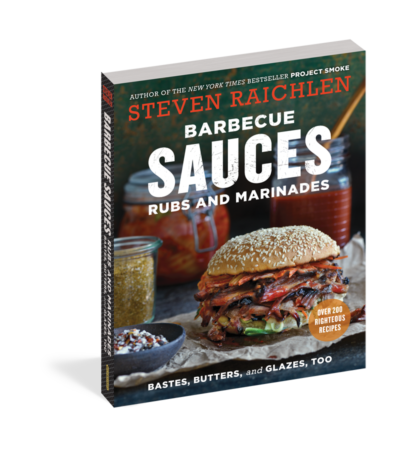 Barbecue sauces, rubs, and marinades are every griller's secret weapon—the flavor boosters that give grilled food its character, personality, depth, …
Buy Now ‣