Catalan Tomato Bread (Pa Amb Tomaquet)
Steven Raichlen
My first meal in Barcelona — at the venerable Los Caracoles restaurant in the medieval quarter — began with this simple bread appetizer, and scarcely a day went by when I wasn't served some variation of it. Catalan Tomato Bread belongs to an ancient family of grilled breads that includes Italian bruschetta and Indian naan. It offers irrefutable proof that the best dishes are often the easiest.
At its most rudimentary, pa amb tomàquet consists simply of a slice of grilled bread rubbed with ripe tomatoes and drizzled with olive oil. Like all simple dishes, it requires the best raw materials: crusty country-style bread; squishily ripe tomatoes; fragrant, cold-pressed olive oil. When prepared properly, the bread will be crisp from grilling, but the surface will be just beginning to soften thanks to the juices from the tomatoes. Not everyone in Catalonia uses garlic, so I've made it optional.
Print
Catalan Tomato Bread (Pa Amb Tomaquet)
Recipe Notes
Yield: Makes 8 slices
Method: Direct Grilling
Ingredients
4 very ripe tomatoes, cut in half
4 cloves garlic (optional), cut in half
8 slices country-style bread, cut 1⁄2 inch thick
Cruet of extra-virgin olive oil
Small bowl of coarse (kosher or sea) salt
Freshly ground black pepper (optional)
Recipe Steps
Step 1: Place a half tomato and half garlic clove (if using) on each serving plate.
Step 2: Set up the grill for direct griling and preheat to medium-high.
Step 3: When ready to cook, arrange the bread slices on the hot grate and grill until nicely browned, 2 to 4 minutes per side. Don't take your eyes off the grill for a second; grilled bread burns very easily.
Step 4: Place a piece of grilled bread on each plate. Serve immediately. To eat, rub a bread slice with the cut side of the garlic (if using), then with the cut side of the tomato. Drizzle olive oil over each slice and sprinkle salt and pepper, if desired, on top.
Recipe Tips
There are two ways to serve tomato bread. The first is for the cook to do the rubbing and drizzling. The second is to set out a cruet of olive oil and a bowl of salt, provide each person with a clove of garlic and half a tomato, and let him or her do the work. The second way is more fun.
Find This Recipe
And More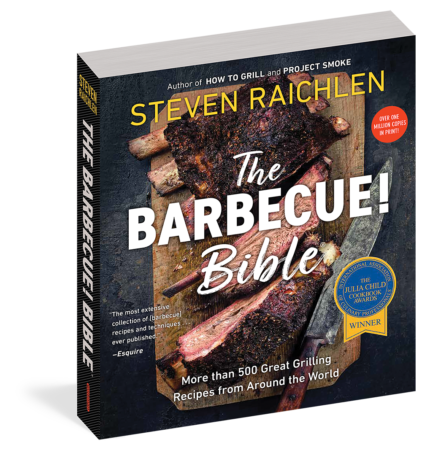 Steven Raichlen's Barbecue! Bible offers the biggest collection of barbecue recipes and grilling recipes ever developed.
Buy Now ‣