8 of Our Best Appetizers for Holiday Entertaining
Instead of a formal sit-down dinner, plan a holiday party around an array of smoked appetizers. Below, we've shared some staff favorites. We predict your guests will be asking for your recipes! Merry Christmas and Happy New Year from all of us!
8 of Our Best Appetizers for Holiday Entertaining
This appetizer is even more attractive when colorful heirloom tomatoes are used. And it's easy to make, too, requiring only minutes at the grill. If you don't have fresh ricotta on hand, feel free to substitute boursin or cream cheese.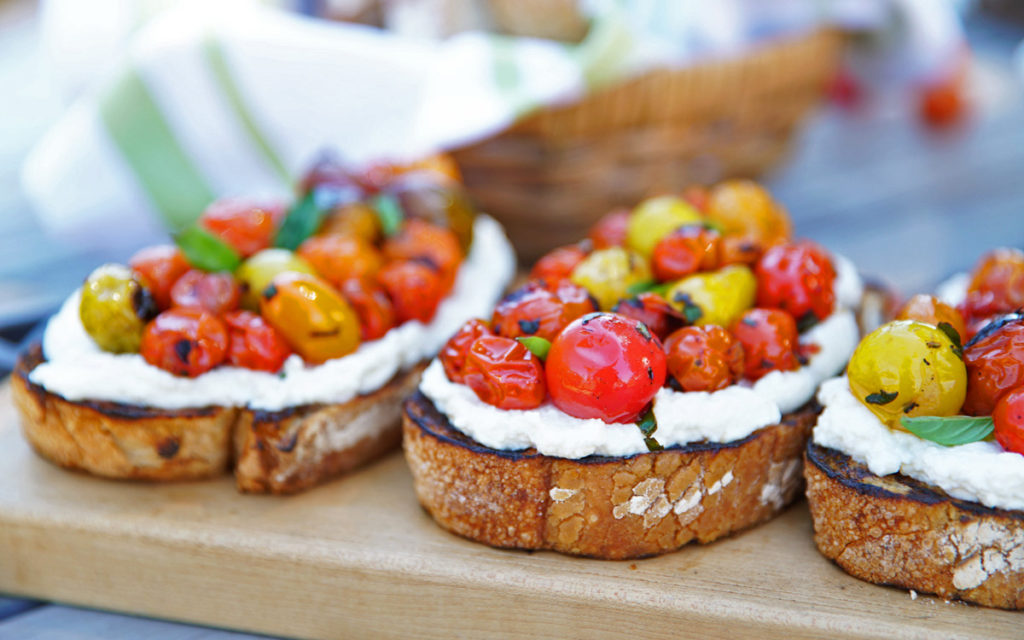 This simple sweet-salty appetizer features pecans smoked with cumin, cinnamon, and paprika. Smoked nuts are an easy appetizer or snack you can make with a stovetop smoker or outdoor smoker. They are so much better than commercially-smoked nuts, which almost never see the inside of a smokehouse.
During the holidays, we like to garnish these delectable smoked deviled eggs with slivers of cured or smoked salmon or trout, caviar, or bacon bits. For an unusual presentation, cut the hard-cooked eggs widthwise through their equators.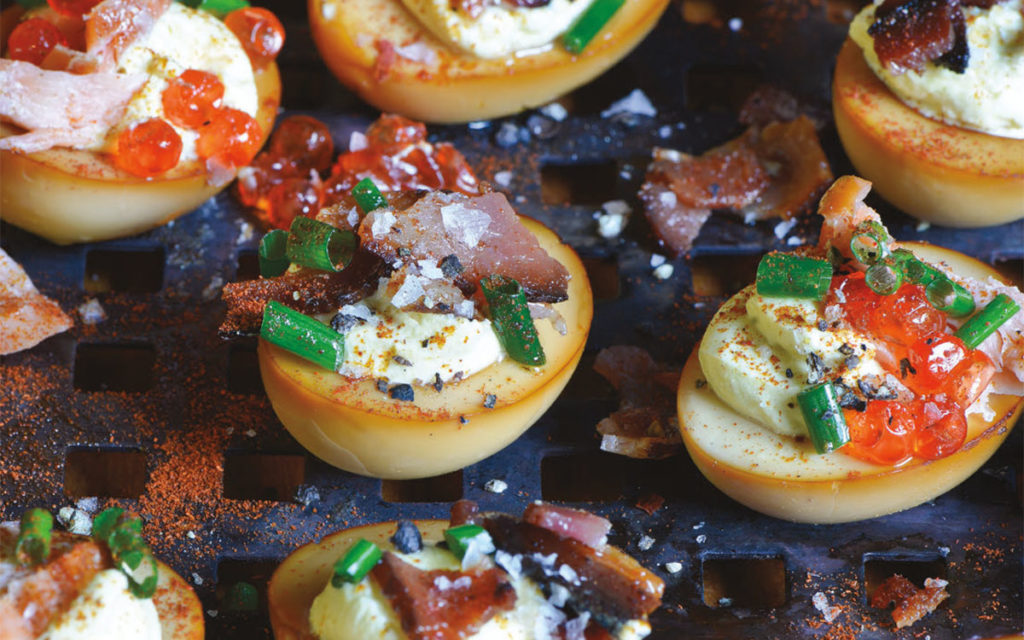 I've never understood the popularity of the conventional shrimp cocktail. After all, boiling is the worst way to cook shrimp—it removes, not adds, flavor and produces a rubbery texture. And cocktail sauce made by mixing ketchup and bottled prepared horseradish is hardly what you'd call heroic. This shrimp cocktail starts with spice-crusted shrimp, which you sear in a skillet or under the broiler. The sauce gets a double blast of heat from grated horseradish and chipotle peppers. Now that's a shrimp cocktail.
Nothing screams "Party!" like chicken wings. These Lemon Sesame Chicken Wings were inspired by a trip to Australia, where grill masters freely mix Asian ingredients like soy sauce and sesame oil, with European ingredients, like mustard and smoked beer. The same treatment can also be used on meatier chicken legs.
Fresh shellfish like oysters and clams are often in abundance in supermarkets and grocery stores across the country during the holiday season. They are wonderful when treated to smoke and a jolt of jalapeno. (Note: We avoid bivalves that have been pre-shucked in favor of product in the shell. Discard any shellfish that are not tightly closed or that don't snap shut when tapped.)
These diminutive pickled eggs are perfect with cocktails. Tangy and bite-sized, they were inspired by the smoked quail eggs that Steven enjoyed at Noma, one of the world's most celebrated restaurants. (It was named the "Best Restaurant in the World this year.) The eggs take a bit of time to peel, but your patience will be rewarded.
This dip—creamy, smoky, and ultra-flavorful— is a favorite in the Raichlen household. Instead of smoked snapper, trout, salmon, bluefish, or mahi mahi can be used. Serve it with vegetable chips or a variety of fancy crackers.
What are your favorite appetizers to make during the holidays? Let us know on Facebook, Twitter, Reddit, or Instagram!
Join the Discussion