Hay-Smoked Quail Eggs
Steven Raichlen
In 2014, San Pellegrino ranked Noma in Copenhagen the best restaurant in the world, its fourth first-place win. Its founder-chef, René Redzepi, achieved this remarkable feat by imposing a restriction most chefs would find impossibly limiting: to use only ingredients found within a fifty kilometer radius of Copenhagen.
While Denmark offers a wealth of fruits, vegetables, and seafood in the summertime, the winter larder is spare—even Spartan. Smoking and pickling—the techniques used in this recipe—served not only to flavor foods, but also to preserve them in the age before refrigeration. And while pickled eggs are a common bar snack around Europe and North America, smoking them adds a wondrous new dimension. Redzepi smokes the eggs with two fuels, hay and birch chips, and serves them on a nest of smoking hay.
More Smoked Appetizer Recipes:
Print
Hay-Smoked Quail Eggs
Recipe Notes
Yield: Makes 24 quail eggs, enough to serve 4 to 6
Equipment: A wire rack; an aluminum foil pan; 2 cups hay or straw plus 1 cup birch or other hardwood chips
Ingredients
Ice water
24 quail eggs
Vegetable oil, for oiling the wire rack
1½ cups warm water
⅔ cup fruit vinegar (Redzepi uses rosehip vinegar; alternatively, use pear or another mild vinegar)
1 teaspoon salt, or to taste
Recipe Steps
Step 1: Have ready a large bowl of ice water. Bring a large saucepan of water to a boil over high heat. Add the quail eggs and boil for 90 seconds. Transfer the eggs to the ice water with a slotted spoon; keep the saucepan of water at a boil. Let the eggs sit in the ice water for 2 minutes, then return them to the boiling water for 6 minutes. Remove them again to the ice water. (This two-step boiling process makes the quail eggs easier to peel.)
Step 2: Tap each egg at the broad end to crack the shell, then peel, taking care not to crush the egg. It will still be a little soft in the center—it's supposed to be.
Step 3: Set up your smoker following the manufacturer's instructions and preheat to 225°F. Add hay and birch chips as specified by the manufacturer.
Step 4: Place the eggs on a lightly oiled wire rack placed over an aluminum foil pan filled with ice (the eggs should not touch the ice). Place in the smoker and smoke the eggs until lightly bronzed with smoke, 8 to 12 minutes.
Step 5: Combine the warm water, vinegar, and salt in a nonreactive bowl. Add the smoked eggs and pickle for 10 minutes, then drain. Cover and refrigerate the eggs if preparing them ahead.
Step 6: Serve the eggs in dark bowls or on plates or on a "nest" of fresh hay.
Recipe Tips
Quail eggs are easier to peel if they are closer to their "use by" dates. Can't find or don't want to bother with quail eggs? You can certainly smoke and pickle full-size chicken eggs. Boiling time will be 11 minutes. Quarter the eggs before pickling them.

Find This Recipe
And More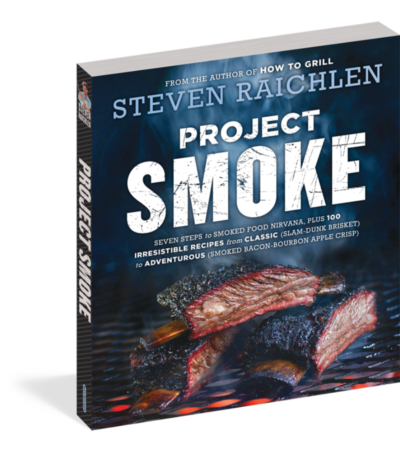 New York Times Bestseller Project Smoke is the How to Grill of smoking, both a complete step-by-step guide to mastering …
Buy Now ‣