A New Shrimp Cocktail
Steven Raichlen
I've never understood the popularity of the conventional shrimp cocktail. After all, boiling is the worst way to cook shrimp—it removes, not adds, flavor and produces a rubbery texture. And cocktail sauce made by mixing ketchup and bottled prepared horseradish is hardly what you'd call heroic. This shrimp cocktail starts with spice-crusted shrimp, which you sear in a skillet or under the broiler. The sauce gets a double blast of heat from grated horseradish and chipotle peppers. Now that's a shrimp cocktail.
Print
A New Shrimp Cocktail
Recipe Notes
Yield: Serves 4
Equipment: A grater or food processor for the horseradish (optional), and a large (10- to 12-inch) skillet or broiler pan
Ingredients
For the shrimp:
1 1/2 pounds peeled, deveined raw jumbo shrimp
2 to 3 tablespoons Old Bay seasoning or Raichlen's Rub #2
1 tablespoon extra virgin olive oil or butter, plus 2 tablespoons olive oil or butter if panfrying (optional)
4 cilantro sprigs (optional)
For the chipotle cocktail sauce:
3/4 cup ketchup
1/4 cup (drained) prepared horseradish
1 teaspoon grated fresh orange zest
3 tablespoons fresh orange juice
1 tablespoon Worcestershire sauce
1 to 2 canned chipotle peppers in adobo sauce, minced, with 1 to 2 teaspoons of the juices
Recipe Steps
Step 1: Prepare the shrimp: Place the shrimp in a bowl and sprinkle them with the spice mixture. Toss the shrimp well to coat, then add the 1 tablespoon of olive oil or butter and toss again.
Step 2: If you are panfrying the shrimp, heat the oil or melt the butter in a large skillet over medium-high heat. Add the shrimp and cook until browned on both sides and cooked through, 2 to 3 minutes per side.
If you are broiling the shrimp, preheat the broiler to high. Place the shrimp on a broiler pan a couple of inches under the broiler and broil them until browned on the outside and cooked through, 2 to 3 minutes per side.
Step 3: Transfer the cooked shrimp to a serving platter and let cool to room temperature, then cover and refrigerate them for at least 1 hour. The shrimp can be prepared up to 24 hours ahead to this stage.
Step 4: Meanwhile, make the cocktail sauce: Place the ketchup, horseradish, orange zest, orange juice, Worcestershire sauce, and chipotles with their juices in a mixing bowl and whisk to mix. Refrigerate the cocktail sauce, covered, until you are ready to serve the shrimp.
Step 5: To serve, divide the cocktail sauce among 4 small bowls, one for each diner. Serve the shrimp on the platter, with the cilantro sprigs, if using, arranged on top.
Recipe Tips
I've given two options for shrimp spices. For Maryland-style shrimp, use the commercial Old Bay seasoning, while for Kansas City–style shrimp, use Raichlen's Rub #2.
Find This Recipe
And More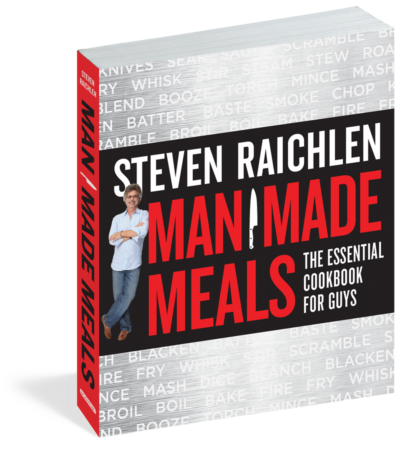 Man Made Meals is about the tools and techniques (guess what, grillers, you still get to play with knives and fire.) …
Buy Now ‣