Allan's Slow-Smoked Brisket
Steven Raichlen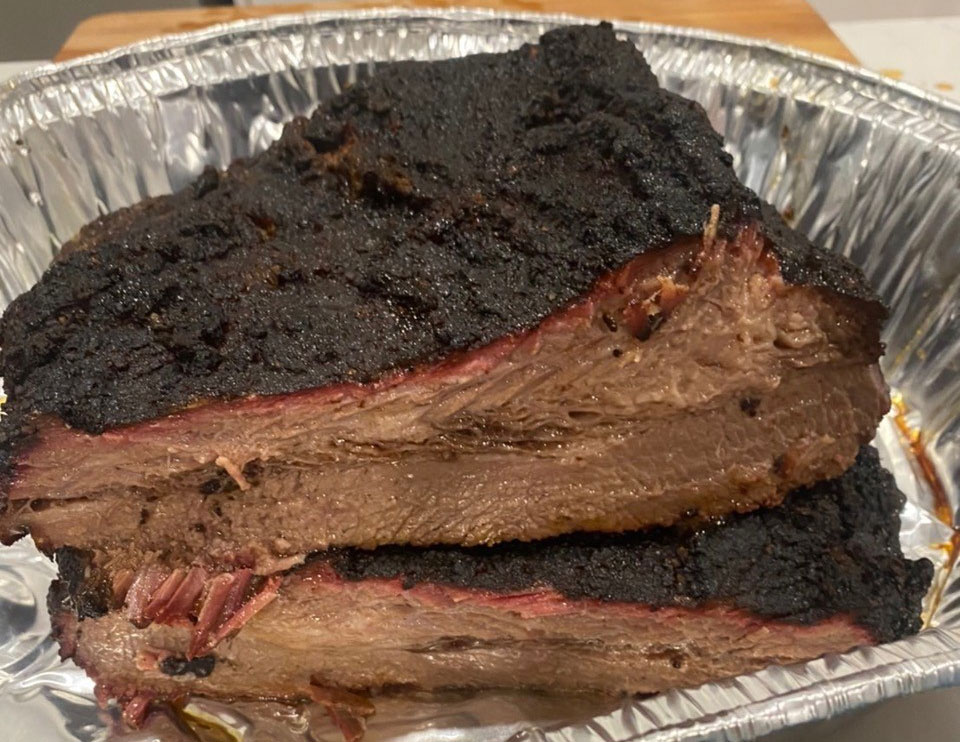 Print
Allan's Slow-Smoked Brisket
Recipe Notes
Yield: 10 to 12
Method: Indirect grilling/smoking
Ingredients
For the brisket:
One whole packer brisket, excess fat trimmed to 1/4-inch
For the rub:
10 tablespoons paprika 
8 tablespoons brown sugar 
6 tablespoons kosher salt
4 tablespoons garlic powder
3 tablespoons onion powder
1 tablespoon onion flakes
2 tablespoons freshly ground black pepper
2 tablespoons dried parsley
4 teaspoons cayenne pepper
4 teaspoon ground cumin 
2 teaspoons fresh ground coriander
2 teaspoons dried oregano 
1/2 teaspoon dried Thai hot chili pepper 
You'll also need:
1 atural lump charcoal; 6 to 8 chunks smoking wood, such as hickory; disposable foil pan; aluminum foil or unlined butcher paper
Recipe Steps
1: Place the brisket in a large disposable foil pan.
2: Combine the rub ingredients in a mixing bowl. Use your fingers or a wooden spoon to combine the spices and break up any lumps. Generously season the brisket on all sides with the rub. (Store any leftovers in a lidded jar and store away from heat and light for up to 3 months.)
3: Set up your grill for indirect grilling and heat to 225 to 250 degrees. Place 2 to 3 wood chunks on top of the coals.
Place the brisket directly on the grill grate (remove it from the foil pan) away from direct flames. Smoke for 8 hours, or until the internal temperature of the meat reaches 160 degrees, replacing the fuel as necessary. Wrap the brisket tightly in foil or unlined butcher paper.
4: Continue to cook at 265 degrees for 4 hours, or until the meat reaches 205 degrees. (You can do this in the oven, if desired.) Let the brisket rest for several hours in the cooling oven or an insulated cooler. Slice against the grain into pencil-thick slices before serving.