Basic Grilled Meatballs (and Variations)
Steven Raichlen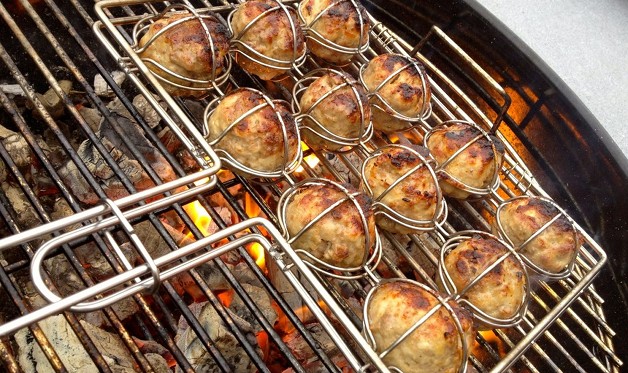 Print
Basic Grilled Meatballs (and Variations)
Recipe Notes
Yield: Makes 24 meatballs (2 ounces each and 1-1/2 inches across)
Equipment: Meatball Grilling Basket (see step 5)
Ingredients
The basic ingredients:
1-1/2 cups cubed white bread (country-style, ciabatta, or baguette)
1/2 cup half and half or heavy cream
2 tablespoons extra-virgin olive oil
2 strips smokehouse bacon, finely chopped
1 medium onion, finely chopped (about 3/4 cup)
1 to 2 cloves garlic, finely chopped
1 pound ground beef
1/2 pound ground pork
1/2 pound ground veal (or more pork or beef)
1 teaspoon sea salt
1/2 teaspoon freshly ground black pepper
Other possible add-ins:
1 cup finely grated imported Parmigiano-Reggiano cheese
3/4 cup chopped sautéed mushrooms
2 tablespoons minced fresh herbs, including basil, sage leaves, rosemary (stemmed), flat-leaf parsley, chives, and/or scallion greens
1 teaspoon finely grated lemon or orange zest
1 teaspoon hot pepper flakes or 1 tablespoon minced fresh or pickled hot peppers
Recipe Steps
Step 1: Set up your grill for direct grilling and preheat to medium-high.
Step 2: Place the bread in a large mixing bowl and stir in the half and half. Let stand for 5 minutes. Meanwhile, heat 1 tablespoon olive oil in a skillet over medium heat until shimmering.
Step 3: Add the bacon, onion, and garlic and cook until golden brown, 3 minutes, stirring with a slotted spoon. Using the slotted spoon, transfer the bacon mixture to the soaked bread, leaving the fat in the pan. Let this mixture cool completely.
Step 4: Add the beef, pork, veal, salt, and pepper to the bread mixture. Add any of the other suggested flavorings. (I really like adding cheese.) Knead the mixture together until just mixed, working with a light touch. Sure, you could stir with a wooden spoon, but your hands do a better job of mixing. To test the meatballs for seasoning, fry a test ball of the meat mixture in the skillet until browned on both sides and cooked through. Taste, then add flavorings as needed. (You can form the meatballs right away, but it will be easier if you chill the mixture for 30 minutes first.)
Step 5: Make the meatballs: Lightly wet your hands with cold water. Pinch off 1-1/2 inch pieces of the mixture and roll them into balls between your palms. Arrange the meatballs in the wells of the meatball basket and lock the basket. (Alternatively, skewer the meatballs on flat bamboo or metal skewers.)
Step 6: Grill the meatballs until browned and cooked to an internal temperature of 160 degrees F, 5 to 8 minutes per side, flipping the meatball grilling basket (or skewers) as needed to ensure even cooking.
Step 7: Serve the meatballs by themselves (which is how I like them), or over spaghetti with your favorite red sauce.
Recipe Tips