"Tofu on Stilts" (Dengaku)
Steven Raichlen
Dengaku is a popular dish at the tea houses that line the lovely Philosophers Walk in Kyoto. The dish takes its curious name from the Japanese word for "stilt." The stilts in question are two slender bamboo skewers that are used to hold the piece of tofu over the coals for grilling.
Print
"Tofu on Stilts" (Dengaku)
Recipe Notes
Yield: Makes 8 pieces, enough to serve 4
Method: Direct Grilling
Equipment: bamboo skewers
Ingredients
2 pounds extra firm tofu
For the miso glaze
1/2 cup white miso
2 tablespoons mirin
2 tablespoons sake
2 tablespoons sugar
1 tablespoon mayonnaise
1 tablespoon toasted sesame seeds
16 bamboo skewers
Recipe Steps
Step 1: Rinse the tofu and press for 1 hour. (To press the tofu, place it on a gently sloping cutting board in the sink. Place a heavy plate on top of it and let stand for 1 hour. The weight of the plate will press out the excess liquid and firm up the tofu.)
Step 2: Prepare the miso glaze. Combine the miso, mirin, sake, sugar, and mayonnaise in the top of a double boiler and whisk until smooth. Cook the sauce over the double boiler until thick and creamy, about 3 minutes.
Step 3: Cut each block of tofu through the short side to obtain 2 broad thin rectangles. Cut each rectangle in half widthwise. Stick two skewers through the narrow end of each piece of tofu. Preheat the grill to high.
Step 4: Grill the tofu on each side until lightly browned, turning once, 3 to 4 minutes per side, brushing with miso glaze. Sprinkle with sesame seeds and serve at once.
Find This Recipe
And More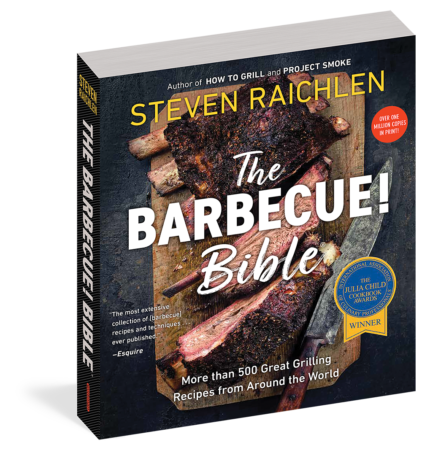 Steven Raichlen's Barbecue! Bible offers the biggest collection of barbecue recipes and grilling recipes ever developed.
Buy Now ‣