Beef and Pork Chili
Steven Raichlen
This chili takes an ecumenical approach, featuring both beef and pork—meats both diced and ground—two kinds of beans, plus plenty of chile powder, poblano pepper, and jalapeño to crank up the heat. Don't be deterred by the long ingredient list—you probably have most of the aromatics in your kitchen already. And despite the lengthy instructions, you can make it from start to finish in 1 hour.
More Stews and Chili Recipes:
Print
Beef and Pork Chili
Recipe Notes
Yield: Serves 8
Equipment: Your basic kitchen gear including a large heavy pot like a Dutch oven
Ingredients
2 tablespoons extra virgin olive oil
1 pound beef tenderloin tips, cut into 1/4- to 1/2-inch dice
2 pounds lean ground beef or bison
1/4 pound ground pork
1 large onion, peeled and finely chopped
1 poblano pepper, seeded and finely chopped
1 to 3 fresh jalapeño peppers, seeded and finely chopped
2 cloves garlic, peeled and minced
1/3 cup pure chile powder, or more to taste
2 teaspoons ground cumin
1 teaspoon freshly ground black pepper
1 teaspoon dried oregano
1/2 teaspoon ground cinnamon
2 quarts beef or chicken stock, preferably homemade
1 bottle (12 ounces) beer, light or dark
1 can (8 ounces) tomato sauce, preferably organic
2 cans (about 15 ounces each) pinto beans, preferably organic and low sodium, rinsed and drained in a colander
2 cans (about 15 ounces each) kidney beans, preferably organic and low sodium, rinsed and drained in a colander
1 tablespoon (packed) dark brown sugar, or more to taste
1 to 3 teaspoons Tabasco sauce
1 ounce bittersweet chocolate, such as Baker's (the budget choice) or Scharffen Berger (if you're feeling flush)
Coarse salt (kosher or sea)
Fixings—see tips below
Recipe Steps
Step 1: Heat the oil in a Dutch oven over high heat. Add the diced tenderloin and cook until browned on all sides, 4 to 6 minutes, stirring often. Work in several batches as needed so you don't overcrowd the pan. Transfer the browned tenderloin to a large platter.
Step 2: Working in 2 or 3 batches, add the ground beef and pork and brown over high heat, about 4 minutes per batch. Transfer the ground meat to the platter and pour off all but about 2 tablespoons of fat from the Dutch oven.
Step 3: Add the onion, poblano, jalapeños, and garlic, reduce the heat to medium-high, and cook until lightly browned, about 4 minutes. Stir in the chile powder, cumin, black pepper, oregano, and cinnamon. Cook until fragrant, about 2 minutes.
Step 4: Stir in the stock, beer, and tomato sauce. Let the chili simmer gently over medium heat until the tenderloin cubes are very tender and the chili is richly flavored, 30 to 40 minutes, stirring from time to time. (Reduce the heat as needed to maintain a gentle simmer.)
Step 5: Stir in the pinto and kidney beans, brown sugar, Tabasco sauce, and chocolate. Let the chili simmer gently until thick and even more richly flavored, 5 minutes. Taste for seasoning, adding salt to taste and more brown sugar, chile powder, cumin, and/or Tabasco sauce as necessary; the chili should be highly seasoned.
Step 6: You can serve the chili now or let the flavors develop for a few hours or even days in the refrigerator (let cool to room temperature, cover the Dutch oven, and refrigerate. Reheat over medium heat). Serve the fixings alongside.
Recipe Tips
What to serve with chili:
Tortilla chips
Sour cream
Coarsely grated cheddar cheese (orange or white)
Coarsely grated pepperjack cheese
Finely chopped scallions or green onions
Chopped ripe tomatoes
Finely diced sweet onion
Peeled diced jicama
Thinly sliced fresh or pickled jalapeño chiles
Thinly sliced or pitted black olives
Stemmed chopped fresh cilantro
PB&J Corn Bread goes great with any sort of chili.
Find This Recipe
And More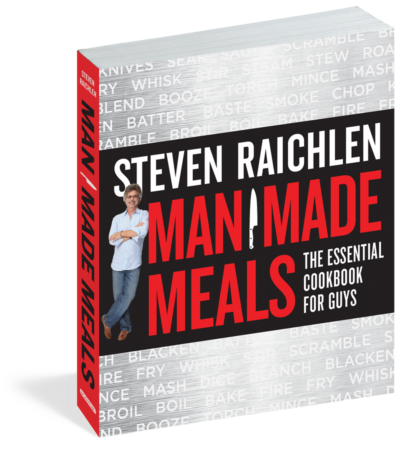 Man Made Meals is about the tools and techniques (guess what, grillers, you still get to play with knives and fire.) …
Buy Now ‣