Blackened Redfish
Steven Raichlen
Blackened seafood has become such a fixture on America's food landscape, it's hard to remember the commotion New Orleans chef Paul Prudhomme caused when he first demonstrated it on national television. At the time, the technique—charring, make that damn near incinerating—spice-crusted fish in a screaming hot ungreased skillet—sent TV producers lunging for their fire extinguishers. As it often happens in America, once a new dish is widely embraced, it becomes bastardized to the point where its creator would disavow it—if he even recognized it. Perhaps you're too young to remember blackened fish in its glory days, or perhaps you're nostalgic for the real McCoy before it became a cliché. In any case, this is one skillet dish you'll want to prepare on your grill.
I dedicate this recipe to the visionary Paul Prudhomme, who passed away at the age of 75 on October 8, 2015.
Print
Blackened Redfish
Recipe Notes
Yield: Serves 4
Equipment: 12-inch cast iron skillet; another skillet for melting the butter; metal spatula or tongs for turning the fish
Ingredients
2 pounds redfish fillets or other mild white fish fillet
4 tablespoons (1/2 stick) unsalted butter, plus 2 tablespoons for serving
1/2 cup blackening spice (make your own—or use a good commercial brand)
Lemon wedges for serving (optional)
Recipe Steps
Step 1: Run your fingers over the fish fillet, feeling for pin bones. Remove any you find with kitchen tweezers or needle nose pliers.
Step 2: Heat the cast iron skillet smoking hot on a hot grill. (Place the pan on the grate and preheat with the grill covered.)
Step 3: Melt the butter in the other skillet. Dip the fish fillets in the butter, turning to coat both sides.
Step 5: Dip each piece of buttered fish in the blackening spice, turning it to coat both sides, which should be thickly crusted with spice. Immediately place the spice-crusted fish in the hot cast iron skillet. Cook until very darkly browned on the bottom, 3 to 4 minutes. Turn the fish and cook until the second side is darkly browned and the fish is cooked through, 5 to 8 minutes in all. Yes, you'll generate a lot of eye-stinging smoke. You're supposed to.
Step 6: Transfer the blackened fish to a platter or plates. Add the remaining 2 tablespoons butter to the pan where you melted the original. Cook over high heat until sizzling and melted, 2 minutes. Pour this butter over the fish and serve with lemon wedges for squeezing.
Recipe Tips
Authentic blackening generates fearsome clouds of eye-stinging smoke, so although you cook it in a skillet, you'll want to do so on your grill.
Find This Recipe
And More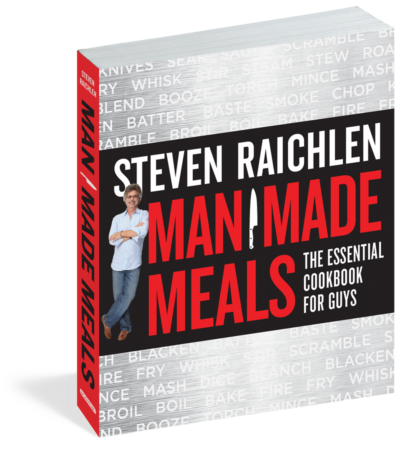 Man Made Meals is about the tools and techniques (guess what, grillers, you still get to play with knives and fire.) …
Buy Now ‣